Embrace the Sun-Kissed Season with Summer SVG Designs! Dive into the joy of summer with our captivating collection of SVG designs. These designs encapsulate the essence of the sun-soaked season, offering a variety of images that capture the beach, nature, travel, and outdoor activities. Whether you're crafting personalized items, decorating your space, or adding a touch of summer to your digital creations, our SVG designs provide a versatile platform to infuse your projects with the energy, warmth, and relaxation that define this cherished time of year. Download our summer SVG designs and let your creativity shine under the summer sun.
What is Summer?
Summer is one of the four seasons characterized by warm weather, longer daylight hours, and increased sunlight. It falls between spring and autumn, marked by higher temperatures and flourishing vegetation. It's a time for vacations, outdoor activities, and relaxation, with longer days for enjoying swimming, hiking, and other pastimes. The summer solstice, around June 21st in the Northern Hemisphere, marks the longest day of the year. Overall, summer is associated with vibrancy, outdoor fun, and a sense of leisure.
What is an SVG File?
An SVG file, (which stands for scalable vector graphic), is a standard graphics file that is mainly used for rendering two-dimensional images.
SVG images can be scaled up or down without losing quality or becoming pixelated, making them ideal for logos, icons, and other types of graphics that need to be displayed at various sizes.
They are fantastic for so many applications, such as apparel, signs and cutting machines!
How to Open SVG Files?
Next, we'll look at how to open an SVG file!
There are many software choices for opening SVG files. However, we will focus on the options for cutting machines since they are the most commonly used.
Typically, SVG files are compressed within a zip folder and require extraction before they can be accessed.
Before importing the cutting SVG files into your preferred software program, like Cricut Design Space, or Silhouette Studio, …, you must first unzip the downloaded file by double-clicking the folder and selecting "extract all."
During the extraction process, you'll be prompted to choose a destination for your files. To avoid difficulty in retrieving them, you can create a dedicated folder on your desktop or computer labeled "SVG files."
Summer svg files
Uncover a world of creative opportunities within our extensive Summer SVG Files collection, easily accessible on our website! Our thoughtfully curated assortment spans a wide range of options, carefully designed to cater to your diverse creative needs. And as an extra treat, enjoy the privilege of accessing handpicked designs for free, all of which we believe will perfectly match your creative vision.
"Hot Mom Summer, SVG PNG DXF EPS Designs Download" introduces a dynamic collection of digital design resources centered around the concept of a confident and vibrant "Hot Mom Summer." Available in multiple file formats including SVG, PNG, DXF, and EPS, these resources offer creators the means to infuse this theme into their projects. Whether for crafting or digital design, the assortment of formats ensures their versatility for various creative endeavors, capturing the essence of empowered motherhood during the summer season.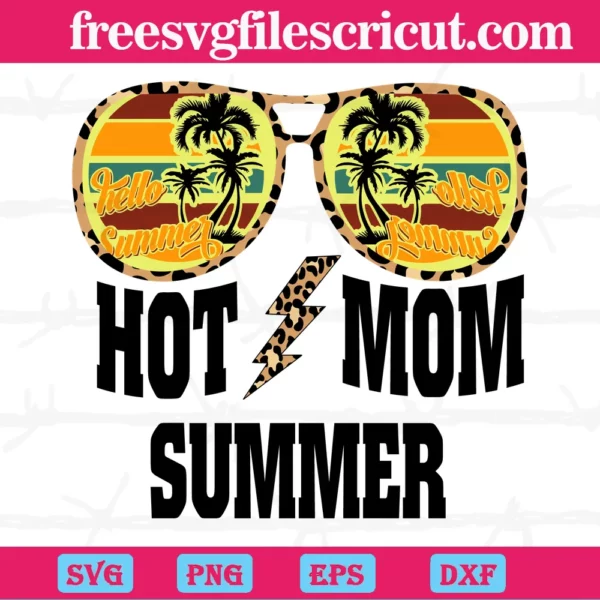 These SVG files are tailored for vinyl cutting projects, offering a cheerful way to celebrate the summer season. With their free accessibility and focus on vinyl crafting, these resources provide creators with the tools to design lively and engaging projects that capture the essence of summer's vibrancy.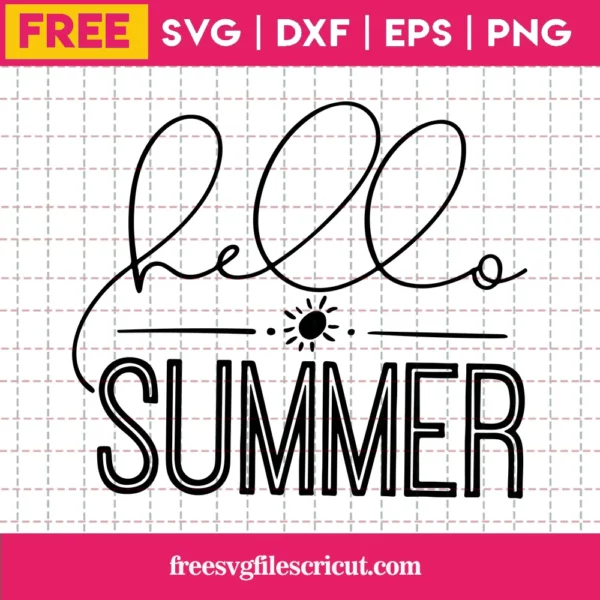 "Retro Sunset Summer Vibes, Scalable Vector Graphics" introduces a collection of scalable vector graphics (SVG) design resources that encapsulate a nostalgic and vibrant summer ambiance with a retro sunset aesthetic. These resources offer creators the opportunity to infuse their projects with a vintage summer vibe through easily resizable graphics. The phrase highlights the blend of retro aesthetics and adaptable vector graphics, making these resources valuable for crafting projects that evoke the laid-back and colorful essence of past summers.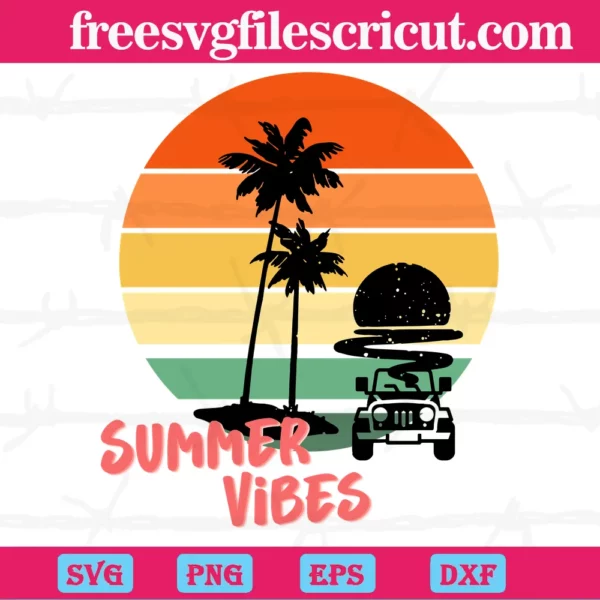 These designs capture the relaxed and enjoyable ambiance associated with spending time by the ocean. With their SVG format, creators can easily customize and incorporate these designs into various projects, infusing them with the cheerful and leisurely spirit of a summer getaway.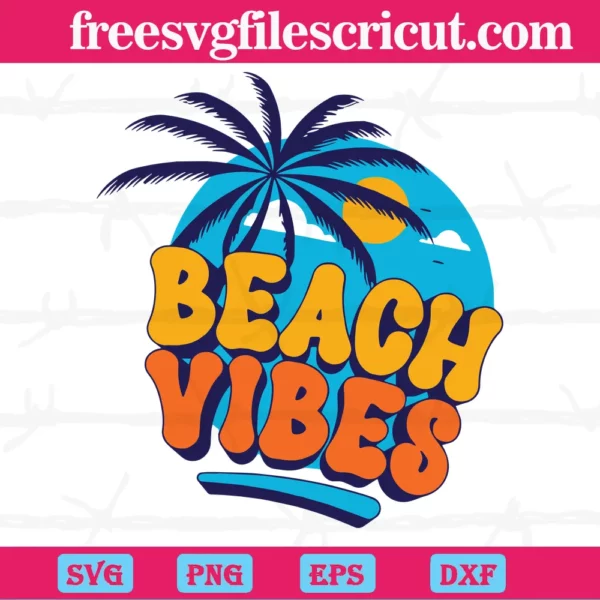 "Sunset Retro Summer Dreams, High-Quality SVG Files" introduces a set of high-quality SVG design resources that embody the nostalgic and dreamy atmosphere of past summers with a retro sunset aesthetic. These files offer creators the means to infuse their projects with the vivid colors and sentimental vibes of a vintage summer experience. The emphasis on high quality ensures that intricate details are maintained, enhancing the visual appeal and impact of the designs in various creative applications.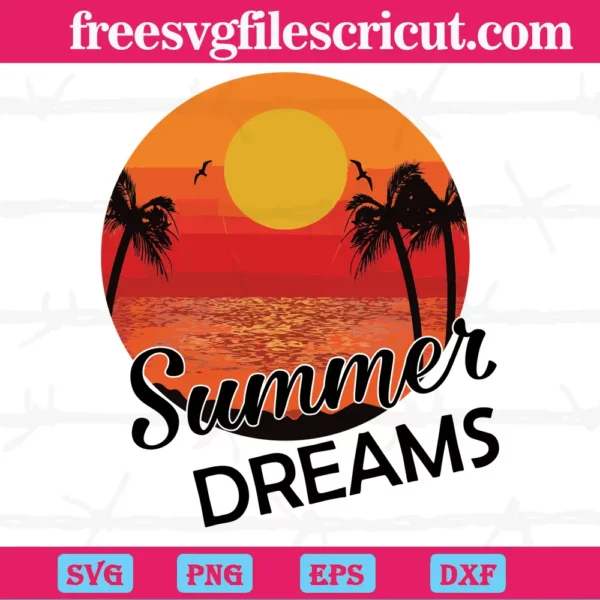 These resources encompass the theme of a summer trip to the Outer Banks, known for adventure and exploration. With files available in different formats, creators can easily incorporate these designs into their crafting projects, capturing the essence of a vibrant summer journey to the Outer Banks. The various formats ensure compatibility and adaptability for diverse creative applications.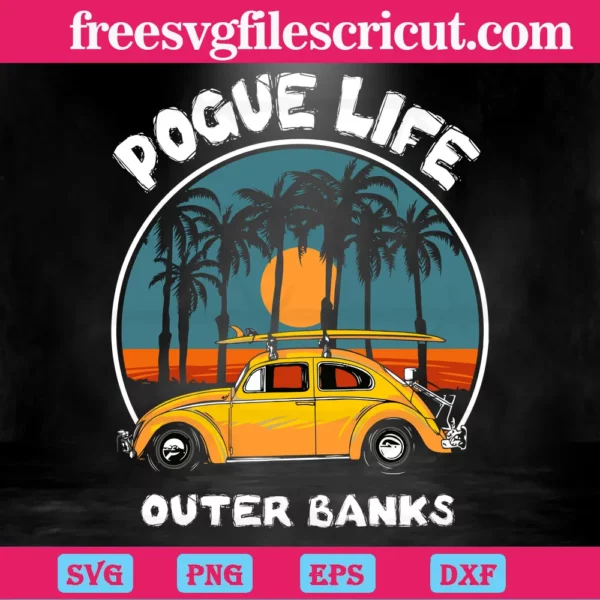 "School Out For Summer Teacher Life, Design Files" introduces a collection of design resources that encapsulate the excitement of teachers as the school year concludes and summer break begins. With a focus on "Teacher Life," these files offer creators the opportunity to craft items that celebrate the well-deserved relaxation and freedom of educators during the summer season. The term "Design Files" signifies their versatility for use in various creative projects, providing a way to infuse the spirit of summer into personalized creations.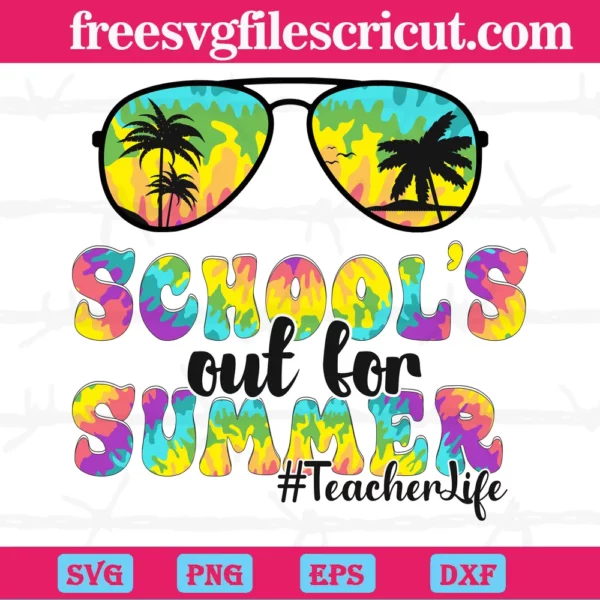 With the phrase "Life Is Better At The Pool," these designs convey the idea of relaxation and pleasure associated with poolside experiences. Creators can incorporate these SVG designs into their projects to infuse them with the carefree and refreshing spirit of summer leisure. The SVG format ensures easy customization and compatibility for various creative applications, offering a versatile way to bring the joys of poolside living into their creations.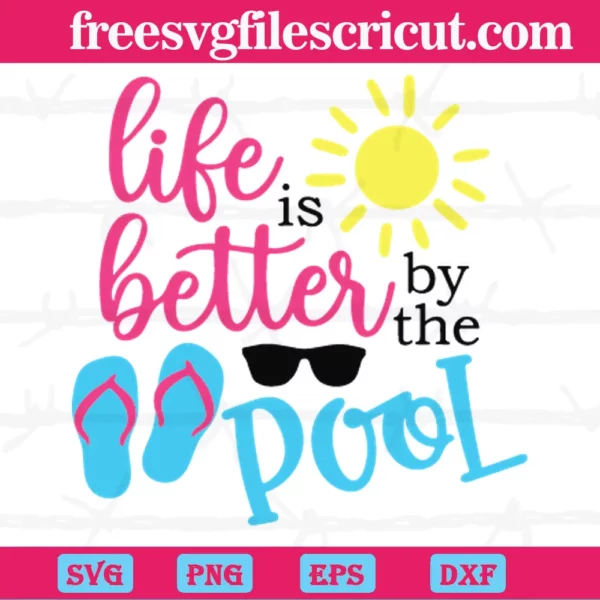 Prepare to infuse your design projects with the vibrant essence of summer through our expansive Summer SVG files collection! We're excited to unveil a carefully curated array that promises to infuse your creations with a touch of enchantment. Each Summer SVG file has been thoughtfully chosen to showcase our premium designs, ensuring that you'll uncover something that deeply resonates with your creative essence.
For those captivated by various design themes, we extend a heartfelt invitation to explore our website, freesvgfilescricut.com. Within its virtual realm, you'll uncover a diverse array of designs featuring beloved characters from popular culture. We're confident that you'll stumble upon designs that set ablaze your artistic inspiration.