Dive into the enchanting world of unicorns with our Unicorn SVG collection, where the magic of DIY creativity takes flight! Explore a treasure trove of digital wonders, featuring beloved unicorn characters, iconic symbols, and captivating designs. Add a touch of whimsical charm to your crafts and merchandise by infusing them with the enchantment of unicorns, all through the art of personalization using our carefully crafted SVG files.
What is Unicorn?
A unicorn is a legendary creature with the appearance of a horse but distinguished by a single horn on its forehead. It symbolizes purity, magic, and grace in various cultures. Often portrayed as gentle and elusive, unicorns are prevalent in myths and art. They continue to captivate modern imagination, representing wonder and the fantastical.
What is an SVG File?
An SVG file, (which stands for scalable vector graphic), is a standard graphics file that is mainly used for rendering two-dimensional images.
SVG images can be scaled up or down without losing quality or becoming pixelated, making them ideal for logos, icons, and other types of graphics that need to be displayed at various sizes.
They are fantastic for so many applications, such as apparel, signs and cutting machines!
How to Open SVG Files?
Next, we'll look at how to open an SVG file!
There are many software choices for opening SVG files. However, we will focus on the options for cutting machines since they are the most commonly used.
Typically, SVG files are compressed within a zip folder and require extraction before they can be accessed.
Before importing the cutting SVG files into your preferred software program, like Cricut Design Space, or Silhouette Studio, …, you must first unzip the downloaded file by double-clicking the folder and selecting "extract all."
During the extraction process, you'll be prompted to choose a destination for your files. To avoid difficulty in retrieving them, you can create a dedicated folder on your desktop or computer labeled "SVG files."
It's crucial to keep track of the extraction location since you'll need to access the files again later.
Unicorn SVG Files
Uncover endless creative opportunities within our extensive Unicorn SVG Files collection, conveniently available on our website! Our thoughtfully selected assortment spans a diverse range of options, thoughtfully designed to cater to your varied creative aspirations. Moreover, relish the added advantage of complimentary access to handpicked designs that we're confident will align seamlessly with your preferences.
The "Spring Unicorn Face" free SVG cut file features a delightful unicorn face design with a spring-themed twist. The unicorn is adorned with floral elements, giving it a fresh and whimsical look. This SVG file can be used with cutting machines to create a variety of DIY projects, such as personalized shirts, tote bags, home decor items, and more. The spring unicorn face design is perfect for adding a touch of magic and charm to your crafting projects during the spring season.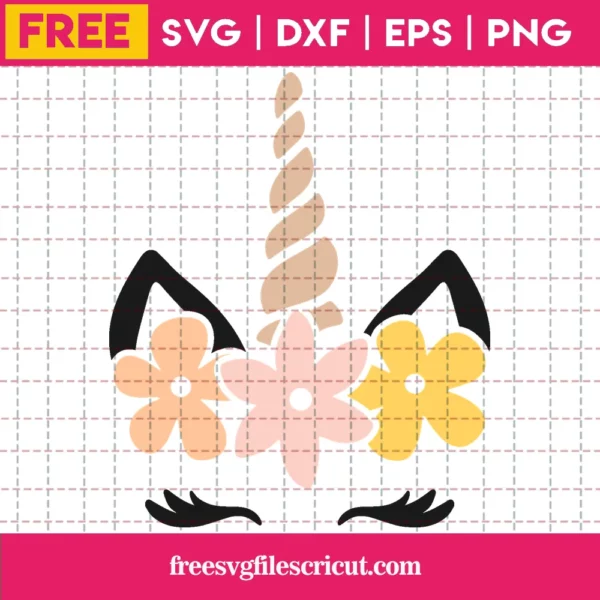 This SVG file can be used with cutting machines like Cricut or Silhouette to create stunning DIY projects. The floral unicorn face design is perfect for adding a touch of whimsy and elegance to various crafting projects, such as t-shirts, tote bags, wall art, and more. The combination of the unicorn motif and floral details creates a magical and enchanting aesthetic that's ideal for a wide range of creative endeavors.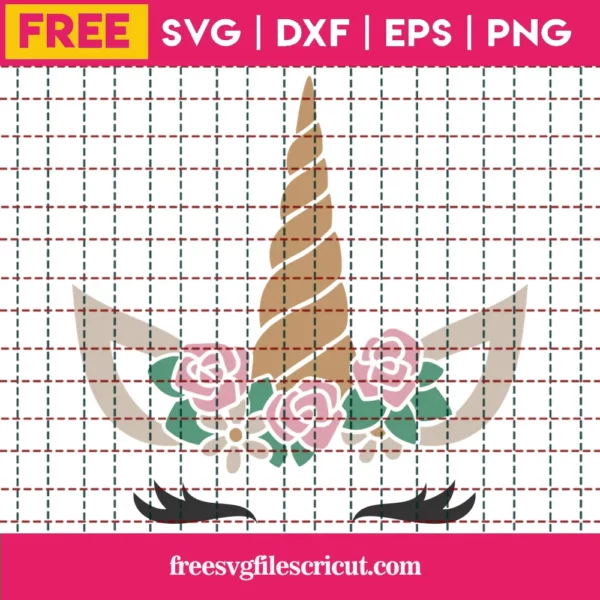 The design showcases a cute unicorn with a playful and vibrant style, making it perfect for crafting projects such as t-shirts, school supplies, and other accessories. This design is an excellent way to celebrate a student's journey through fourth grade while adding a touch of magical fun to their everyday items.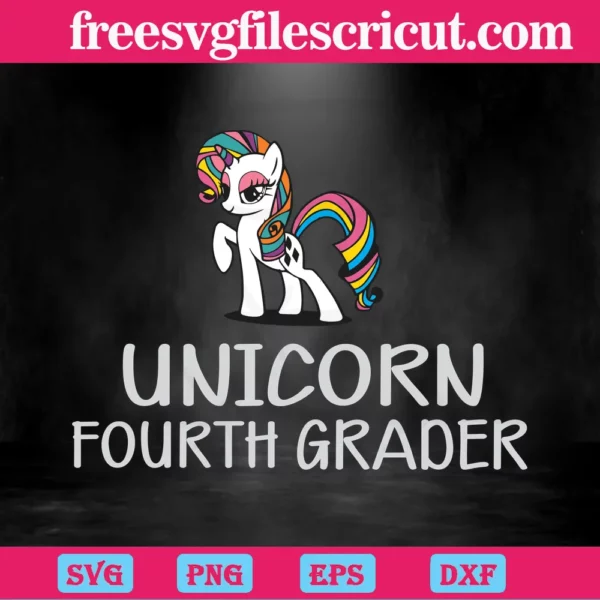 The "Teachers Are Fabulous And Magical Like A Unicorn Only Better" SVG is a whimsical and appreciative design that celebrates the incredible work of teachers. Combining the enchantment of unicorns with the extraordinary efforts of teachers, this SVG file can be utilized with cutting machines like Cricut or Silhouette to create personalized crafts and gifts. The design showcases the message that teachers are not only magical like unicorns but even better because of their dedication and impact on students' lives. This design is a wonderful way to show gratitude to teachers and can be used to make items such as tote bags, mugs, or classroom decorations.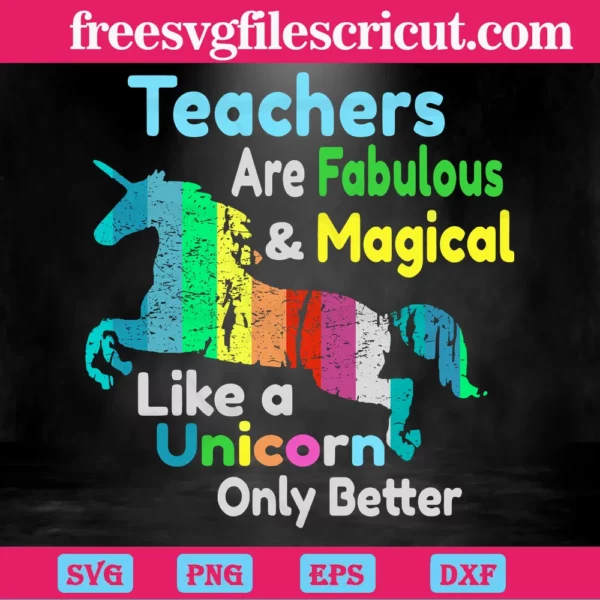 Combining the enchanting imagery of unicorns with the impactful work of educators, this SVG file is compatible with cutting machines such as Cricut or Silhouette, allowing you to create custom crafts and gifts. The design conveys the idea that teachers possess a special ability to create positive change and inspire growth, much like the magic of unicorns. This design can be used to make items like tote bags, t-shirts, or classroom decorations, serving as a token of appreciation for the dedication and impact of teachers.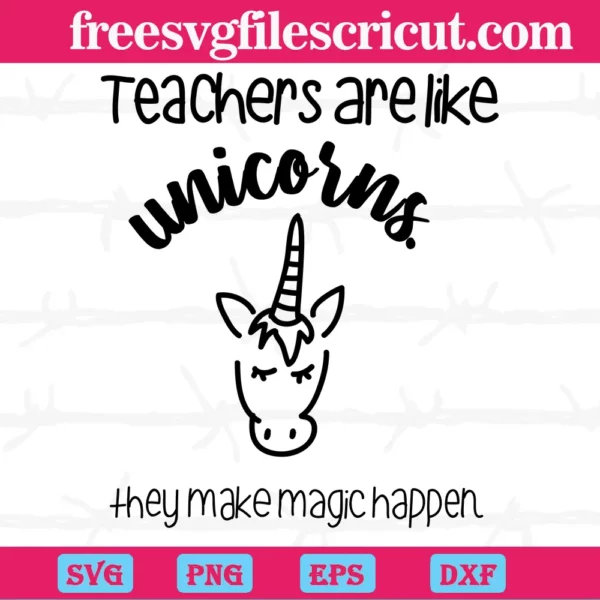 The playful imagery of a unicorn adds a magical touch to the concept of advancing to a new grade level. This SVG file can be used with cutting machines like Cricut or Silhouette to create personalized items such as t-shirts, backpacks, or school supplies. The phrase "I'm Ready to Invade 6th Grade" reflects the eagerness and confidence of a student as they transition to the next phase of their education journey. This design can make for a creative and cheerful way to celebrate this milestone and build excitement for the upcoming school year.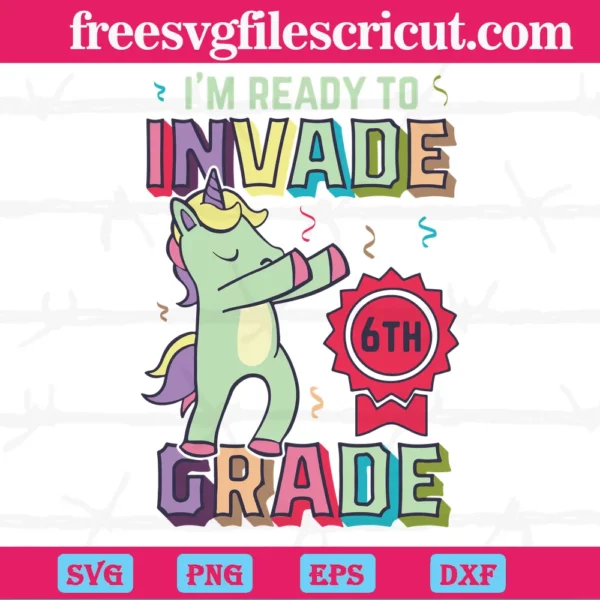 This SVG file can be used with cutting machines like Cricut or Silhouette to create various back-to-school items, such as t-shirts, tote bags, or classroom decorations. The phrase "Dabbing into Kindergarten" reflects the fun and energetic spirit of a child as they embark on their kindergarten journey. It's a creative and modern way to celebrate this special milestone and make going back to school even more exciting for young students.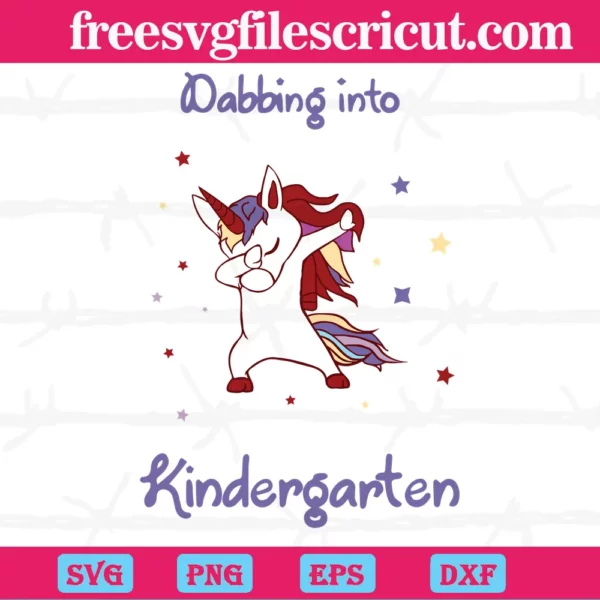 Prepare to elevate your design endeavors with our comprehensive array of Unicorn SVG files! We're delighted to introduce a thoughtfully curated selection that promises to infuse your creations with a touch of enchantment. Each Unicorn SVG file has been thoughtfully chosen to highlight our most exquisite designs, ensuring that you'll uncover a piece that perfectly resonates with your creative flair.
If your curiosity leads you to explore other design themes, we warmly invite you to explore our website, freesvgfilescricut.com. Within its virtual halls, you'll discover a diverse tapestry of designs featuring adored characters from popular culture. We're confident that you'll stumble upon designs that are sure to spark your artistic imagination.