Welcome to the fascinating world of Jesus SVG, where we delve into the art and symbolism of vector graphics representing one of the most iconic figures in human history, Jesus Christ. In this exploration, we'll discover the versatility of SVG (Scalable Vector Graphics) in portraying the life, teachings, and enduring impact of Jesus. Whether you're an artist seeking inspiration, a historian interested in the visual representation of religious narratives, or simply curious about the intersection of technology and spirituality, join us as we embark on a journey to explore the intricacies and beauty of Jesus SVG imagery.
What Is Jesus?
Jesus is a central figure in Christianity and is considered the Son of God by Christians. According to Christian belief, Jesus is the Messiah prophesied in the Old Testament of the Bible who came to Earth to save humanity from sin and offer eternal life. He is believed to have been born to the Virgin Mary, performed miracles, taught about God's kingdom, and ultimately sacrificed himself on the cross for the redemption of humanity. Christians believe that Jesus rose from the dead three days after his crucifixion, confirming his divinity and offering salvation to those who believe in him.
What is an SVG File?
An SVG file, (which stands for scalable vector graphic), is a standard graphics file that is mainly used for rendering two-dimensional images.
SVG images can be scaled up or down without losing quality or becoming pixelated, making them ideal for logos, icons, and other types of graphics that need to be displayed at various sizes.
They are fantastic for so many applications, such as apparel, signs and cutting machines!
How to Open SVG Files?
Next, we'll look at how to open an SVG file!
There are many software choices for opening SVG files. However, we will focus on the options for cutting machines since they are the most commonly used.
Typically, SVG files are compressed within a zip folder and require extraction before they can be accessed.
Before importing the cutting SVG files into your preferred software program, like Cricut Design Space, or Silhouette Studio, …, you must first unzip the downloaded file by double-clicking the folder and selecting "extract all."
During the extraction process, you'll be prompted to choose a destination for your files. To avoid difficulty in retrieving them, you can create a dedicated folder on your desktop or computer labeled "SVG files."
It's crucial to keep track of the extraction location since you'll need to access the files again later.
Jesus SVG Files
Unearth a realm of creative potential within our comprehensive Christian SVG Files collection, conveniently accessible on our website! Our thoughtfully assembled assortment spans a broad spectrum of options, meticulously tailored to cater to your varied creative aspirations. And as an extra delight, relish the advantage of complimentary access to handpicked designs that we're confident will harmonize seamlessly with your specific requirements.
This design likely features an image or text related to Jesus but with a modern twist, portraying him as a surfer rather than a walker on water. The use of SVG file format indicates that this design can be used for various digital and crafting projects. It's a playful and imaginative approach to combining religious symbolism with a contemporary and lighthearted theme. This design could be used for a range of purposes, including apparel, posters, and more, offering a unique and amusing perspective on a familiar story.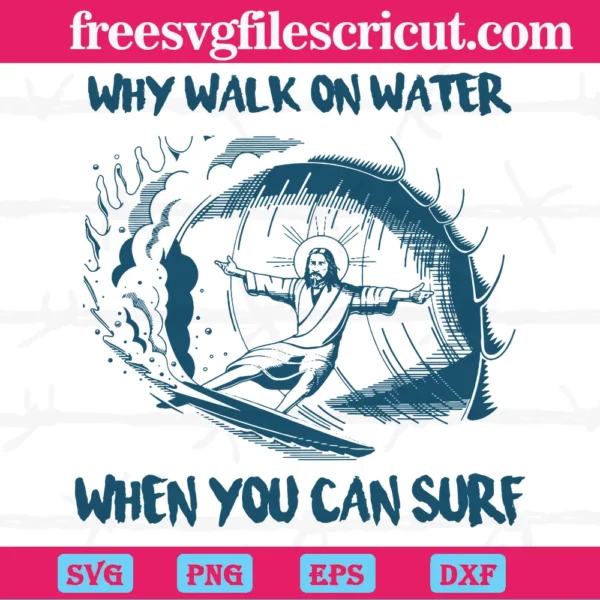 This design likely features an amusing portrayal of Jesus as a savior while incorporating the gaming phrase "roll for damage." Available as downloadable files, it's suitable for various digital and creative applications, offering a playful and unique way to blend religious symbolism with pop culture references, catering to a specific audience of gamers or those with a light-hearted perspective on faith.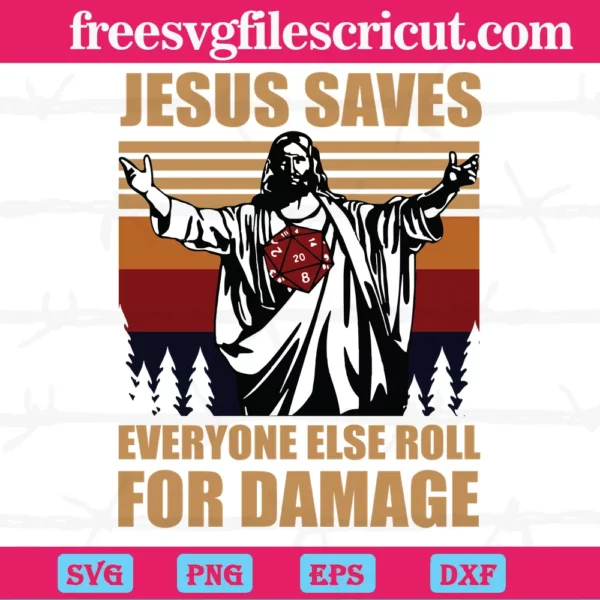 The title "Jesus I Woke Up Like This Blessed, Svg Png Dxf Eps Digital Download" suggests a design that combines a reference to Jesus with a popular cultural phrase "I woke up like this," often used to express self-confidence and natural beauty. The design likely features an image or text conveying a sense of being blessed and content in the context of one's faith. It's available in multiple digital formats, making it versatile for various creative projects, including apparel, home decor, or digital graphics, with an inspirational and positive message.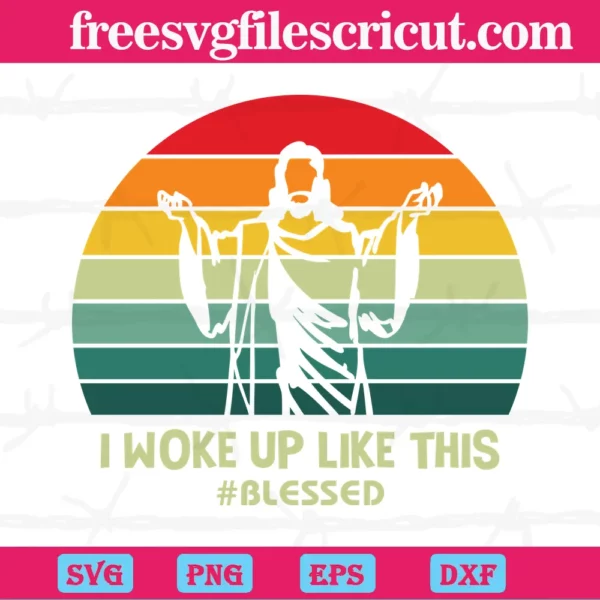 The title "Jesus Chosen Blessed Forgiven, Svg File Formats" likely represents a design that incorporates Christian religious themes. It conveys the ideas of being chosen, blessed, and forgiven through faith in Jesus Christ. This design is available in SVG file format, a versatile digital format suitable for a wide range of creative applications, including apparel design, wall art, or digital projects. It serves as a visual reminder of important Christian beliefs and can be used for personal or communal expressions of faith and spirituality.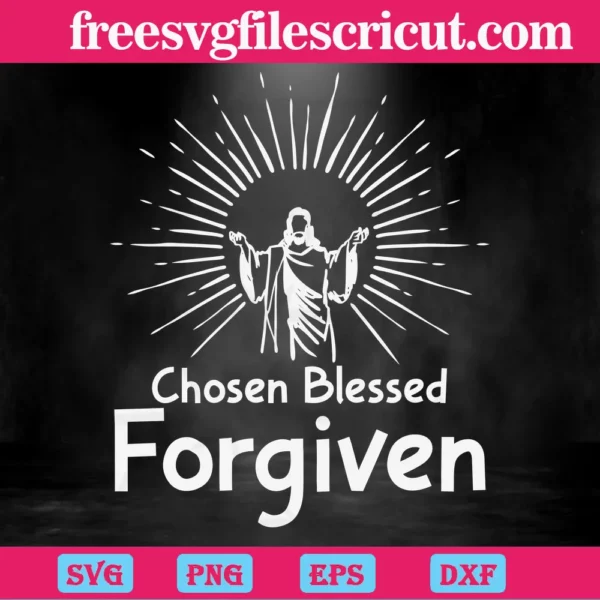 The title "Retro Jesus Still Loves Me Windmill Vintage, Svg Png Dxf Eps Digital Files" likely represents a design that combines retro and vintage aesthetics with a heartfelt religious message. It conveys the enduring and timeless message that "Jesus Still Loves Me." The inclusion of "Windmill Vintage" suggests a unique and nostalgic design element. Additionally, "Svg Png Dxf Eps Digital Files" indicates that this design is available in multiple digital file formats, making it versatile for various creative projects. Overall, this design is a visually appealing and uplifting expression of Christian faith, suitable for use in digital graphics, crafting, or other creative endeavors.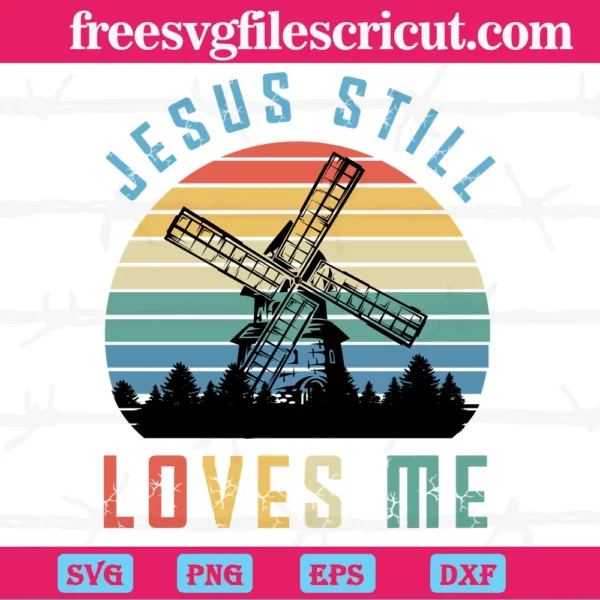 The title "God Is Good All The Time, Svg Files For Crafting And Diy Projects" signifies a design that emphasizes the constant goodness of God. This message serves as a source of inspiration and faith. The design is available in SVG file format, which is versatile for various crafting and DIY projects. This enables individuals to create personalized artworks, clothing, or home decor items that reflect their deep belief in God's unwavering goodness. In essence, this title represents a fusion of faith, creativity, and the desire to express devotion through DIY crafting and creative pursuits.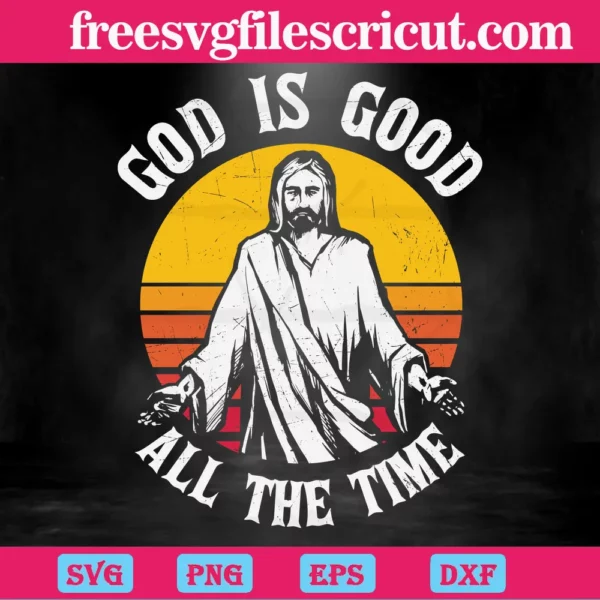 The title "We Gonna Party Like It's My Birthday Jesus Christmas, Cutting File Svg" suggests a festive and joyful design that fuses the celebration of Jesus' birth with the exuberance of a lively party atmosphere during Christmas. This design is provided in SVG file format, optimized for use with cutting machines, allowing users to create personalized Christmas decorations, clothing, or crafts. It embodies a sense of merriment and offers a practical tool for crafting unique Christmas-themed items that capture the spirit of both the holiday and celebration.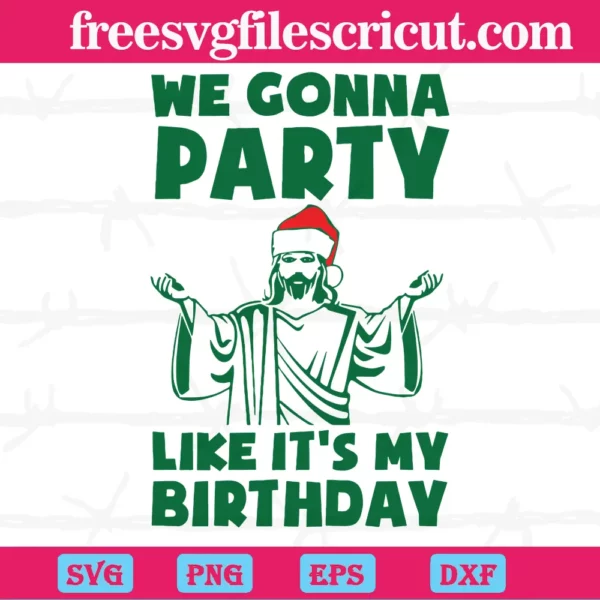 The title "This Girl Runs On Jesus And Horses, Cuttable Svg Files" signifies a design that melds faith and a passion for horses. It suggests that the individual represented by this design derives strength and inspiration from both their belief in Jesus and their deep affection for horses. Available in SVG format, this design is suitable for cutting purposes, allowing for the creation of custom artwork, decals, or other items that beautifully combine spirituality with a love for equestrian pursuits. In essence, it symbolizes the harmonious fusion of faith and a fondness for horses, providing a practical SVG file for crafting distinct and meaningful items that reflect these dual interests.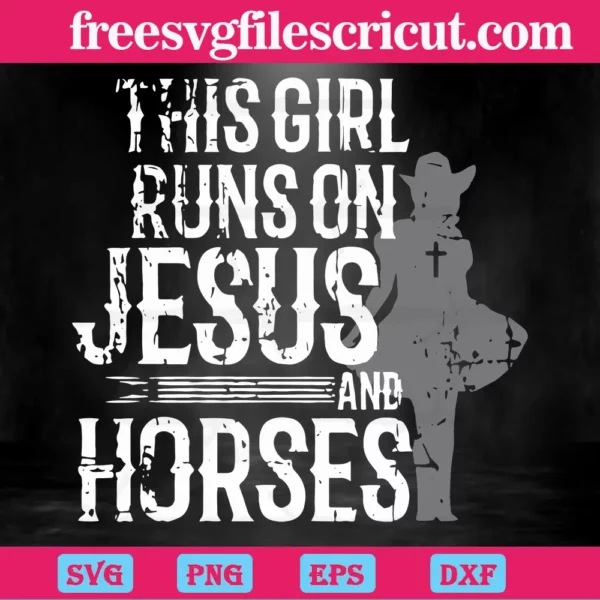 The title "Vintage Jesus In My Heart Baseball In My Veins, High-Quality Svg Files" encapsulates a design that harmonizes a deep faith in Jesus with an unwavering passion for baseball. The term "Vintage" suggests a timeless and enduring style. "Jesus In My Heart Baseball In My Veins" highlights the profound significance of both faith and baseball in the individual's life. The mention of "High-Quality Svg Files" indicates the availability of this design in a digital format, suitable for diverse creative applications. This design symbolizes the fusion of faith and baseball, offering a platform for crafting personalized items that celebrate this unique combination.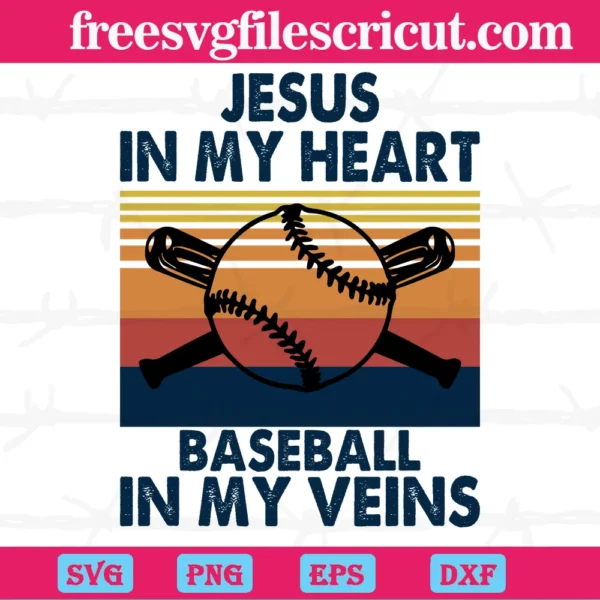 The title "Coffee Gets Me Started Jesus Keeps Me Going, Free SVG Illustrations" conveys a delightful sentiment that combines the energizing power of coffee with the enduring strength provided by faith in Jesus. "Coffee Gets Me Started" humorously recognizes coffee as the morning boost, while "Jesus Keeps Me Going" emphasizes the sustaining force of one's spiritual belief. The inclusion of "Free SVG Illustrations" suggests the availability of this design in a digital format, making it accessible for various creative projects. This title embodies a harmonious balance between the everyday rituals and deeper convictions in life, offering an opportunity for crafters to express this balance through their creations.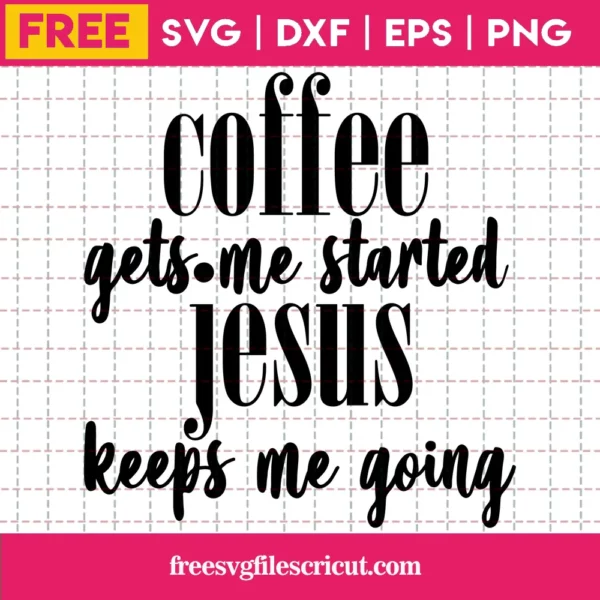 Prepare to elevate your design projects with the spiritual essence of Jesus through our expansive Jesus SVG files collection! We're excited to unveil a thoughtfully curated array that promises to infuse your creations with a touch of faith and inspiration. Each Jesus SVG file has been thoughtfully selected to showcase our premium designs, ensuring that you'll uncover something that deeply resonates with your spiritual essence.
For those captivated by various design themes, we warmly invite you to explore our website, freesvgfilescricut.com. Within its digital haven, you'll uncover a diverse array of designs featuring beloved characters from popular culture. We're confident that you'll stumble upon designs that set ablaze your artistic inspiration.