Discover Nurse SVGs that beautifully honor the dedication of nurses. From charming designs to empowering quotes, these versatile files are perfect for crafting projects. Whether you're a nurse, know someone in the field, or simply want to show gratitude, Nurse SVGs offer a heartfelt way to express appreciation. Join us in celebrating the remarkable contributions of nurses and transforming these SVGs into meaningful expressions of support and respect.
What is Nurse?
A nurse is a healthcare professional responsible for providing medical care and support to patients. They collaborate with medical teams to administer treatments, medications, and procedures, monitor patients' conditions, and offer emotional assistance. Nurses work in various settings and specialize in areas like pediatrics, surgery, and critical care. They serve as a bridge between patients and the healthcare system, educating patients about their health, ensuring proper care, and providing comfort. Nurses can have different titles based on their training, such as LPNs, RNs, and NPs. They require formal education and training, and their roles are crucial in improving patients' well-being and recovery through their expertise, compassion, and dedication.
What is an SVG File?
An SVG file, (which stands for scalable vector graphic), is a standard graphics file that is mainly used for rendering two-dimensional images.
SVG images can be scaled up or down without losing quality or becoming pixelated, making them ideal for logos, icons, and other types of graphics that need to be displayed at various sizes.
They are fantastic for so many applications, such as apparel, signs and cutting machines!
How to Open SVG Files?
Next, we'll look at how to open an SVG file!
There are many software choices for opening SVG files. However, we will focus on the options for cutting machines since they are the most commonly used.
Typically, SVG files are compressed within a zip folder and require extraction before they can be accessed.
Before importing the cutting SVG files into your preferred software program, like Cricut Design Space, or Silhouette Studio, …, you must first unzip the downloaded file by double-clicking the folder and selecting "extract all."
During the extraction process, you'll be prompted to choose a destination for your files. To avoid difficulty in retrieving them, you can create a dedicated folder on your desktop or computer labeled "SVG files."
It's crucial to keep track of the extraction location since you'll need to access the files again later.
Nurse SVG Files
Embark on a journey of creativity with our vast Nurse SVG Files collection, conveniently accessible on our website! Our thoughtfully assembled assortment spans a diverse range of options, meticulously crafted to cater to your varied creative aspirations. And as an added perk, delight in the privilege of complimentary access to handpicked designs that we're confident will seamlessly align with your specific requirements.
The "American Flag Nurse Rainbow" is a title that describes a design or image featuring a combination of the American flag, a nurse symbol, and a rainbow. This design represents the support and appreciation for nurses in America, especially during times of crisis or hardship. The title suggests that the design is available in SVG file format, which is a scalable vector graphics format commonly used for digital design and printing purposes.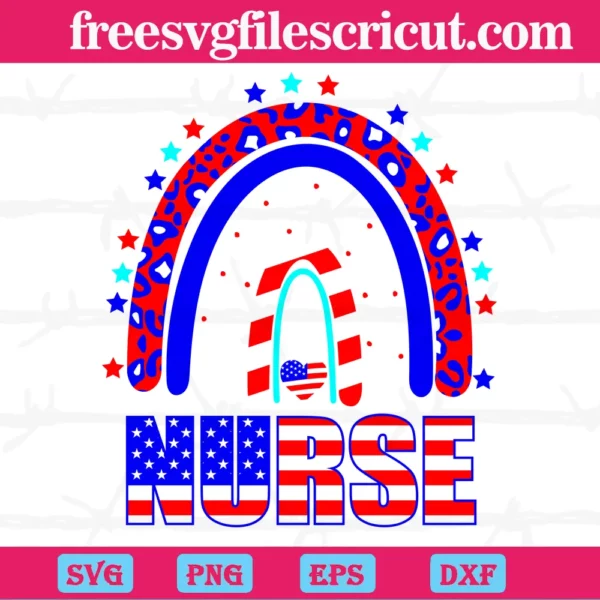 "Just A Mom Who Raised A PICU Nurse" is a title that highlights the pride and admiration of a mother who has raised a child who became a Pediatric Intensive Care Unit (PICU) nurse. This title suggests that there are SVG designs available related to this theme. SVG file format is a scalable vector graphics format commonly used for digital design and printing purposes. These designs may include images or symbols that represent the dedication and hard work of both the nurse and their supportive mother.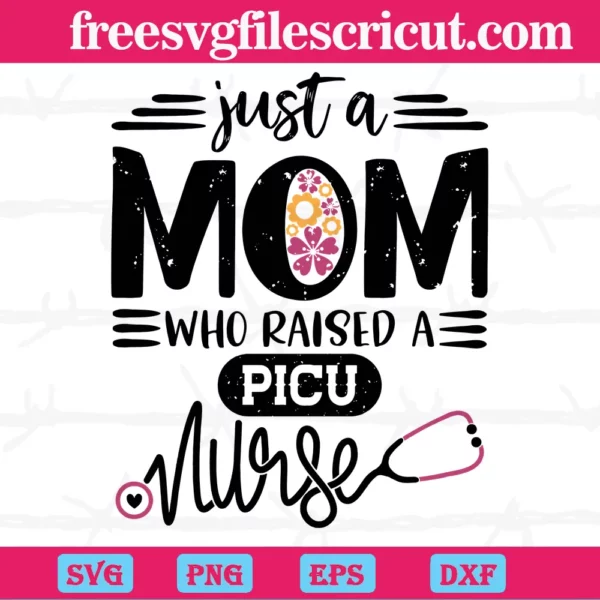 The statement "My Nurse Wife Is Psychotic, Free SVG Designs for Cricut" introduces a collection of digital design resources that playfully incorporate the concept of a nurse wife having a strong dedication to her profession. These designs are provided in SVG format and are available for use with Cricut machines.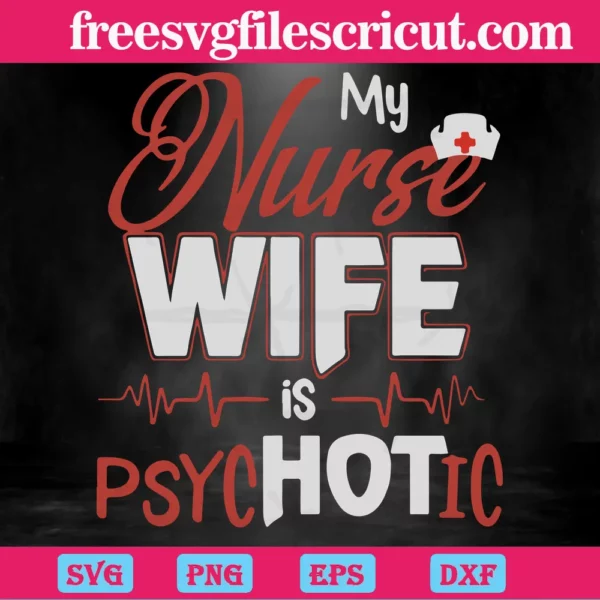 The phrase "A New Nurse Gets Scared When A Doctor Yells, An Old Nurse Yells Back, Free Commercial Use SVG Fonts" humorously contrasts the reactions of new and experienced nurses to a doctor's yelling. It also indicates the availability of free SVG fonts for commercial use. This statement captures the dynamic of how experience shapes responses in the medical field, and it offers a collection of typography designs in SVG format that can be freely used for commercial projects, adding both humor and practical value to the resource.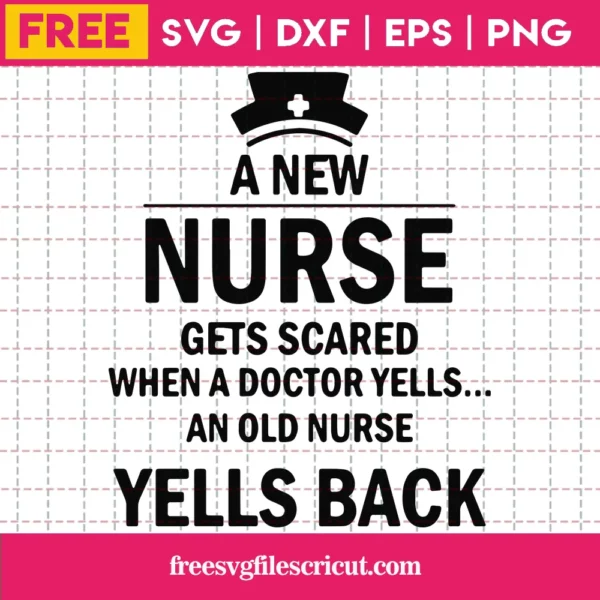 The phrase "Every Hero May Not Be A Nurse But Every Nurse Is A Hero, Laser Cut SVG Files" honors nurses as everyday heroes and introduces a collection of digital design resources in SVG format specifically tailored for laser cutting. This sentiment underscores nurses' vital contributions, while the mention of laser cutting suggests the creation of intricate and personalized items that celebrate their heroic role in healthcare.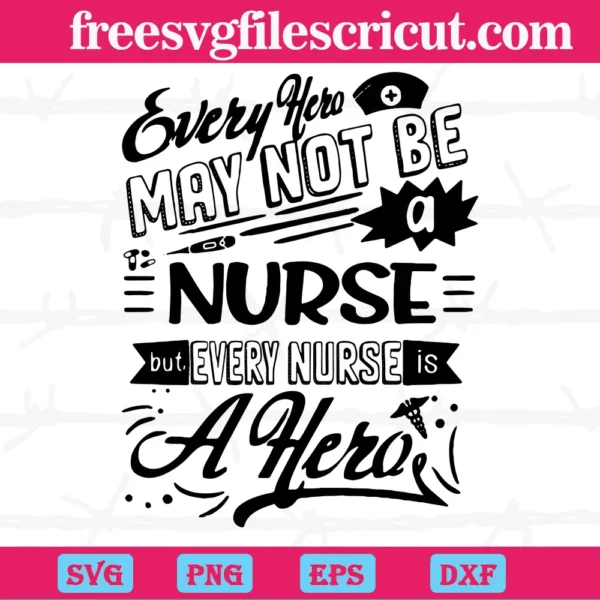 The phrase "I'm Not A Hero But I Am A Nurse, So Close Enough, Layered SVG Files" playfully acknowledges the significant role of nurses while introducing a collection of layered SVG design resources. This phrase humorously reflects nurses' essential contributions and provides a versatile resource for creators to customize and create items that celebrate nursing with a touch of lightheartedness. The layered SVG format allows for detailed personalization and resizing, making it suitable for a variety of creative applications.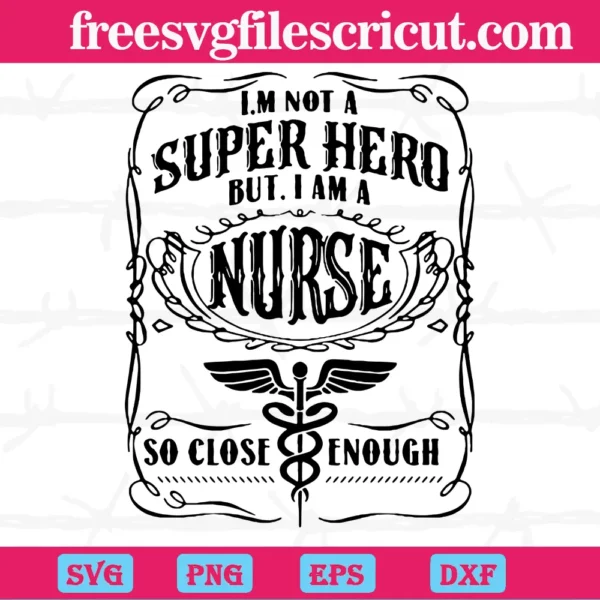 Prepare to enrich your design endeavors with our extensive Nurse SVG files collection! We're delighted to introduce a carefully selected assortment that's poised to infuse your creations with a touch of inspiration. Each Nurse SVG file has been thoughtfully chosen to spotlight our premium designs, guaranteeing that you'll find something that deeply resonates with your creative essence.
If your curiosity beckons you toward different design themes, we warmly invite you to explore our website, freesvgfilescricut.com. Within its digital haven, you'll uncover a diverse array of designs featuring beloved characters from popular culture. We're confident that you'll stumble upon designs that set ablaze your artistic inspiration.