Welcome to the cute world of Dumbo! Our Dumbo SVG collection is filled with delightful designs featuring everyone's favorite flying elephant. From sweet and charming to playful and whimsical, our Dumbo SVG files are perfect for adding a touch of magic to your DIY crafts.
Who is Dumbo?
Dumbo is the titular protagonist of Disney's 1941 animated feature film of the same name. He is a young elephant and the son of Mrs. Jumbo. Dumbo is most famous for his giant floppy ears, which give him the ability to glide in the air. As an infant, he was harassed for his abnormal ears. While defending Dumbo from such bullies, Mrs. Jumbo was thrown into solitary confinement. To rescue his mother, Dumbo devotes himself to becoming a star, with Timothy Q. Mouse as his mentor and protector and then a flock of crows to help him and teach him to fly.
What is an SVG File?
An SVG file, (which stands for scalable vector graphic), is a standard graphics file that is mainly used for rendering two-dimensional images.
SVG images can be scaled up or down without losing quality or becoming pixelated, making them ideal for logos, icons, and other types of graphics that need to be displayed at various sizes.
They are fantastic for so many applications, such as apparel, signs and cutting machines! 
How to Open SVG Files?
Next, we'll look at how to open an SVG file!
There are many software choices for opening SVG files. However, we will focus on the options for cutting machines since they are the most commonly used.
Typically, SVG files are compressed within a zip folder and require extraction before they can be accessed.
Before importing the cutting SVG files into your preferred software program, like Cricut Design Space, or Silhouette Studio, …, you must first unzip the downloaded file by double-clicking the folder and selecting "extract all."
During the extraction process, you'll be prompted to choose a destination for your files. To avoid difficulty in retrieving them, you can create a dedicated folder on your desktop or computer labeled "SVG files."
It's crucial to keep track of the extraction location since you'll need to access the files again later. 
Dumbo SVG Files
Discover the magic of Dumbo with our diverse collection of SVG files on our website. We offer a wide range of formats, including SVG, PNG, EPS, and DXF, to suit your creative needs. With some designs available for free, you can easily find the perfect Dumbo SVG files to add a touch of enchantment to your crafts. Browse our website today and let your imagination soar with our delightful Dumbo designs. Bring your projects to life with the charm and wonder of this beloved Disney character!
Introducing our adorable Baby Dumbo SVG design with their iconic big ears! These delightful files are perfect for all your crafting projects. With high-quality graphic and easy customization option, you can bring the magic of Dumbo to life in your own unique way. Don't miss out on this precious design, download our Baby Dumbo SVG file today and let your creativity take flight!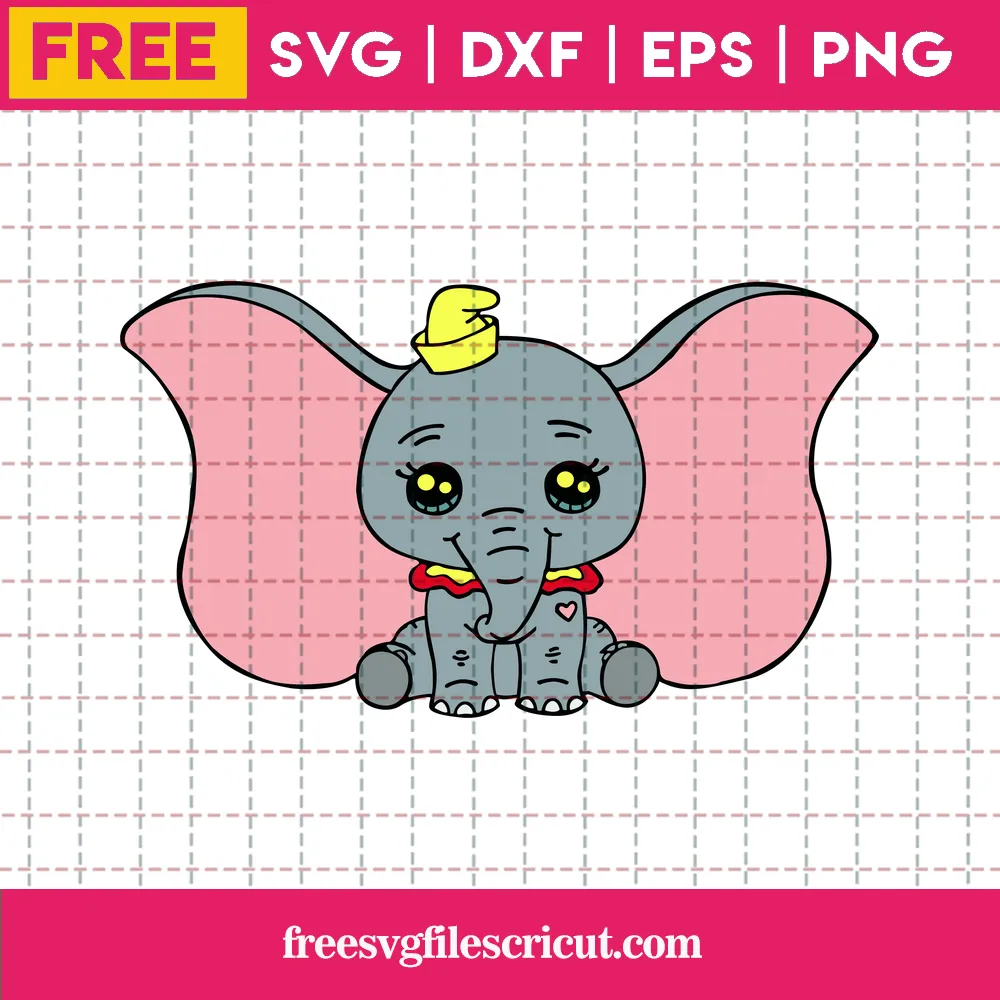 Embrace your inner crafter with our Dumbo Outline Silhouette SVG files, available for free! Compatible with DIY cutting machines, such as Cricut machines, these high-quality SVG files make it easy to create custom stickers, handmade greeting cards, and more. Featuring the iconic Disney character, Dumbo, in an outline silhouette form, these SVG files are perfect for adding a touch of whimsy to your creations.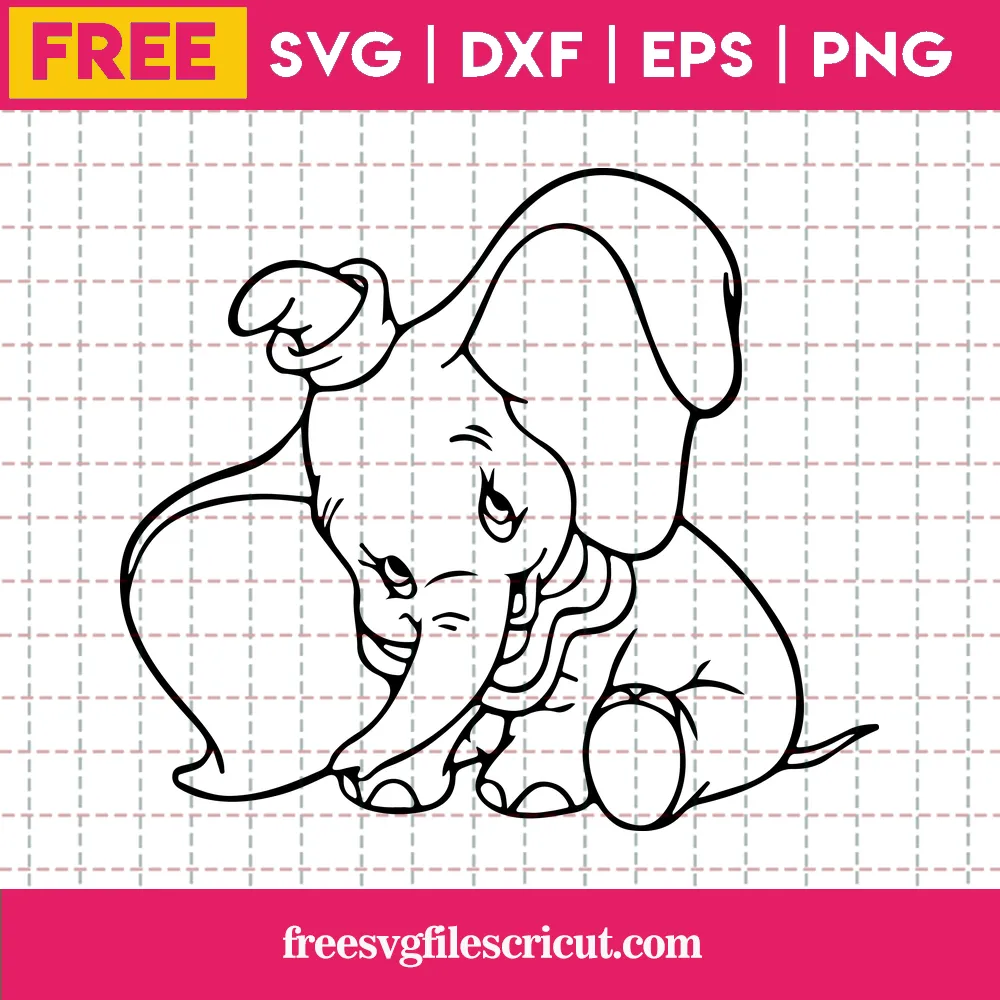 This fun and playful design is perfect for adding a touch of Disney magic to your travel-themed projects. Create custom print t-shirts, mugs, hats, and more with our high-quality SVG file. Whether you're documenting your trip memories or adding some flair to your travel accessories, our Dumbo Vacay Mode Cutting SVG is the perfect choice.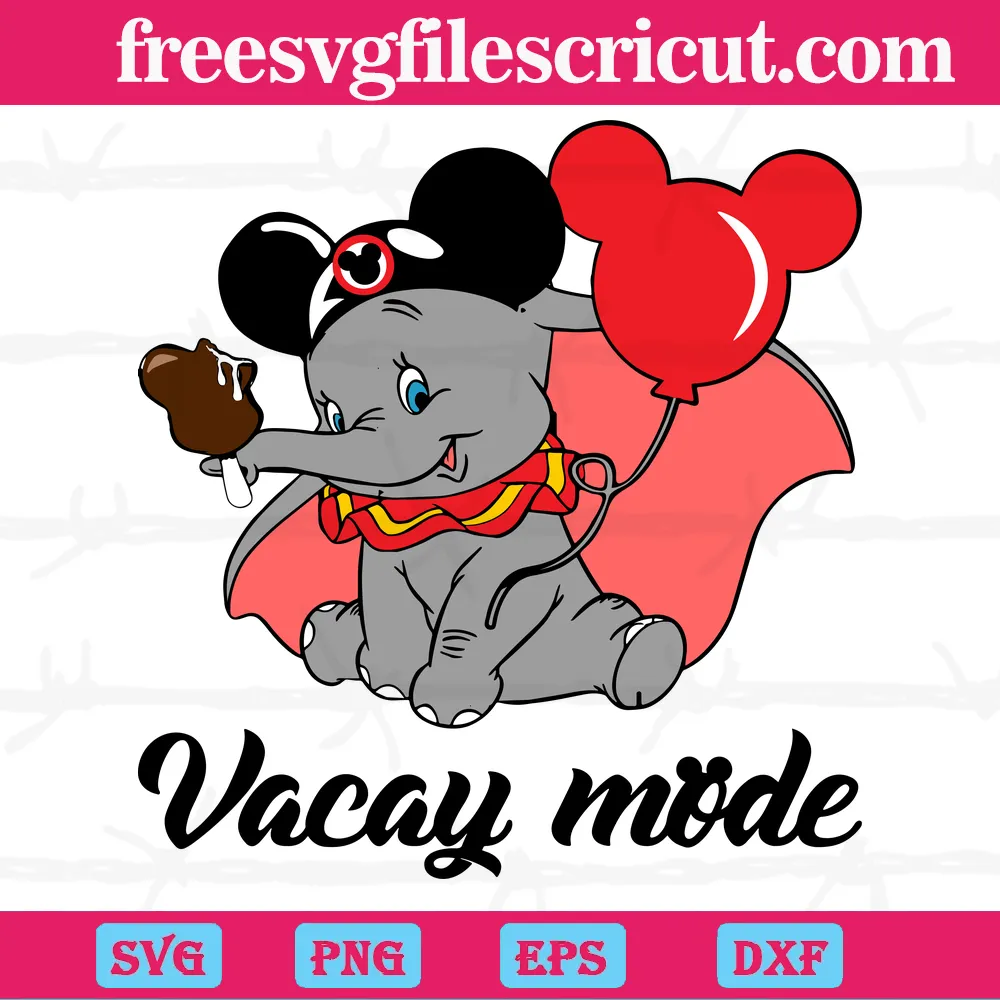 Customize your crafts with our Dumbo With Hat Layered SVG File! This versatile design allows for endless creativity with multiple layers for a multi-dimensional look. Add Dumbo with his iconic hat to your scrapbooking, home decor, or personalized gifts. Download now and let your imagination soar!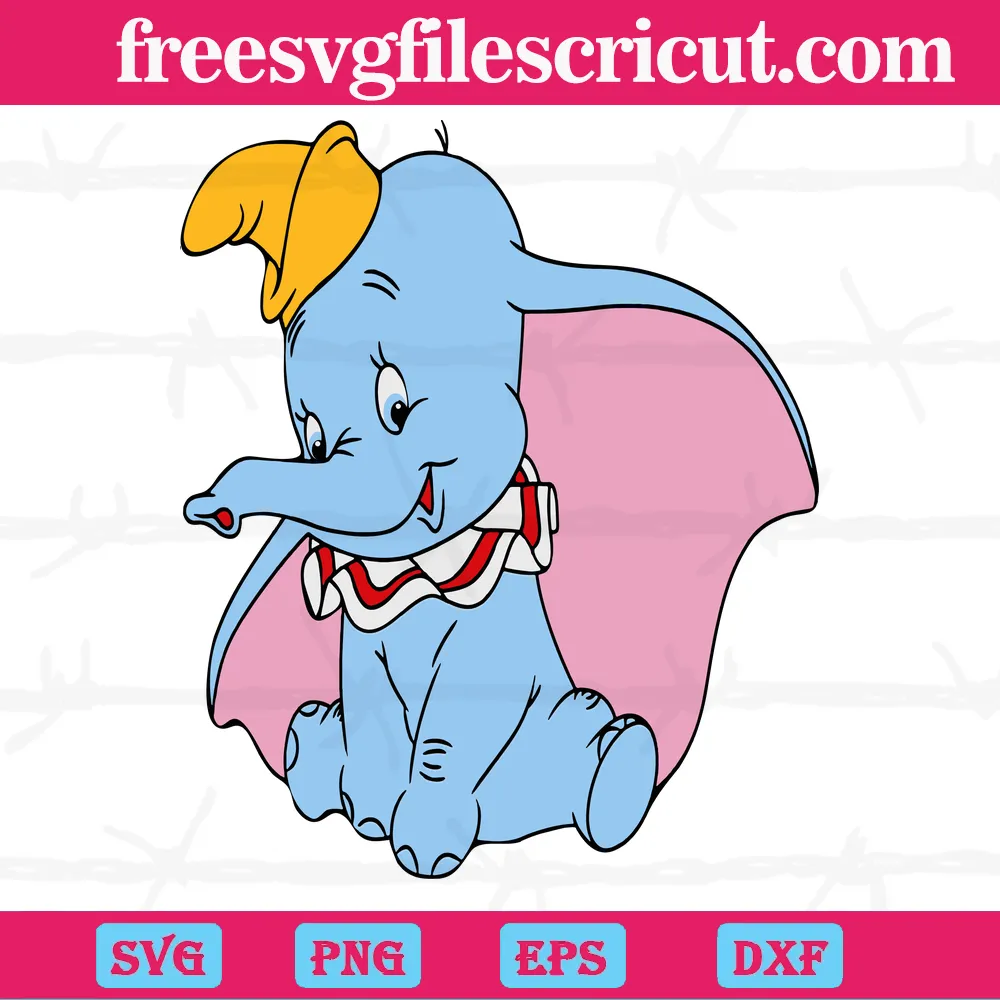 Indulge in the magic of Dumbo with our exclusive Dumbo Bundle SVG collection! This curated bundle features a range of adorable designs, showcasing the lovable elephant in various poses and settings. From cute Dumbo with a yellow hat to playful Dumbo in vacay mode, these SVG files are perfect for creating charming crafts and gifts. Make this easy and unique Dumbo Bundle SVG with your Cricut or Silhouette machine.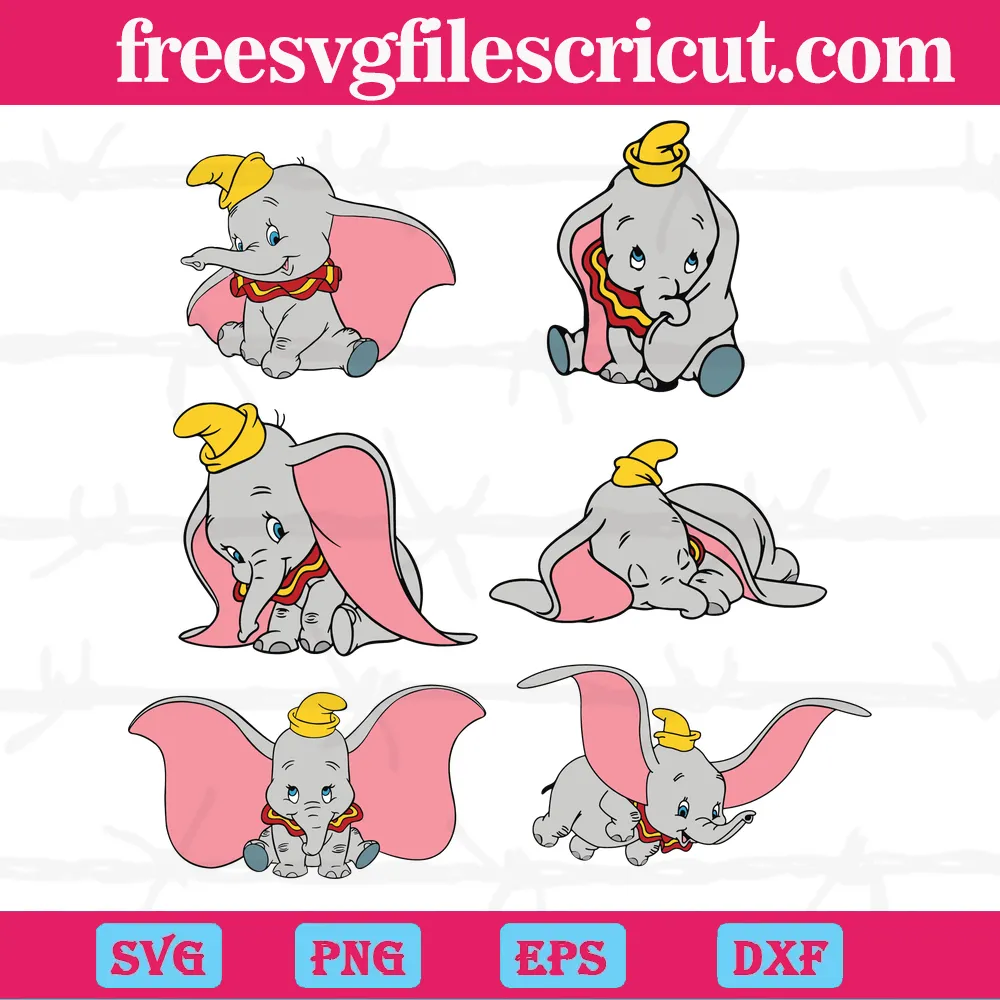 After download, you will receive 4 high-quality design files for your next crafting project:
1 EPS file

– Scalable vector, editable file for Adobe Illustrator, Inkscape, Corel Draw (compatible with most cutting plotter software);

1 PNG file

– 300 dpi High Resolution, transparent background;

1 SVG file

– Universal format compatible with Silhouette Studio Designer, Cricut Design Space, Make the Cut, Sure Cuts A Lot, Brother ScanNCut, Cameo and others;

1 DXF file

– Line format for cutting in Silhouette, other cutting plotters or laser engraving machines;
These vector files are fully editable and scalable, providing you with the flexibility to create unique designs that stand out.
Indulge in the magic of our cutting SVG files featuring iconic cartoon characters like Winnie the Pooh, Mickey Mouse, Paw Patrol, and Toothless from How to Train Your Dragon. Use these delightful files to create unique print shirts, charming birthday decorations, fun cup wraps, and creative scrapbooking projects that will captivate your imagination.