"Roar for the Lions: Detroit Lions SVG Designs for Your Creations! Show your support for the Detroit Lions with our collection of dynamic SVG designs. These designs capture the spirit of the team, featuring iconic logos, motifs, and elements that represent the pride and passion of Detroit Lions fans. Whether you're personalizing apparel, creating fan merchandise, or enhancing your digital projects, our SVG designs provide a versatile canvas to infuse your creations with the energy and excitement of the Lions' legacy. Download our Detroit Lions SVG designs and let your creativity roar with the team's enthusiasm, determination, and unwavering support."
What is Detroit Lions?
The Detroit Lions are a professional American football team in the National Football League (NFL), based in Detroit, Michigan. Established in 1930, they compete in the NFL's NFC North division. While the team has a historic background and has won multiple NFL championships, they haven't secured a Super Bowl victory. They play their home games at Ford Field and wear blue and silver as their team colors. Despite challenges, the Lions maintain a strong fan base and contribute to the NFL's legacy.
What is an SVG File?
An SVG file, (which stands for scalable vector graphic), is a standard graphics file that is mainly used for rendering two-dimensional images.
SVG images can be scaled up or down without losing quality or becoming pixelated, making them ideal for logos, icons, and other types of graphics that need to be displayed at various sizes.
They are fantastic for so many applications, such as apparel, signs and cutting machines!
How to Open SVG Files?
Next, we'll look at how to open an SVG file!
There are many software choices for opening SVG files. However, we will focus on the options for cutting machines since they are the most commonly used.
Typically, SVG files are compressed within a zip folder and require extraction before they can be accessed.
Before importing the cutting SVG files into your preferred software program, like Cricut Design Space, or Silhouette Studio, …, you must first unzip the downloaded file by double-clicking the folder and selecting "extract all."
During the extraction process, you'll be prompted to choose a destination for your files. To avoid difficulty in retrieving them, you can create a dedicated folder on your desktop or computer labeled "SVG files."
It's crucial to keep track of the extraction location since you'll need to access the files again later.
Detroit Lions svg files
Unleash a realm of creative potential with our comprehensive Detroit Lions SVG Files collection, conveniently accessible on our website! Our thoughtfully assembled assortment spans a broad spectrum of options, meticulously designed to cater to your varied creative aspirations. And as an extra delight, relish the advantage of complimentary access to handpicked designs that we're confident will harmonize seamlessly with your specific requirements.
Introduces a collection of complimentary SVG image resources that blend the love for Detroit Lions football with a heart symbol. These images cater to fans' passion and support for the team, allowing them to create personalized items that reflect their dedication. With their compatibility for Cricut machines, these resources offer an accessible way for fans to infuse their crafting projects with team spirit, enhancing the connection between the Detroit Lions and their supporters.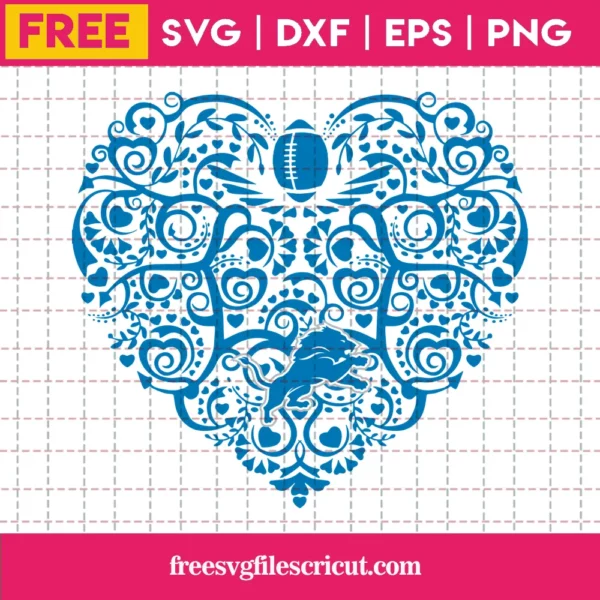 This versatile resource, available in multiple formats, including SVG, PNG, DXF, and EPS, allows creators to seamlessly incorporate the Detroit Lions' team affiliation into their design projects. The assortment of formats ensures adaptability for various creative applications, offering a convenient way to showcase team pride and identity.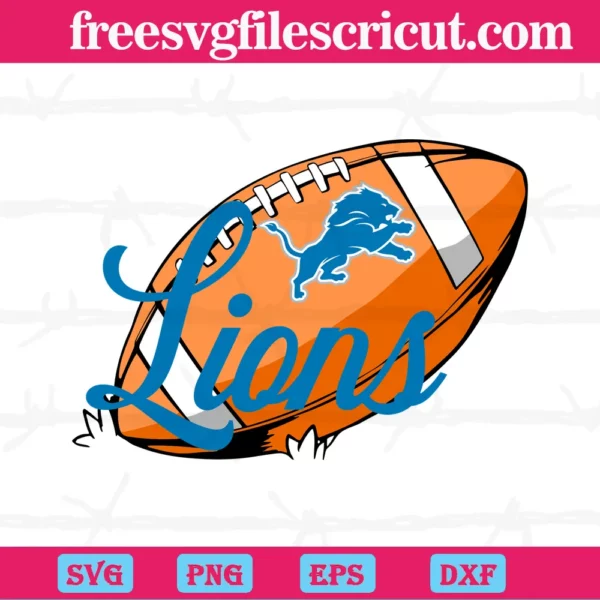 "NFL This Girl Loves Her Detroit Lions Heart Super Bowl, The Best Digital SVG Designs for Cricut" offers a premium collection of digital SVG designs tailored for Cricut crafting projects. These designs express unwavering support for the Detroit Lions NFL team, incorporating a heart symbol and Super Bowl reference. With an emphasis on being the best, these designs provide an excellent way for creators to showcase their dedicated enthusiasm for the team and their aspirations for success in the Super Bowl.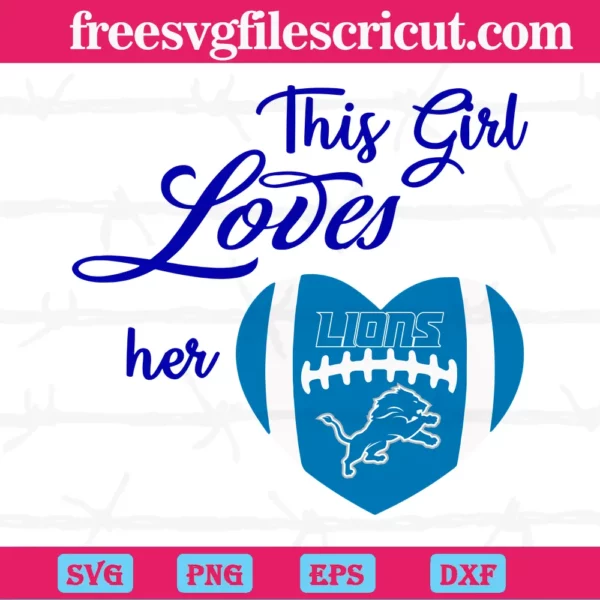 introduces a digital design resource that combines the NFL's Detroit Lions theme with representation for Black girls. Available in multiple formats, including SVG, PNG, DXF, and EPS, this versatile resource allows creators to incorporate both football and diverse identity into their design projects. The assortment of formats ensures compatibility for various creative applications, providing an accessible way to celebrate football and inclusivity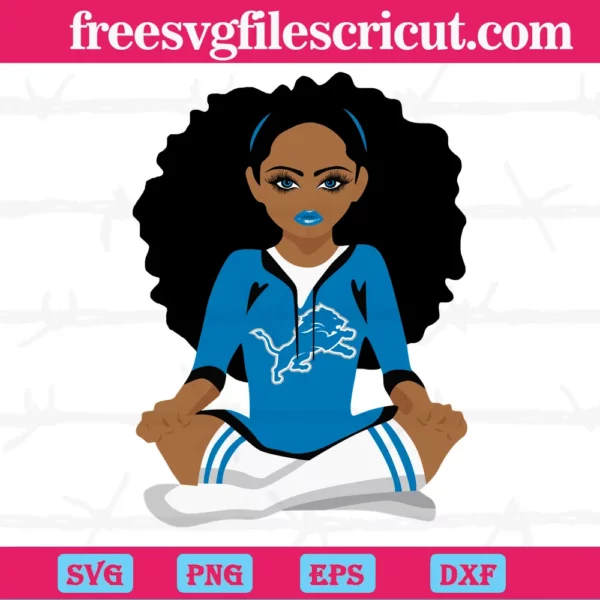 "Detroit Lions Starbucks Wrap, Layered SVG Files" introduces customizable layered SVG design resources tailored for creating personalized Starbucks cup wraps with a Detroit Lions theme. These files offer an engaging and creative way for fans to showcase their team support while enjoying their beverages. The layered format allows for easy customization, providing flexibility in design and ensuring a unique and personalized outcome.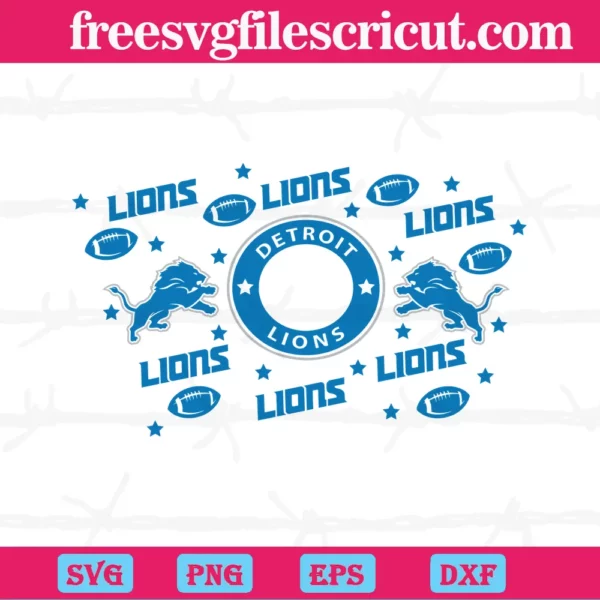 "Detroit Lions Starbucks SVG, Layered SVG Files" introduces a collection of layered SVG design resources tailored for customizing Starbucks cups with Detroit Lions NFL team imagery. These files offer an accessible and creative means for fans to showcase their support while enjoying beverages. With a layered format, customization is made easy, enabling creators to personalize their designs for a unique and engaging visual representation of their team loyalty.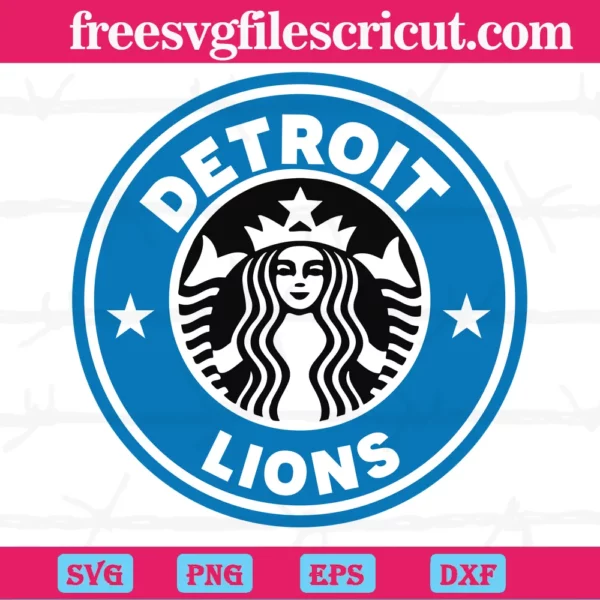 "Detroit Lions Betty Boop NFL Girl, SVG PNG DXF EPS Designs Download" offers a downloadable collection of design resources that combine the Detroit Lions NFL theme with the iconic character Betty Boop, presenting a fusion of sports and pop culture. These versatile resources are available in various formats, including SVG, PNG, DXF, and EPS, catering to different design applications. Creators can easily integrate these elements into their projects, showcasing a unique blend of charm and team spirit through Betty Boop's representation and the Detroit Lions theme.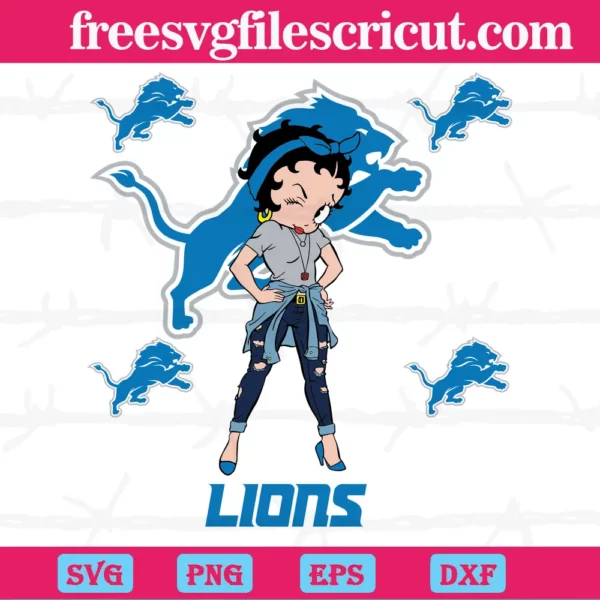 These designs bring together the passion for the Detroit Lions and the adorable charm of Baby Yoda from Star Wars. Whether you're creating fan apparel, personalized items, or showing off your dual fandom, these versatile designs provide a canvas to celebrate your love for both football and the galaxy far, far away. Download the Detroit Lions NFL Baby Yoda Star Wars designs and let your creations reflect the exciting blend of sports and sci-fi that defines your unique fandom."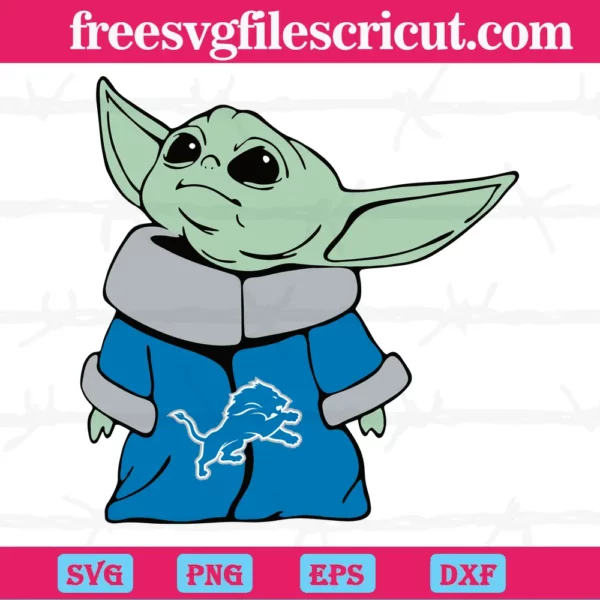 Prepare to enhance your design projects with the dynamic essence of the Detroit Lions through our expansive Detroit Lions SVG files collection! We're excited to unveil a thoughtfully curated array that promises to infuse your creations with a touch of sports magic. Each Detroit Lions SVG file has been carefully selected to showcase our premium designs, ensuring that you'll uncover something that deeply resonates with your creative essence.
For those drawn to various design themes, we cordially invite you to explore our website, freesvgfilescricut.com. Within its digital realm, you'll uncover a diverse array of designs featuring beloved characters from popular culture. We're confident that you'll stumble upon designs that set ablaze your artistic inspiration.