Welcome to the world of Juneteenth SVG, where high-quality design meets the spirit of celebration! Our DIY products feature meticulously crafted scalable vector graphics designs that capture the essence of this significant occasion. With our wide range of Juneteenth-themed SVG files, you can create stunning crafts, decorations, apparel, and more to elevate your Juneteenth celebrations to new heights. 
What is Juneteenth?
Juneteenth is a federal holiday in the United States commemorating the emancipation of enslaved African Americans. Originating in Galveston, Juneteenth has since been observed annually in various parts of the United States, often broadly celebrating African-American culture. The day was first recognized as a federal holiday in 2021, when President Joe Biden signed the Juneteenth National Independence Day Act into law after the efforts of Lula Briggs Galloway, Opal Lee, and others.
What is an SVG File?
An SVG file, (which stands for scalable vector graphic), is a standard graphics file that is mainly used for rendering two-dimensional images.
SVG images can be scaled up or down without losing quality or becoming pixelated, making them ideal for logos, icons, and other types of graphics that need to be displayed at various sizes.
They are fantastic for so many applications, such as apparel, signs and cutting machines! 
How to Open SVG Files?
Next, we'll look at how to open an SVG file!
There are many software choices for opening SVG files. However, we will focus on the options for cutting machines since they are the most commonly used.
Typically, SVG files are compressed within a zip folder and require extraction before they can be accessed.
Before importing the cutting SVG files into your preferred software program, like Cricut Design Space, or Silhouette Studio, …, you must first unzip the downloaded file by double-clicking the folder and selecting "extract all."
During the extraction process, you'll be prompted to choose a destination for your files. To avoid difficulty in retrieving them, you can create a dedicated folder on your desktop or computer labeled "SVG files."
It's crucial to keep track of the extraction location since you'll need to access the files again later. 
Juneteenth SVG files for commercial use and crafts
Celebrate Juneteenth with our premium SVG files and unleash your creativity! Browse our website to find high-quality designs that are perfect for crafting personalized crafts, gifts, and more. Whether you're a DIY enthusiast or a seasoned crafter, our digital downloads offer endless possibilities for making your Juneteenth celebrations extra special. Get inspired and create one-of-a-kind designs with our SVG files today!
Embrace the spirit of Juneteenth with our free Juneteenth Day 1865 Silhouette SVG! Compatible with Cricut machines and Silhouette machines, our high-quality silhouette design is a perfect addition to your Juneteenth crafts and celebrations. Download our free SVG file and let your creativity soar as you bring this meaningful design to life with your cutting machine.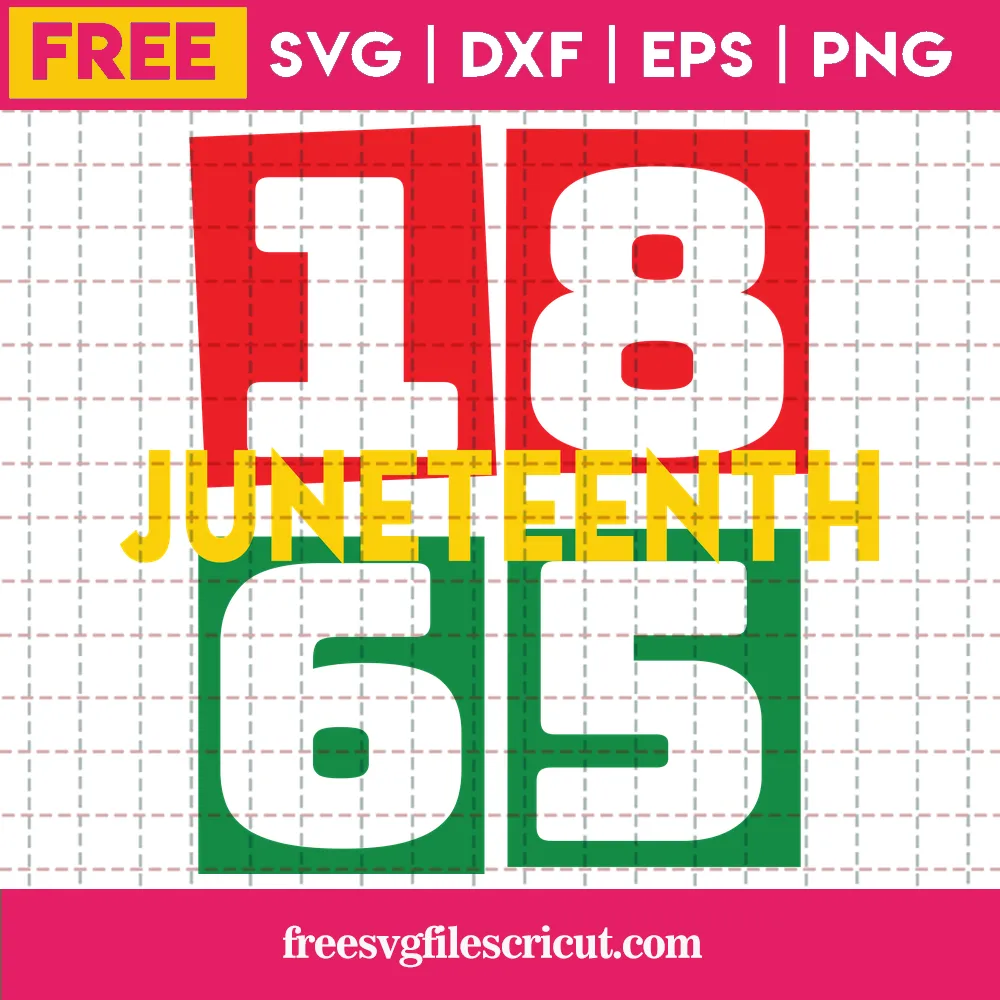 Calling all makers! Celebrate Juneteenth with our "Do It For The Culture" Juneteenth Day SVG file. Perfect for use with Cricut Design Space, Silhouette Studio, InkSpace, and other cutting machines, our high-quality design captures the significance of Juneteenth in a unique and creative way. Use our SVG file to create personalized crafts, apparel, decorations, and more that honor this historic occasion.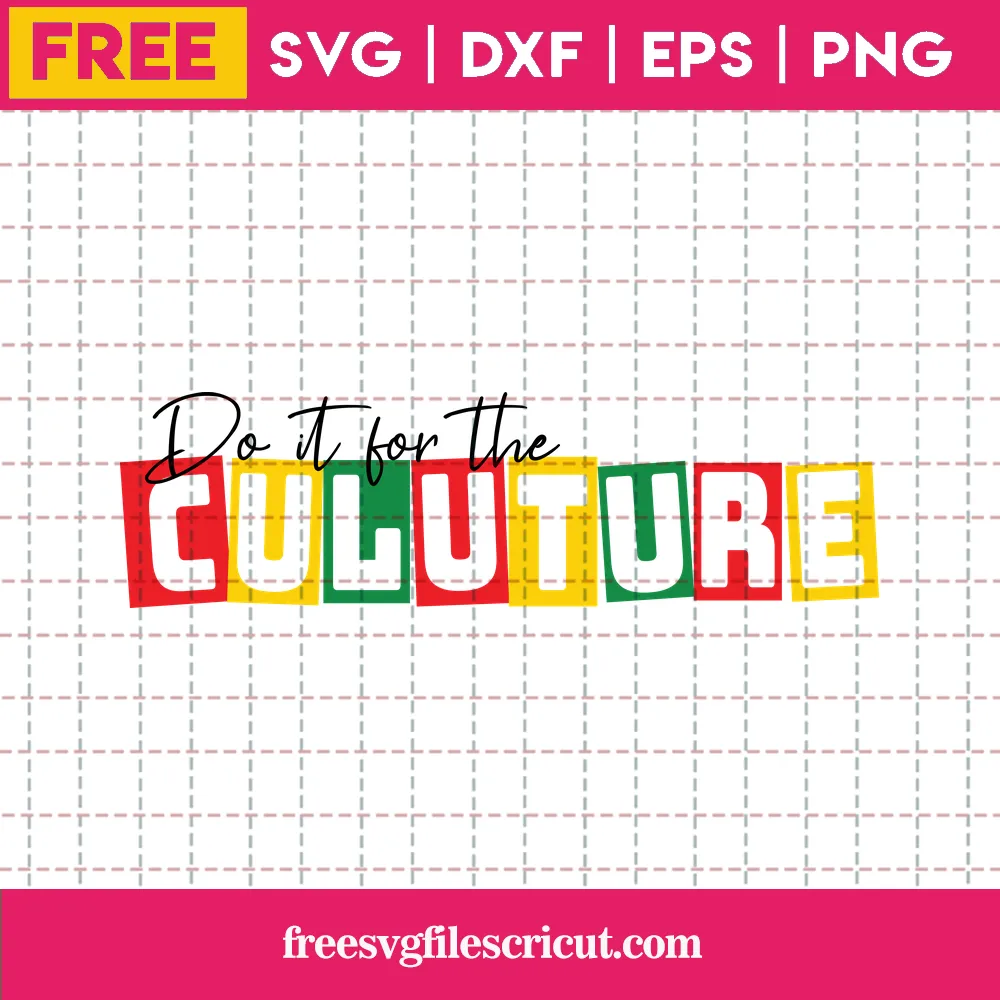 Get your craft on with our "Peace Love Juneteenth Day" cutting SVG digital download! As a fellow crafter, you'll love using this high-quality design with your DIY cutting machines to create custom stickers, pantry labels, mugs, and more. This unique SVG file captures the significance of Juneteenth and Black History in a stylish and artistic way.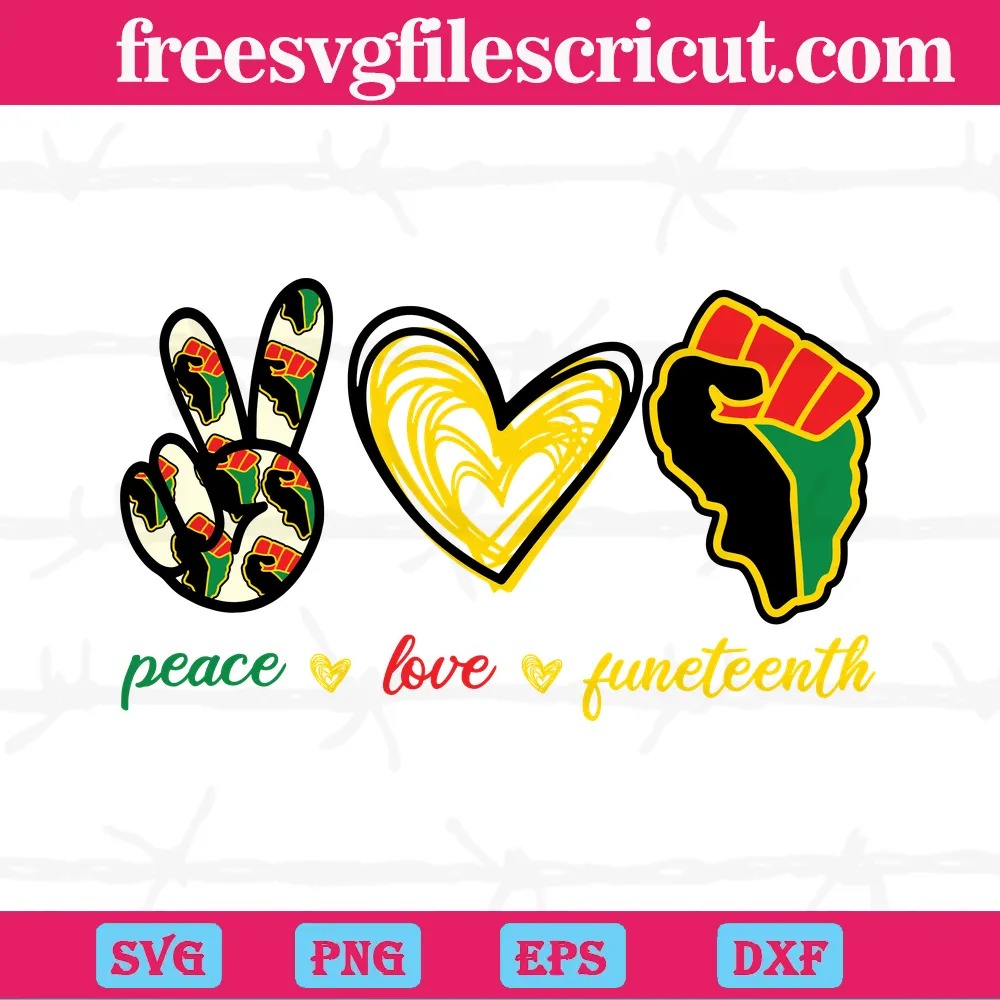 Enhance your Juneteenth celebrations with our Juneteenth Flag Sublimation graphic, digitally inspired by the American flag. As a DIY enthusiast, you'll appreciate the high-quality illustrations in this digital download, perfect for creating banners, posters, flags, and more. Whether you're making custom decorations for a party, creating a poster for an event, or designing a flag to display, our SVG file is your go-to resource.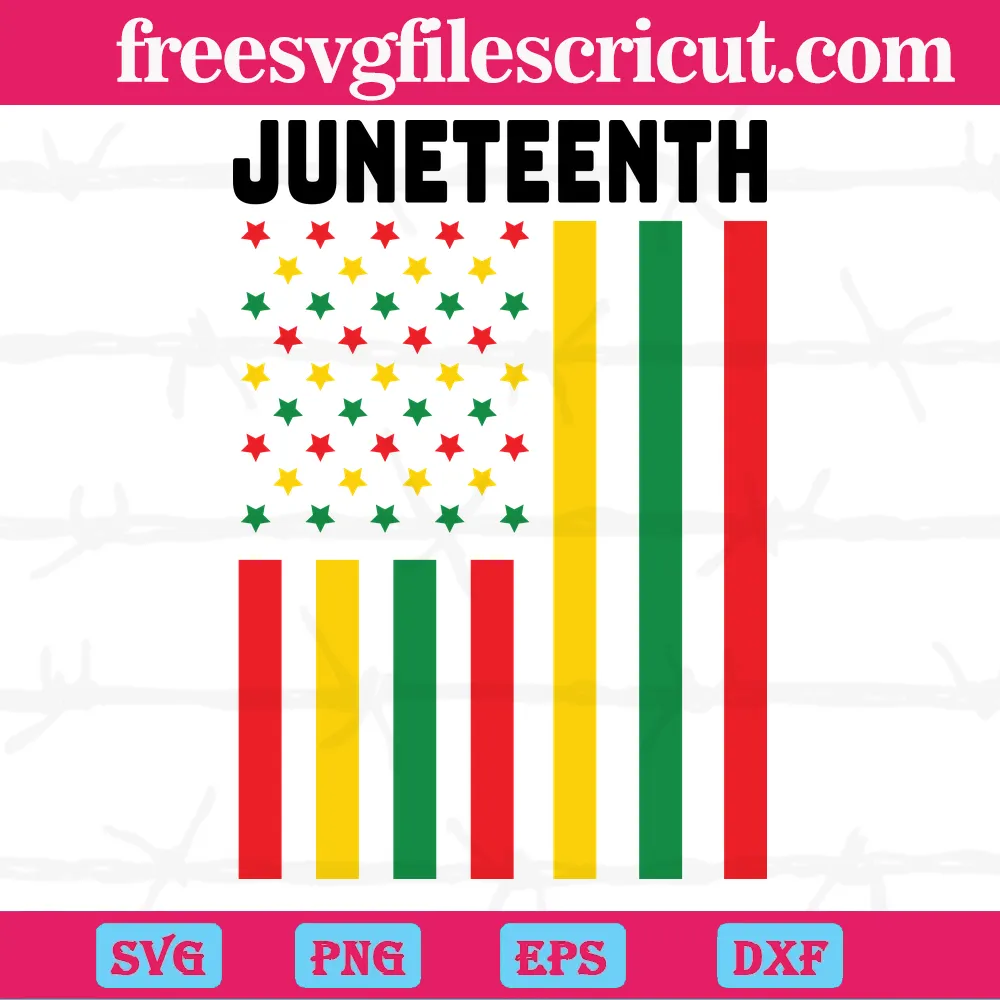 Celebrate Juneteenth with our "Celebrate Juneteenth Black Girl 1865" SVG design, perfect for creating a range of products. Use this high-quality digital download to customize t-shirts, gifts, bags, hats, and more with your unique designs. And the best part? Our SVG file comes with free commercial use, so you can sell your creations with confidence! Honor the significance of Juneteenth and uplift Afro girls with this empowering design.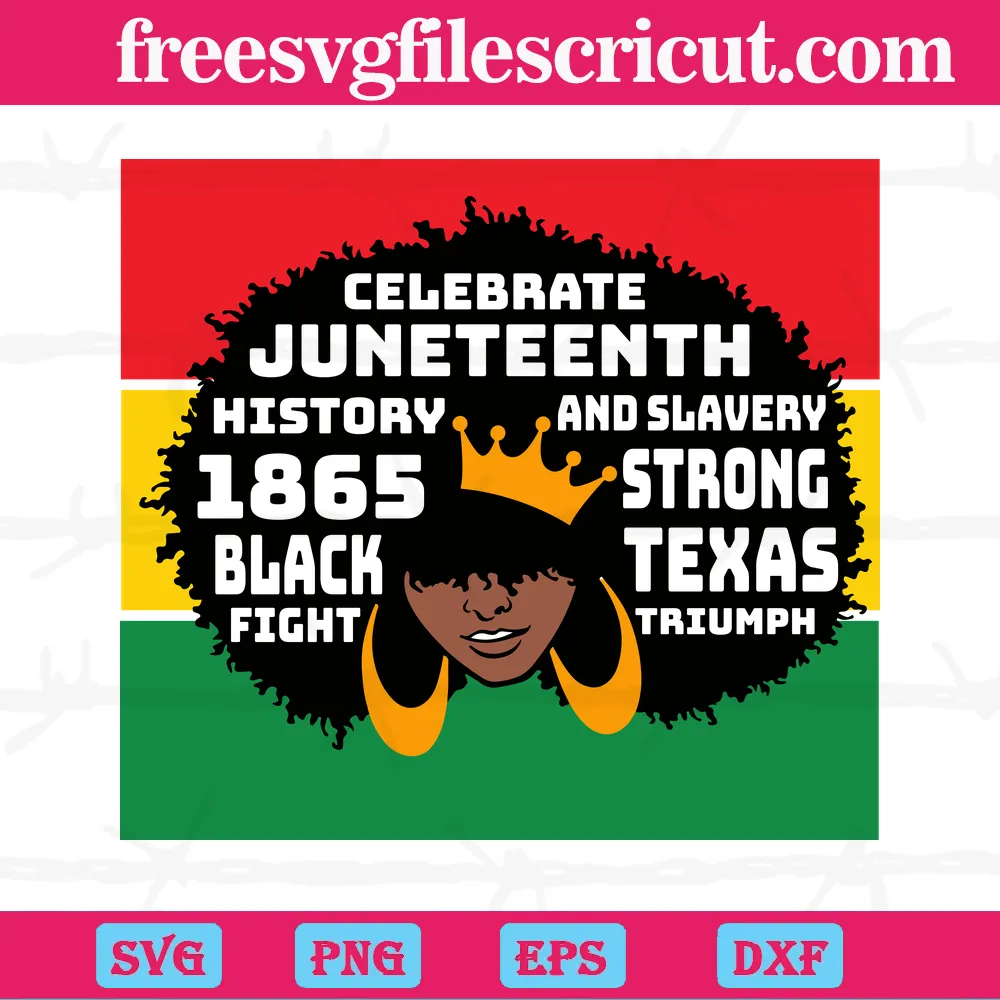 Upon download our cutting, multi-layered, transparent background files, you will receive 4 high-quality design files for your next crafting project:
1 EPS file – Scalable vector, editable file for Adobe Illustrator, Inkscape, Corel Draw (compatible with most cutting plotter software);
1 PNG file – 300 dpi High Resolution, transparent background;
1 SVG file – Universal format compatible with Silhouette Studio Designer, Cricut Design Space, Make the Cut, Sure Cuts A Lot, Brother ScanNCut, Cameo and others;
1 DXF file – Line format for cutting in Silhouette, other cutting plotters or laser engraving machines;
These vector files are fully editable and scalable, providing you with the flexibility to create unique designs that stand out.
Get ready to unleash your creativity with our wide-ranging collection of Juneteenth SVG files! Explore our diverse catalog to discover limitless possibilities for your crafting projects. Whether you're a DIY enthusiast or a professional designer, our Juneteenth SVG designs are sure to suit your taste and requirements. For even more variety, visit our website freesvgfilescricut.com, where you'll find a plethora of options on various topics. Let your imagination soar with our extensive collection of SVG files and bring your creative visions to life!