Welcome to our collection of Alice in Wonderland SVG files! Our selection features over 600 designs that are perfect for adding a touch of whimsy to your crafting projects, parties, or products for sale. From iconic characters like Alice, the Mad Hatter, and the Queen of Hearts to memorable quotes and scenery, our SVG files are sure to inspire your creativity and help you bring the magic of Wonderland to life. With high-quality digital files that are compatible with a variety of cutting machines and software, the possibilities for your Alice in Wonderland-themed projects are endless.
What is Alice in Wonderland?
Alice in Wonderland is a 2010 American period adventure fantasy film directed by Tim Burton from a screenplay written by Linda Woolverton and produced by Walt Disney Pictures. The film follows Alice Kingsleigh, a nineteen-year-old who accidentally falls down a rabbit hole, returns to Wonderland and alongside the Mad Hatter, helps restore the White Queen to her throne by fighting against the Red Queen and her Jabberwocky, a dragon that terrorizes Wonderland's inhabitants.
What is an SVG File?
An SVG file, (which stands for scalable vector graphic), is a standard graphics file that is mainly used for rendering two-dimensional images.
SVG images can be scaled up or down without losing quality or becoming pixelated, making them ideal for logos, icons, and other types of graphics that need to be displayed at various sizes.
They are fantastic for so many applications, such as apparel, signs and cutting machines! 
How to Open SVG Files?
Next, we'll look at how to open an SVG file!
There are many software choices for opening SVG files. However, we will focus on the options for cutting machines since they are the most commonly used.
Typically, SVG files are compressed within a zip folder and require extraction before they can be accessed.
Before importing the cutting SVG files into your preferred software program, like Cricut Design Space, or Silhouette Studio, …, you must first unzip the downloaded file by double-clicking the folder and selecting "extract all."
During the extraction process, you'll be prompted to choose a destination for your files. To avoid difficulty in retrieving them, you can create a dedicated folder on your desktop or computer labeled "SVG files."
It's crucial to keep track of the extraction location since you'll need to access the files again later. 
Alice in Wonderland SVG PNG EPS DXF Downloadable Files
Welcome to our website where you can find a vast collection of Alice in Wonderland SVG downloadable files. We offer premium SVG files that are perfect for crafting and DIY projects. With our wide range of designs, you can create unique and personalized products that are sure to impress. Explore our collection today and let your creativity run wild!
Step into the magical world of Alice in Wonderland with The White Rabbit transparent background file! This charming image captures the essence of the beloved character in the simplest yet most endearing way. With its transparent background, you can seamlessly add The White Rabbit to any design or project, making it perfect for a wide range of creative ventures. Not only can you use The White Rabbit image for digital designs, but it's also perfect for adding to physical items such as vinyl stickers, decals, or small home decorations. And the best part? We're offering this file completely free of charge!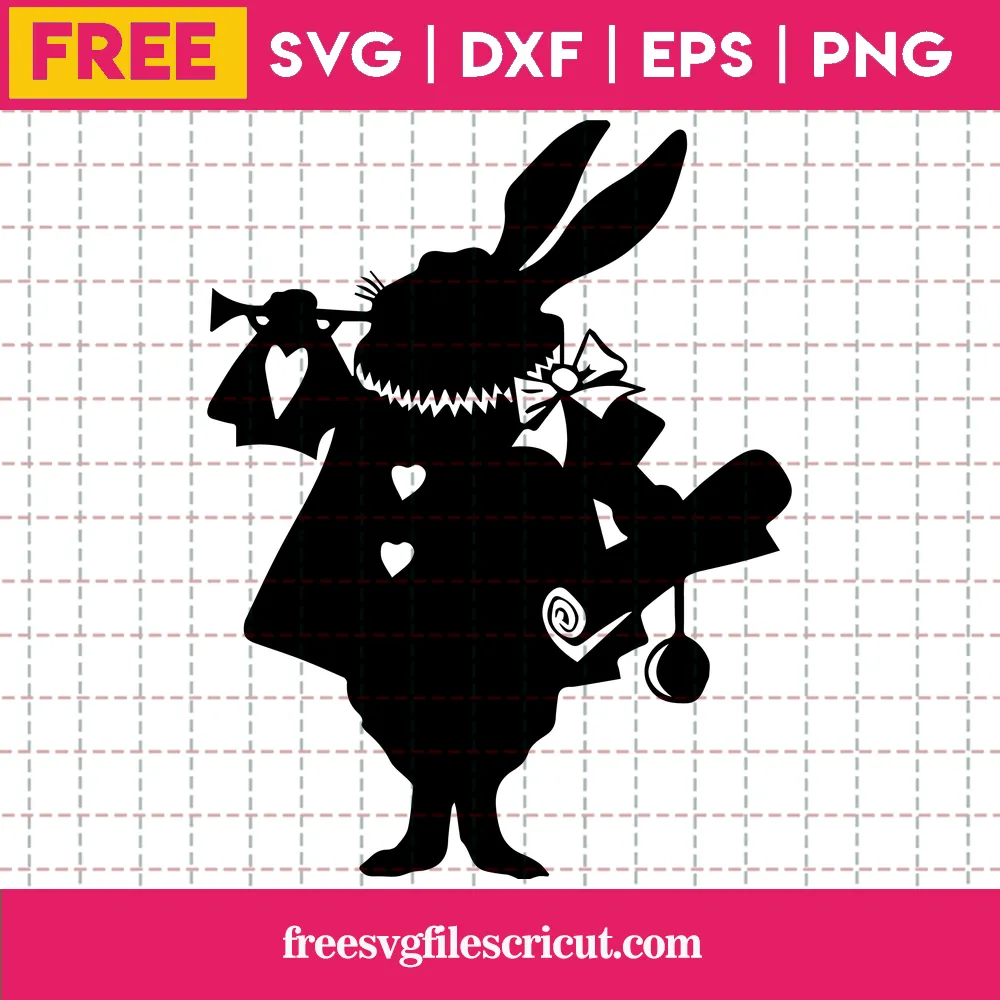 If you're a fan of Alice in Wonderland, then you'll love our "The Rabbit Hole Alice In Wonderland" cutting SVG design. This Scalable Vector Graphics is perfect for any crafting project, whether you want to create custom stickers or vinyl decals. And the best part? It's available as a cutting SVG free of charge! Simply import the file into your Cricut Design Space, and you're ready to go.So, jump down the rabbit hole and get creative with our Alice in Wonderland SVG collection.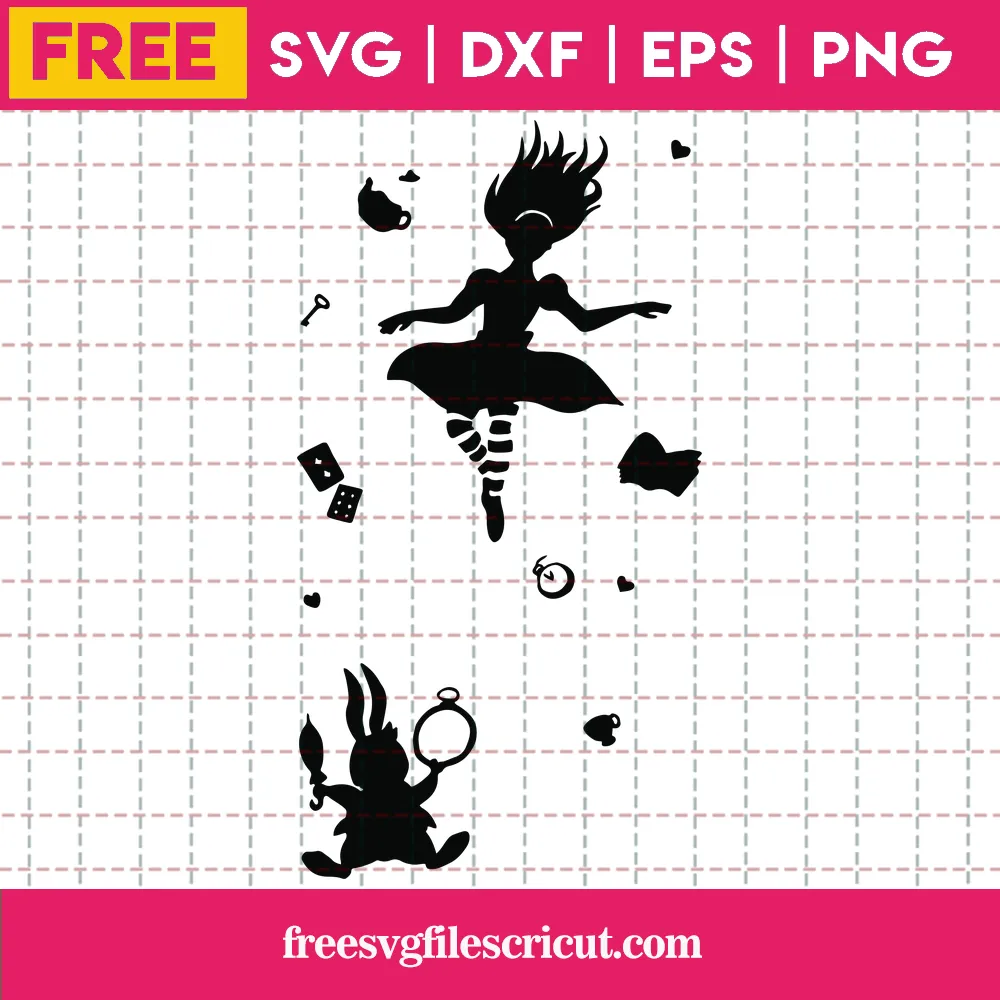 With our Cricut Alice In Wonderland SVG file collection, you can bring the magical world of Wonderland to your crafting projects. Our layered SVG files are perfect for scrapbookers, card makers, and anyone who loves to create. Use our designs to make custom t-shirts, tote bags, and home decor.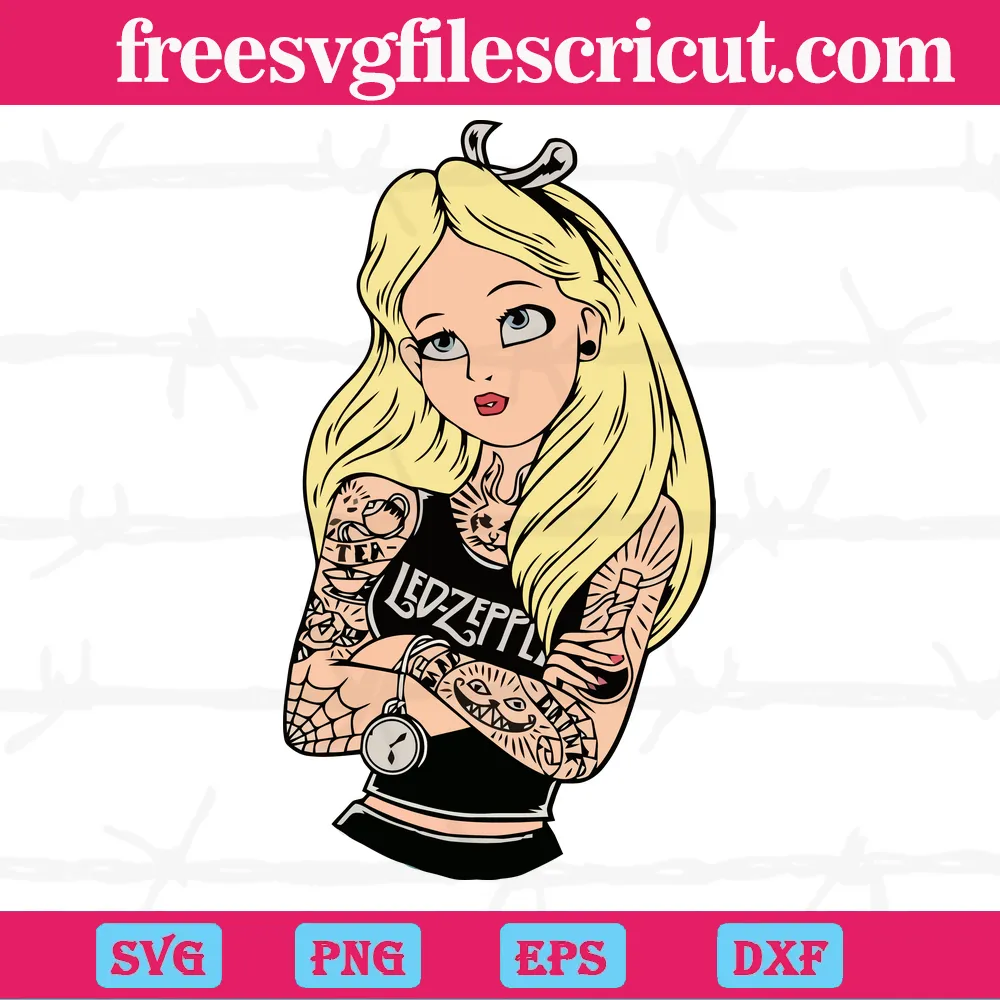 The Alice in Wonderland Logo SVG is a basic yet unique design featuring the iconic "Alice in Wonderland" text and a charming image of Alice herself. Despite its simplicity, this playful and distinctive logo is perfect for adding a touch of magic and whimsy to a wide range of creative projects, both digital and physical. So if you're a fan of the classic story or just love the aesthetic, the Alice in Wonderland Logo SVG is the perfect choice for you.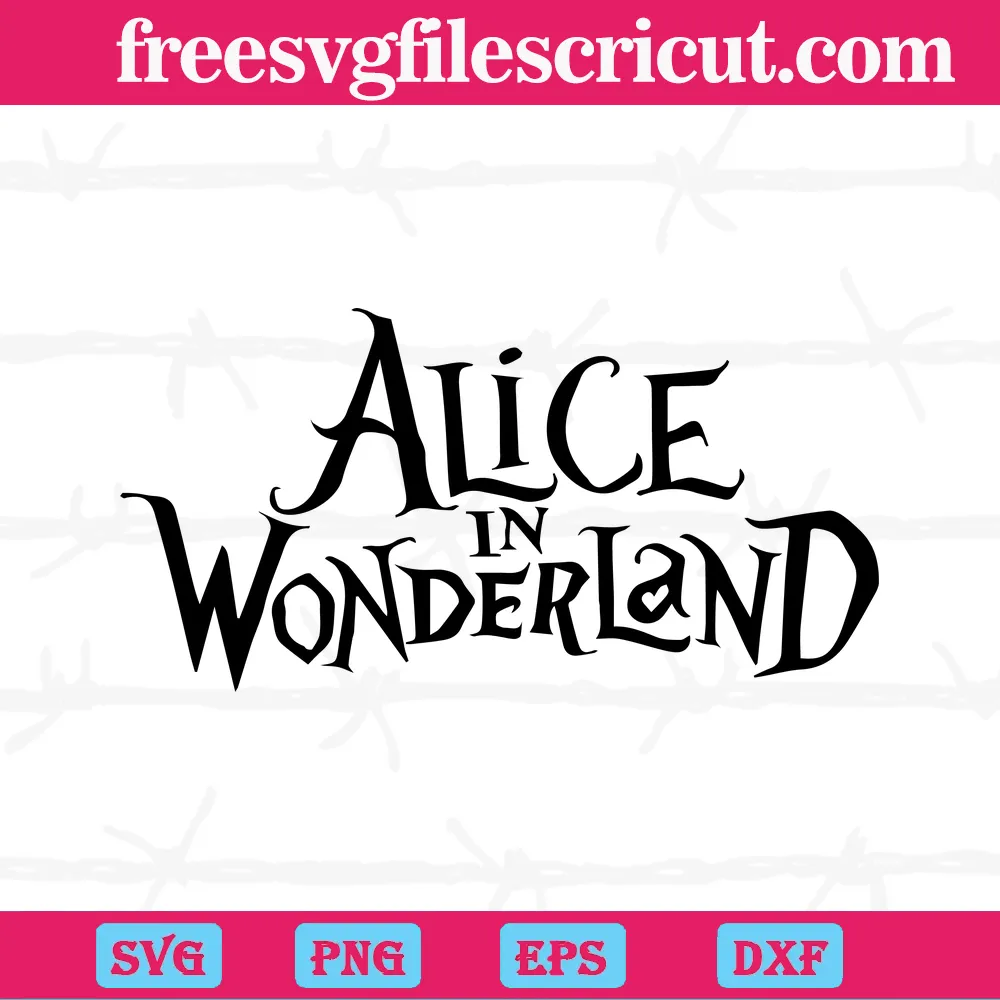 Add a touch of whimsy to your projects with the "We're Mad Here" Cheshire Cat cutting SVG file. This versatile design features a cute image of the Cheshire Cat along with the iconic quote. From coffee mugs to vinyl decals, this playful and quirky design is perfect for a wide range of creative projects. Let your imagination run wild and bring a little bit of Wonderland into your life with the "We're Mad Here" Cheshire Cat cutting SVG file.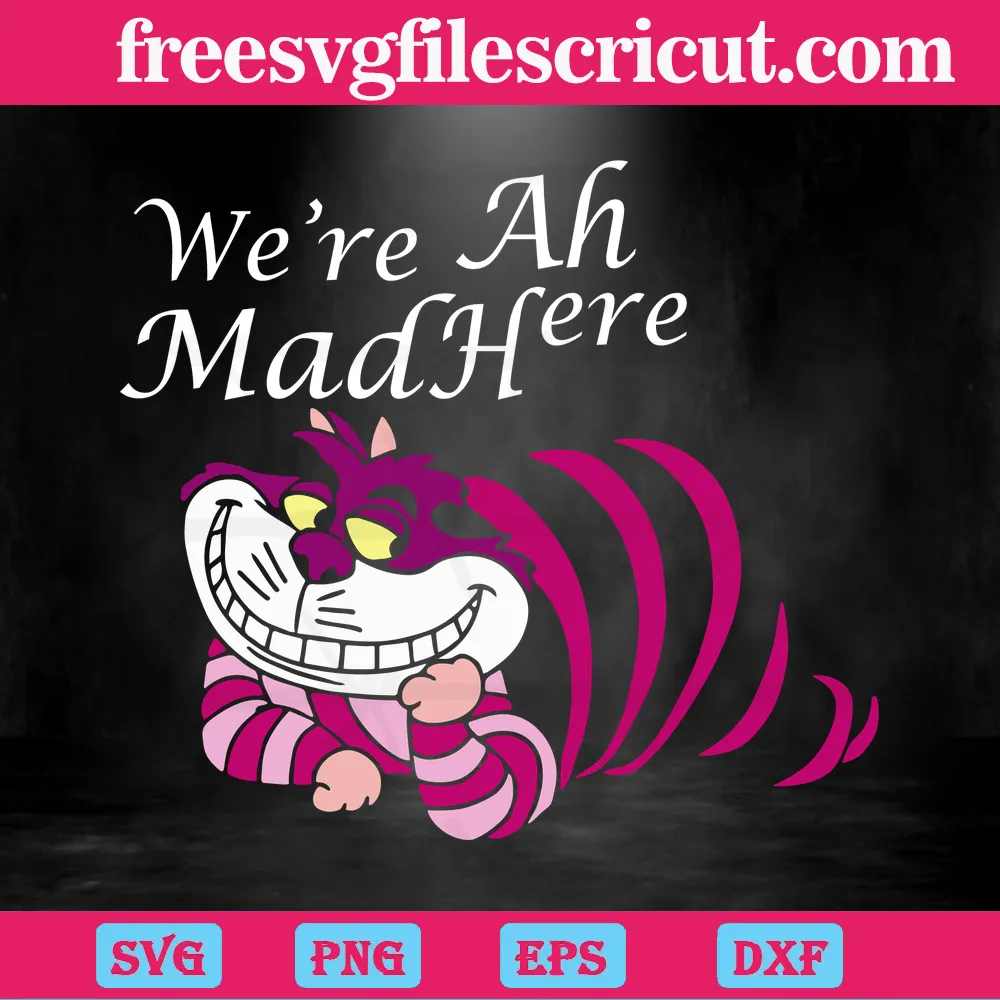 If you're a creative person who loves to make unique print products, you'll be excited to know that the Mad Hatter Alice In Wonderland SVG Vector Illustrations are available. These illustrations are perfect for creating a wide range of products, such as posters, greeting cards, phone cases, and tote bags. Their intricate designs and playful style make them ideal for adding a touch of whimsy to any project. So whether you're a professional designer or a hobbyist, be sure to include these fun and versatile illustrations in your collection of print assets.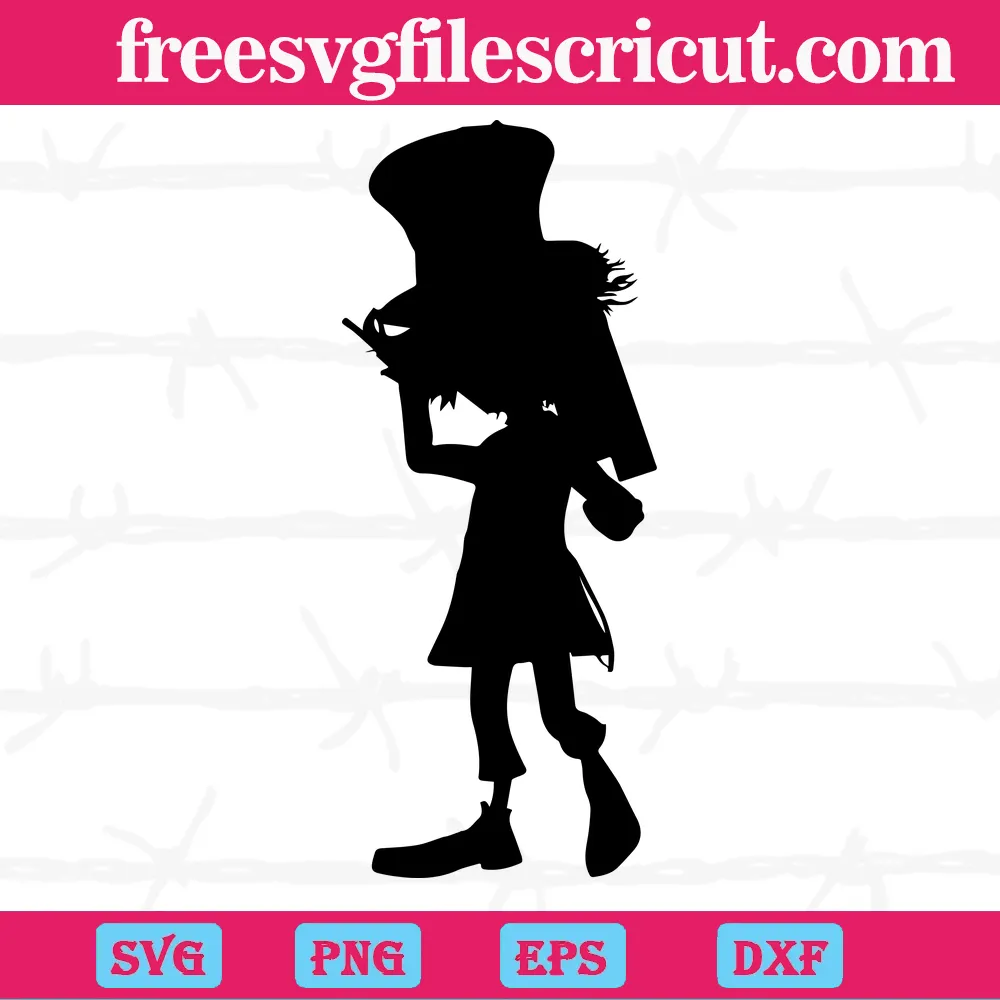 If you're looking for a unique way to create customized invitations and cards, you'll be thrilled to know that there's a Funko Pop Alice In Wonderland Free Commercial SVG available. SVG stands for Scalable Vector Graphics, which means that the file can be resized without losing its quality, you can create your own personalized invitations and cards with a touch of whimsy. So whether you're planning a tea party or a birthday celebration, be sure to add this fun and customizable SVG to your design library.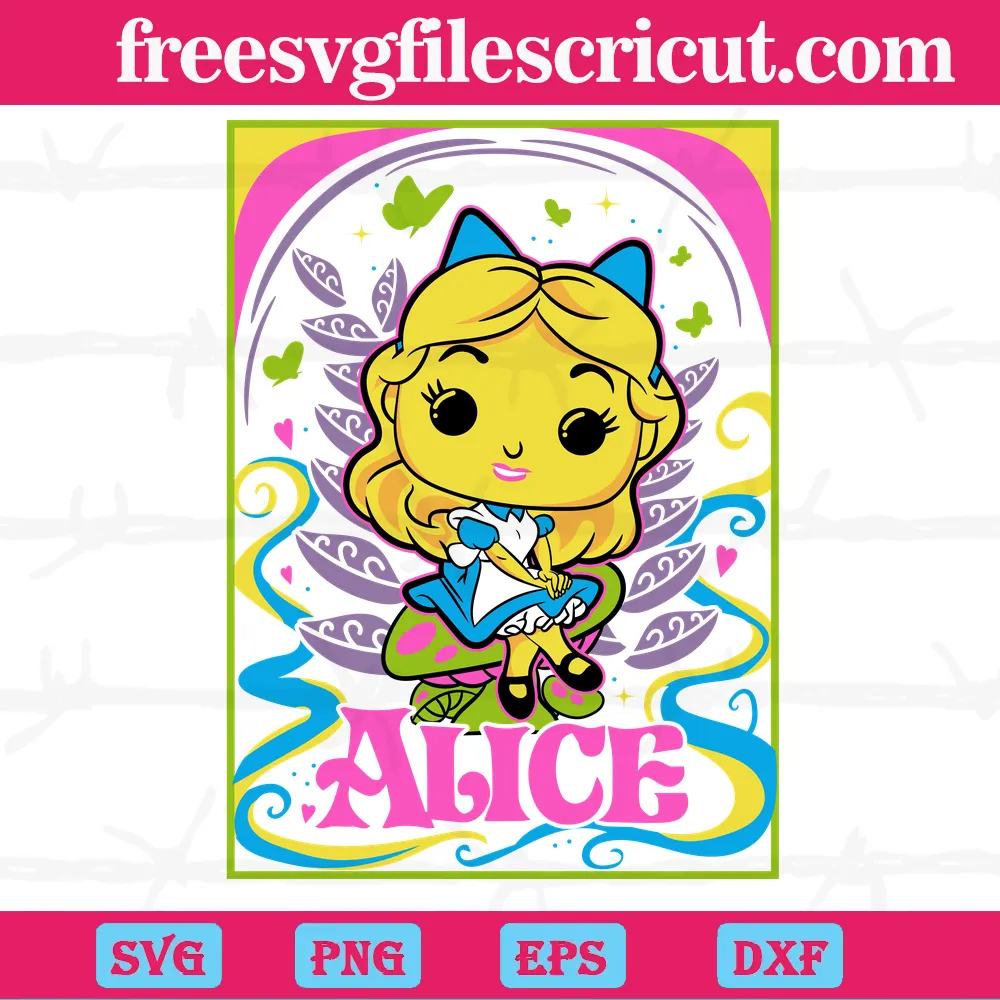 If you're a fan of Alice in Wonderland and love creating personalized items, you'll be excited to know that there's a Queen Of Hearts Alice In Wonderland Layered SVG File available. This file includes transparent background files that allow you to create custom phone cases, personalized mugs, engraved jewelry, and even personalized stationery.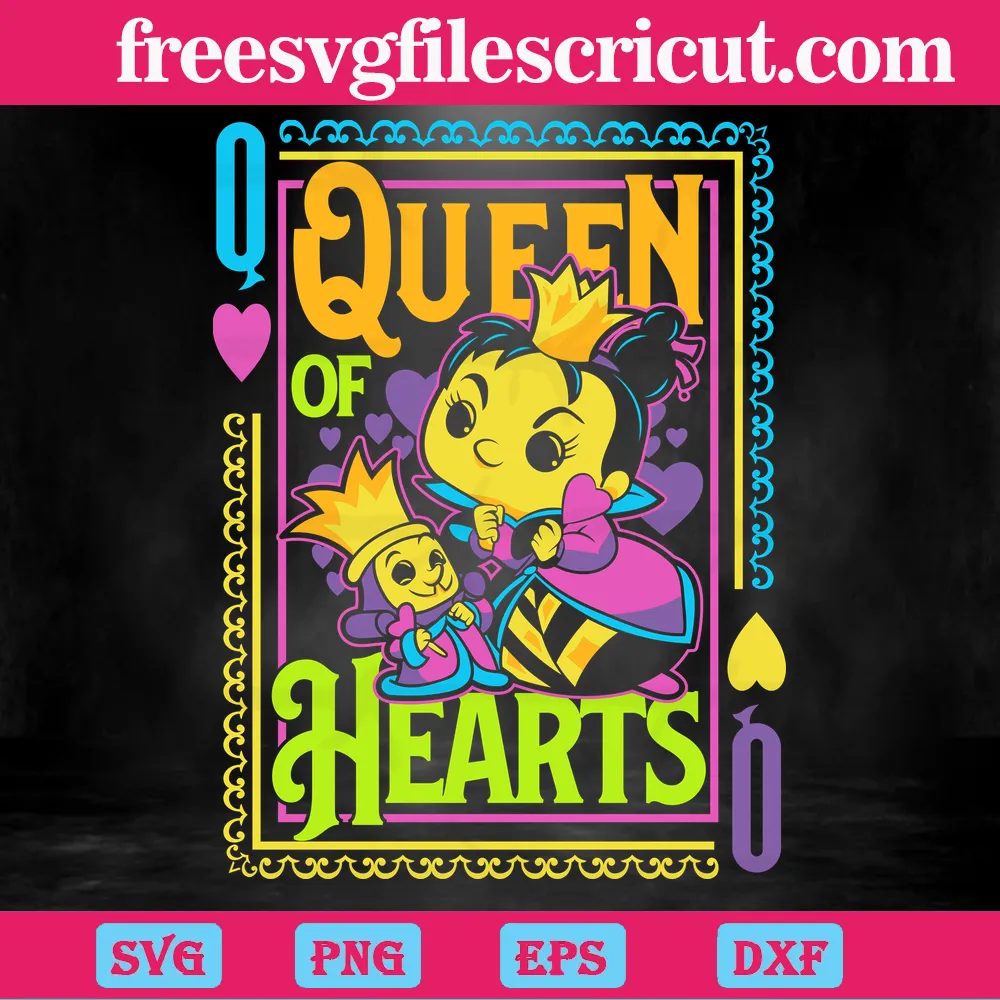 The "We're All Mad Here" Alice in Wonderland SVG file is the perfect design for any fan of the classic Lewis Carroll story. This version features all the beloved characters, including Alice, the Mad Hatter, the White Rabbit, and the Cheshire Cat, along with the iconic quote. You can customize, delete or resize elements of the "We're All Mad Here" Alice in Wonderland SVG file to fit your specific project needs.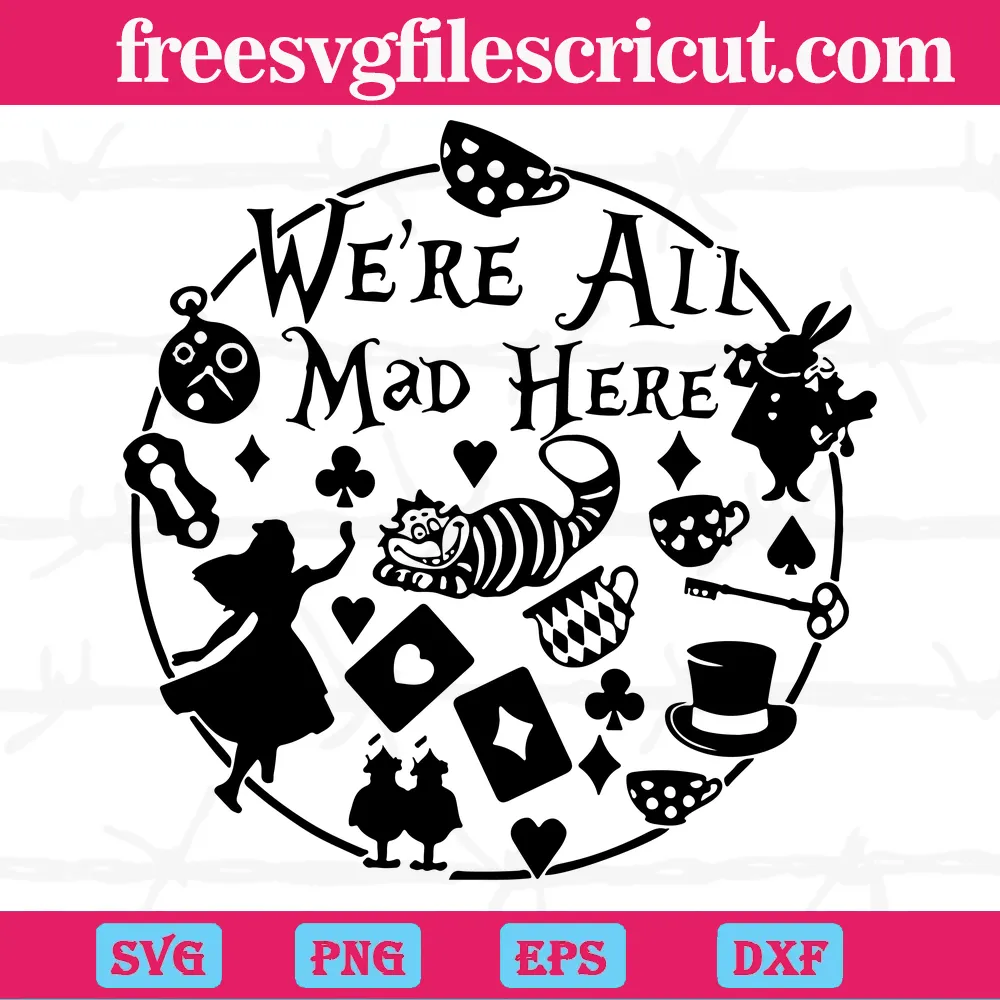 Unleash your creativity with the Alice in Wonderland SVG Bundle, featuring over 150 perfect designs to choose from. Whether you're a fan of the classic story or simply love whimsical and playful designs, this bundle has something for everyone. With so many unique and stunning options to choose from, you'll never run out of inspiration. Explore the Alice in Wonderland SVG Bundle today and let your imagination run wild!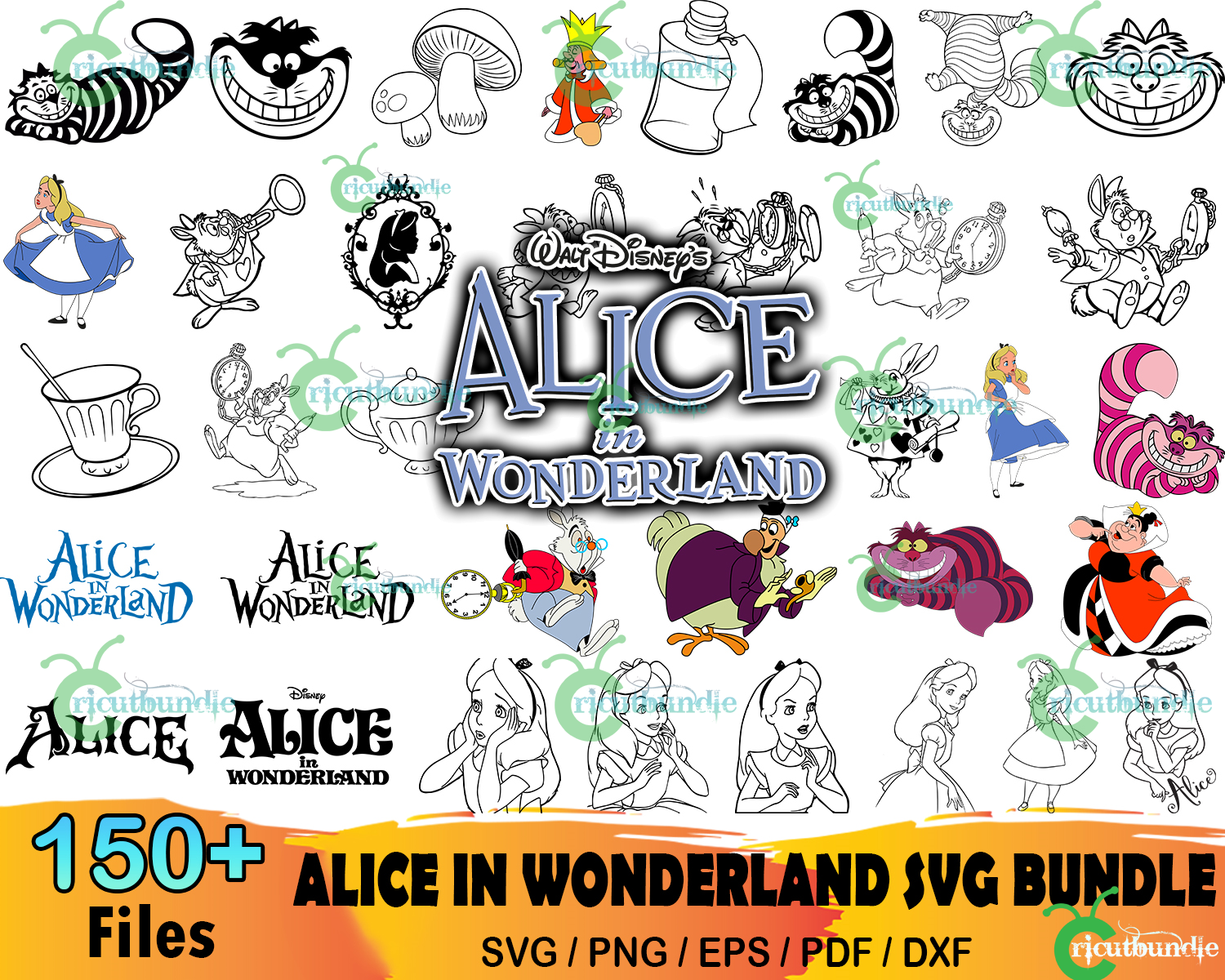 After download, you will receive 4 high-quality design files for your next crafting project:
1 EPS file

– Scalable vector, editable file for Adobe Illustrator, Inkscape, Corel Draw (compatible with most cutting plotter software);

1 PNG file

– 300 dpi High Resolution, transparent background;

1 SVG file

– Universal format compatible with Silhouette Studio Designer, Cricut Design Space, Make the Cut, Sure Cuts A Lot, Brother ScanNCut, Cameo and others;

1 DXF file

– Line format for cutting in Silhouette, other cutting plotters or laser engraving machines;
These vector files are fully editable and scalable, providing you with the flexibility to create unique designs that stand out.
At freesvgfilescricut.com, we offer a vast selection of high-quality Alice in Wonderland theme designs. However, if you're looking for other Disney themes such as Aladdin, Beauty and the Beast, Bluey, Frozen, and many more, you can easily find them by clicking on the respective categories on our website. Our website is a treasure trove of beautiful and unique designs that cater to various preferences and interests. So whether you're a fan of classic Disney movies or newer ones, you'll surely find something that piques your interest on our website.