Discover a collection of Firefighter SVGs that pay tribute to the courage and dedication of these unsung heroes. From iconic symbols to powerful quotes, these versatile SVG files offer endless creative possibilities for crafting projects. Whether you're a firefighter, know someone in the profession, or simply want to show your appreciation, these SVGs provide a meaningful and impactful way to express gratitude and respect. Join us in exploring the world of Firefighter SVGs and celebrate the bravery of those who risk it all to protect others.
What is Firefighter?
A firefighter is a trained professional who responds to emergencies such as fires, medical incidents, and hazardous situations. They work within fire departments, which can be government organizations, and their responsibilities include extinguishing fires, providing medical aid, rescuing individuals from danger, and preventing fires through inspections and education. Firefighters undergo rigorous training and often face physically demanding tasks. Their role is vital for ensuring public safety and they are highly respected for their bravery and commitment to protecting communities.
What is an SVG File?
An SVG file, (which stands for scalable vector graphic), is a standard graphics file that is mainly used for rendering two-dimensional images.
SVG images can be scaled up or down without losing quality or becoming pixelated, making them ideal for logos, icons, and other types of graphics that need to be displayed at various sizes.
They are fantastic for so many applications, such as apparel, signs and cutting machines!
How to Open SVG Files?
Next, we'll look at how to open an SVG file!
There are many software choices for opening SVG files. However, we will focus on the options for cutting machines since they are the most commonly used.
Typically, SVG files are compressed within a zip folder and require extraction before they can be accessed.
Before importing the cutting SVG files into your preferred software program, like Cricut Design Space, or Silhouette Studio, …, you must first unzip the downloaded file by double-clicking the folder and selecting "extract all."
During the extraction process, you'll be prompted to choose a destination for your files. To avoid difficulty in retrieving them, you can create a dedicated folder on your desktop or computer labeled "SVG files."
It's crucial to keep track of the extraction location since you'll need to access the files again later.
Firefighter SVG Files
Unearth a realm of creative potential within our comprehensive Firefighter SVG Files collection, conveniently available on our website! Our thoughtfully compiled assortment spans a broad spectrum of options, meticulously crafted to cater to your diverse creative aspirations. And as an added bonus, relish the privilege of complimentary access to handpicked designs that we're confident will harmonize seamlessly with your specific requirements.
These designs feature the iconic USA flag with a firefighter theme, making them perfect for crafting projects related to firefighting or patriotic themes. With these designs, crafters can easily create personalized items such as t-shirts, decals, and more, honoring the brave firefighters and showcasing their American pride.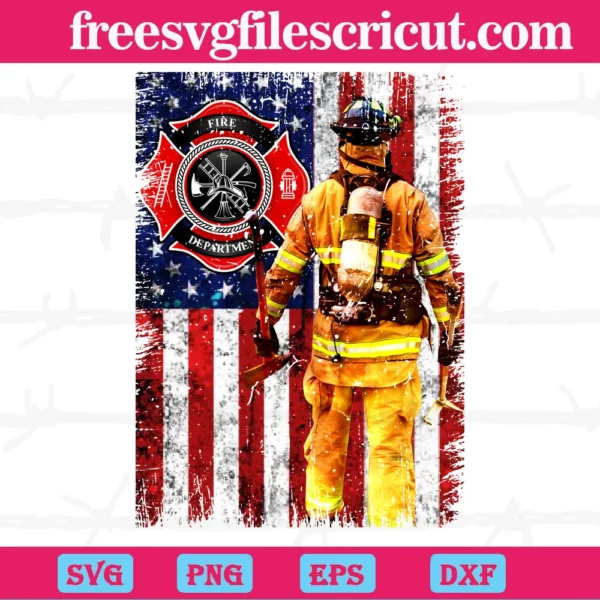 "Firefighter Dad: Just Like a Normal Dad, Except Much Cooler – Cutting File SVG" is a title that represents a digital SVG cutting file specifically designed for crafting projects. This design celebrates the role of a firefighter dad, highlighting their coolness and uniqueness. With this cutting file, crafters can easily create personalized items such as mugs, t-shirts, or decals, showcasing their admiration for their firefighter dad. This design is perfect for Father's Day or any occasion to show appreciation for the heroic work of firefighter dads.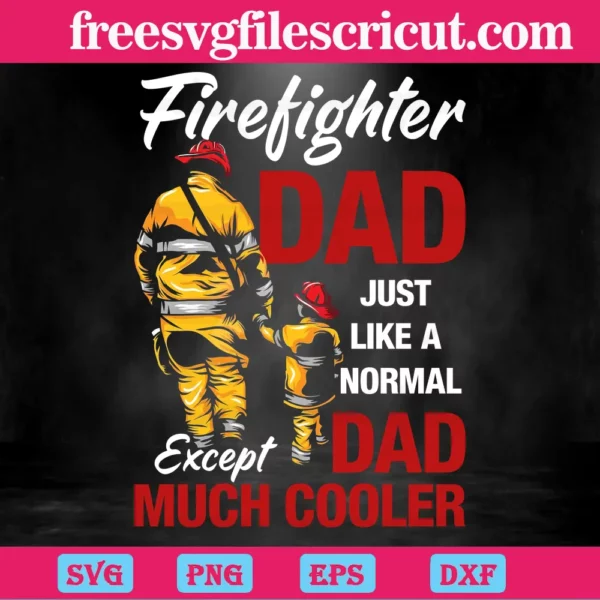 "Being a Firefighter is an Honor, Being a Dad is Priceless – SVG Files for Crafting and DIY Projects" is a title that presents a collection of SVG files specifically created for crafting and DIY projects. These files combine the themes of firefighting and fatherhood, emphasizing the honor of being a firefighter and the priceless value of being a dad. Crafters can use these SVG files to create various personalized items such as wall art, greeting cards, or clothing, celebrating the heroic work of firefighters and the special bond between a father and child. These files are perfect for expressing gratitude and love for firefighter dads in a creative and meaningful way.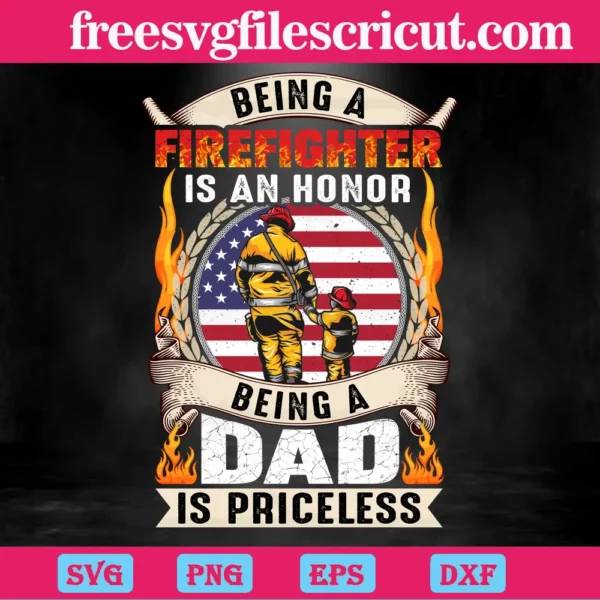 "I Dance Where the Devil Walks, I Fight What You Fear – Firefighters SVG Cut Files" is a title that showcases a collection of SVG cut files specifically designed for firefighters. These cut files feature a powerful and fearless message, highlighting the bravery and determination of firefighters in their duty to protect and serve. Crafters can use these cut files to create various items such as decals, shirts, or signs, showing support and appreciation for firefighters and their courageous efforts. These cut files are perfect for honoring the heroic work of firefighters and spreading awareness about their invaluable role in society.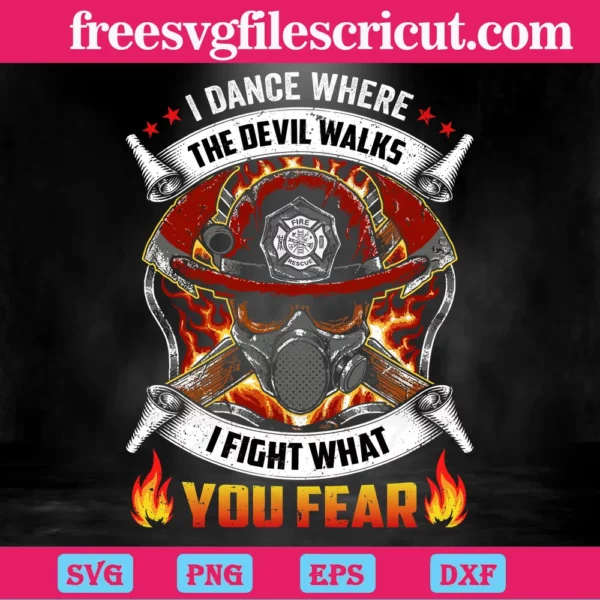 "Back the Red Heart Sunflower Firefighter – SVG File Formats" is a title that presents an SVG file format featuring a combination of elements such as the red heart, sunflower, and firefighter theme. This design represents support and appreciation for firefighters, with the red heart symbolizing love and admiration. The sunflower adds a touch of beauty and positivity to the design. Crafters can utilize these SVG files to create various items such as decals, shirts, or home decor, showing their backing for firefighters and spreading awareness about their crucial role in protecting the community.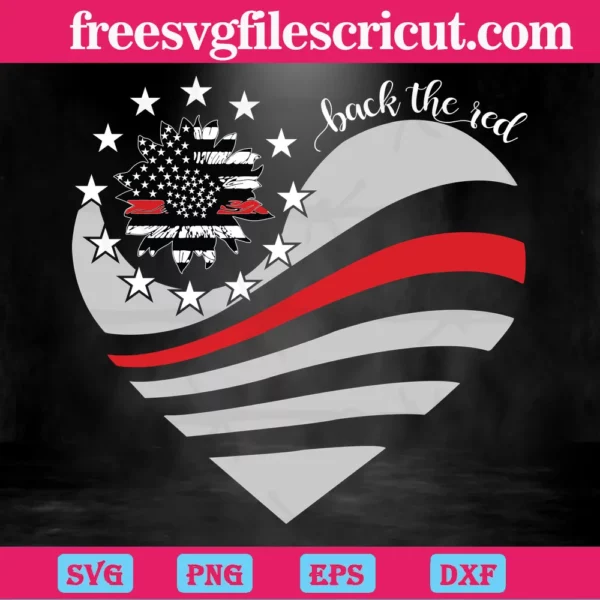 "I'm a Dad, a Grandpa, and a Retired Firefighter – Nothing Scares Me – Digital Files" is a title that showcases a collection of digital files specifically designed for crafting projects. This design celebrates the multi-faceted role of being a dad, a grandpa, and a retired firefighter, emphasizing the fearlessness and resilience that comes with these experiences. Crafters can use these digital files to create personalized items such as mugs, t-shirts, or signs, honoring the incredible journey and accomplishments of retired firefighter dads and grandpas. These files serve as a reminder of their bravery and inspire others with their unwavering courage.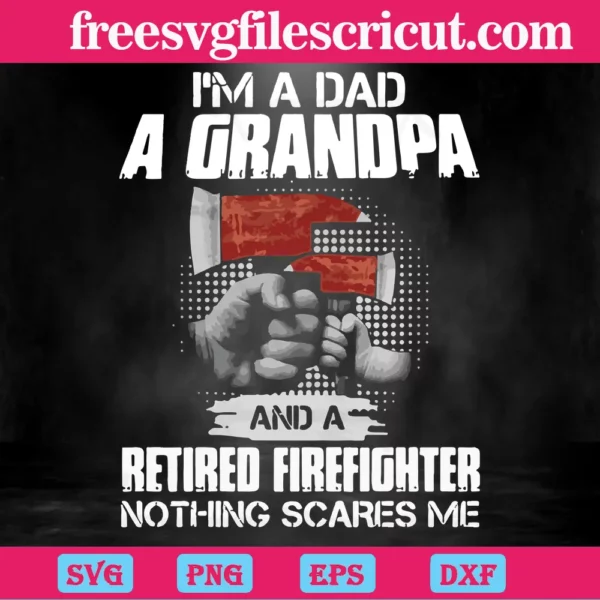 Prepare to amplify your design projects with our extensive Firefighter SVG files collection! We're excited to introduce a carefully curated selection that's poised to infuse your creations with a touch of enchantment. Each Firefighter SVG file has been thoughtfully selected to showcase our premium designs, ensuring that you'll encounter something that truly resonates with your creative vision.
If your curiosity beckons you towards various design themes, we cordially invite you to explore our website, freesvgfilescricut.com. Within its digital haven, you'll uncover a diverse array of designs featuring beloved characters from popular culture. We're confident that you'll uncover designs that spark the flames of your artistic inspiration.