Welcome to the Super Mario world! With our Super Mario SVG design, you can add a touch of nostalgia and fun to your crafting projects, parties, and celebrations. This iconic design features beloved characters from the Super Mario franchise and is perfect for creating personalized decorations, invitations, and more. Whether you're a Super Mario fan or planning a themed party, our Super Mario SVG is sure to delight.
What is Super Mario?
Super Mario (also known as Super Mario Bros. and Mario) is a platform game series created by Nintendo starring their mascot, Mario. It is the central series of the greater Mario franchise. At least one Super Mario game has been released for every major Nintendo video game console. There are more than 20 games in the series.
What is an SVG File?
An SVG file, (which stands for scalable vector graphic), is a standard graphics file that is mainly used for rendering two-dimensional images.
SVG images can be scaled up or down without losing quality or becoming pixelated, making them ideal for logos, icons, and other types of graphics that need to be displayed at various sizes.
They are fantastic for so many applications, such as apparel, signs and cutting machines! 
How to Open SVG Files?
Next, we'll look at how to open an SVG file!
There are many software choices for opening SVG files. However, we will focus on the options for cutting machines since they are the most commonly used.
Typically, SVG files are compressed within a zip folder and require extraction before they can be accessed.
Before importing the cutting SVG files into your preferred software program, like Cricut Design Space, or Silhouette Studio, …, you must first unzip the downloaded file by double-clicking the folder and selecting "extract all."
During the extraction process, you'll be prompted to choose a destination for your files. To avoid difficulty in retrieving them, you can create a dedicated folder on your desktop or computer labeled "SVG files."
It's crucial to keep track of the extraction location since you'll need to access the files again later.
Super Mario SVG Files For Commercial Use And Crafts
Our website offers a wide range of Super Mario SVG files, perfect for crafting. From t-shirts to home decor, these versatile files feature beloved characters like Mario, Luigi, and Princess Peach, as well as popular items like power-ups and coins. Our Super Mario SVG files provide endless creative possibilities to bring the magic of the Mushroom Kingdom to life in your crafts. Explore our collection today and embark on a crafting adventure with your favorite Super Mario characters!
The Super Mario Silhouette SVG Free files are a perfect fit for Cricut and Silhouette machines. These intricate SVG files feature two Super Mario bros: Mario and Luigi in Silhouette form, perfect for creating personalized crafts and gifts. With endless creative possibilities, these free SVG files are a dream come true for Super Mario fans and crafting enthusiasts alike.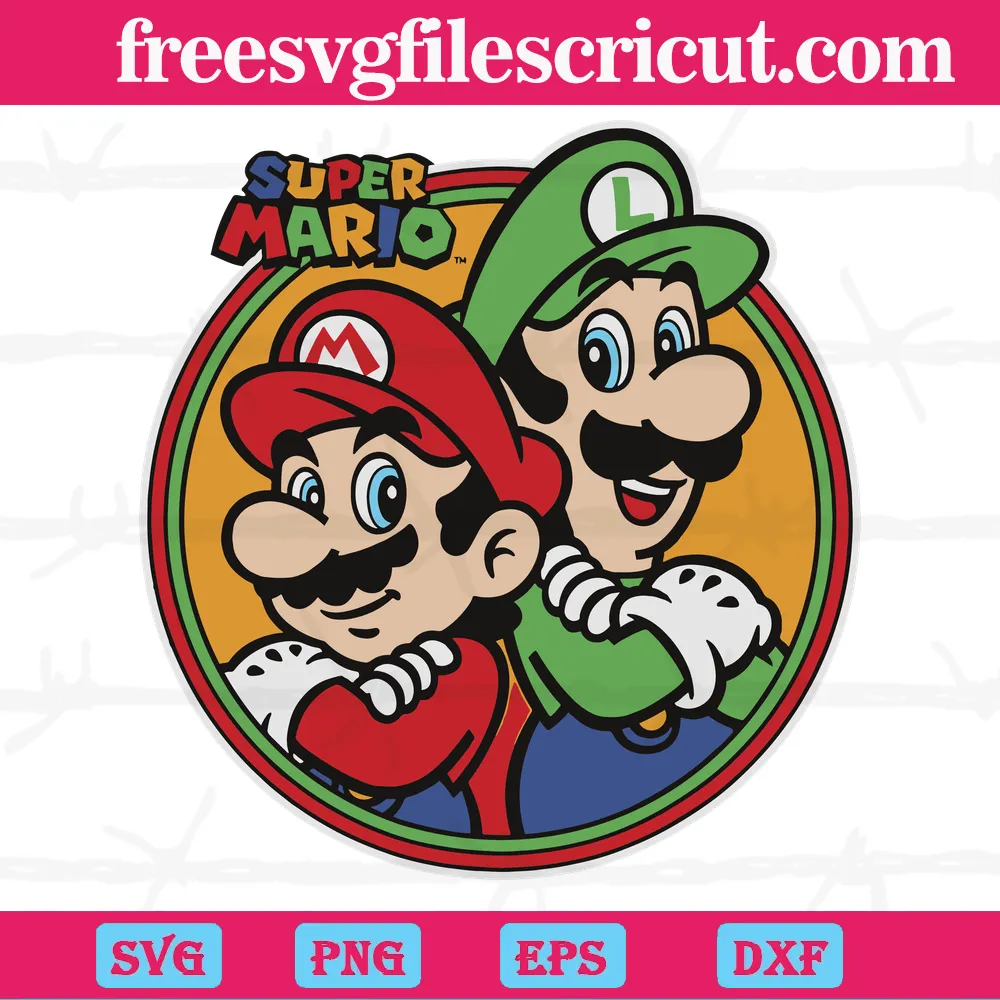 The Super Mario Girl Power multi-layered files are compatible with popular design software like Cricut Design Space, Silhouette Studio, and InkSpace. This multi-layered and transparent cutting file showcases Princess Daisy, Princess Peach, and Birdo from the Super Mario game series in a girl power theme. You'll receive all four file formats including SVG, EPS, PNG, and DXF compressed in a zip file, compatible with most image editing software and cutting, heat press, and cup press machines. Let your creativity shine and celebrate girl power with these amazing SVG files that combine the magic of Super Mario with empowering messages for all ages!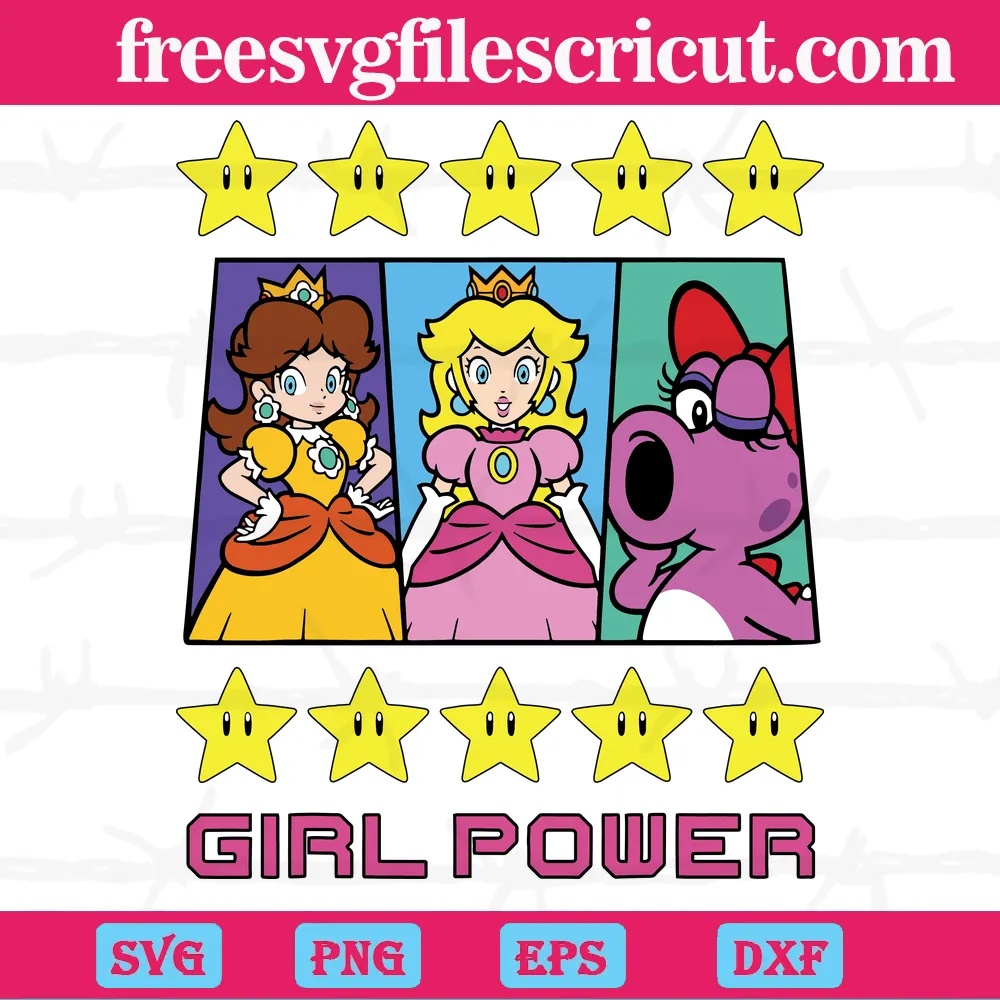 Create an unforgettable Super Mario-themed birthday party with our Super Mario 7th Birthday cutting digital files! Perfect for banners, gifts, and shirts, these files offer easy customization options and compatibility with popular design software and cutting machines. Let your creativity shine and add a touch of Super Mario magic to your celebration!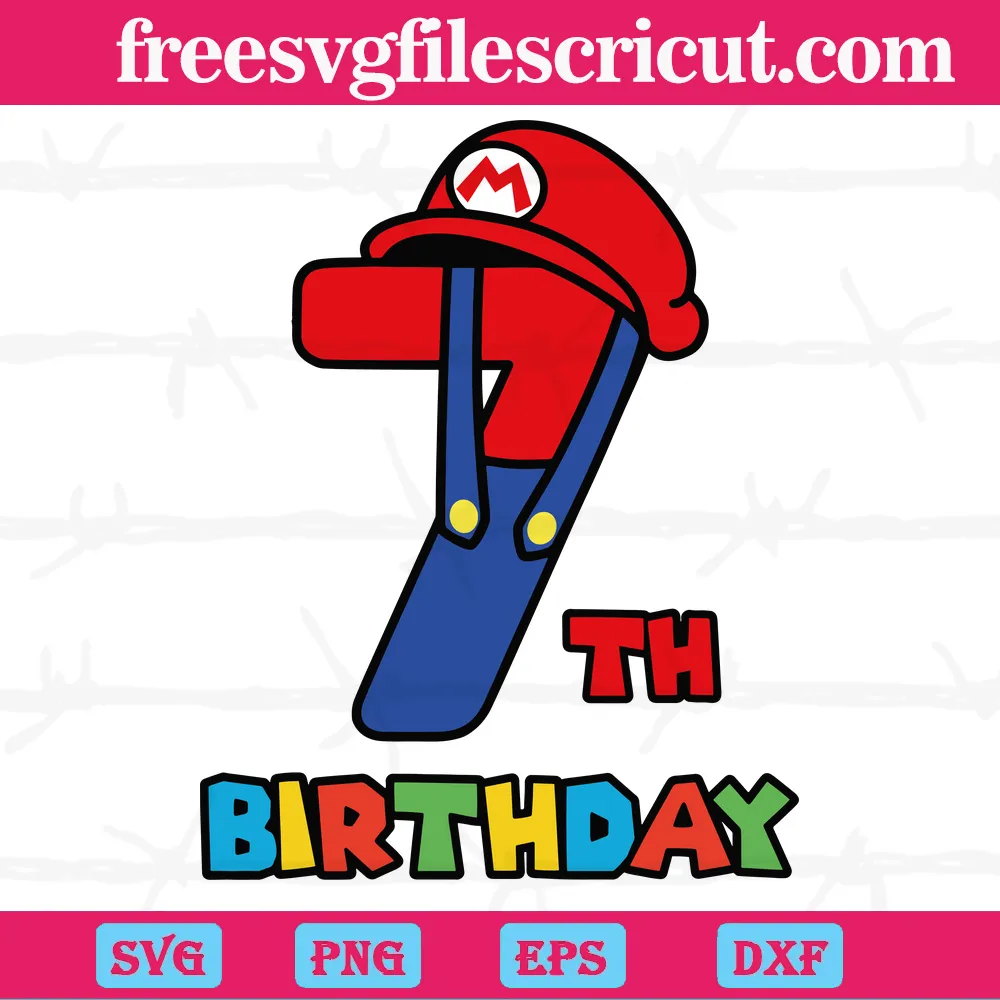 Surprise your friend with unique gifts made from the Super Mario Bros Layered SVG files! This SVG file showcases popular characters from Super Mario, including Mario, Princess Peach, Luigi, Toad mushroom, Bowser, Yoshi, and Donkey Kong. Upon download, you will receive 4 files in SVG, EPS, PNG, and DXF formats, all with transparent backgrounds and multiple layers, making it ideal for various crafting projects. Perfect for handmade greeting cards, team shirts, hats, and more, these files offer endless creative possibilities. Let your creativity shine and make your friend's day extra special with a personalized gift featuring the beloved Super Mario Bros characters!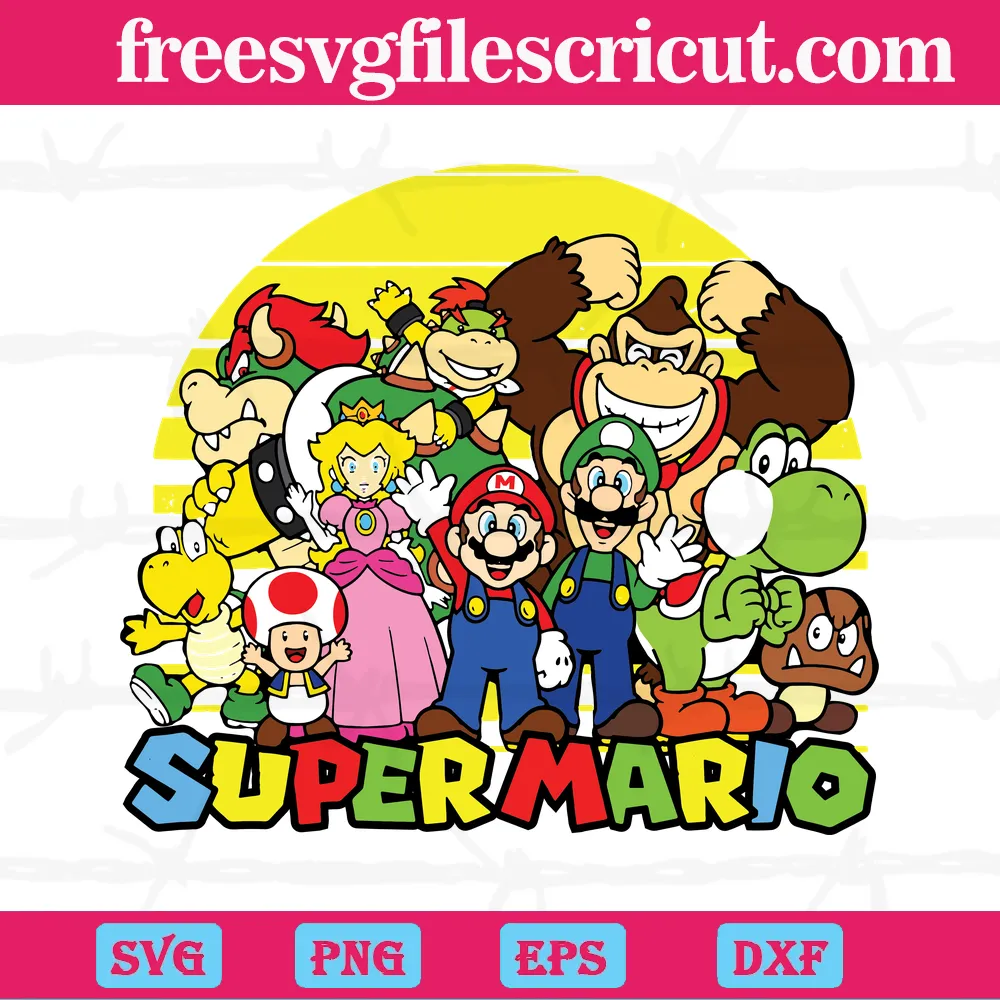 Our Super Mario 3 Made In The 80s transparent background vector SVG file offers endless customization options. You can resize, retext and change colors to create personalized Super Mario-inspired crafts. Perfect for fans of Super Mario and the 80s era, this versatile SVG file lets you unleash your creativity and make unique items that reflect your style and passion for gaming. Get creative with our Super Mario 3 Made In The 80S Vector SVG file today!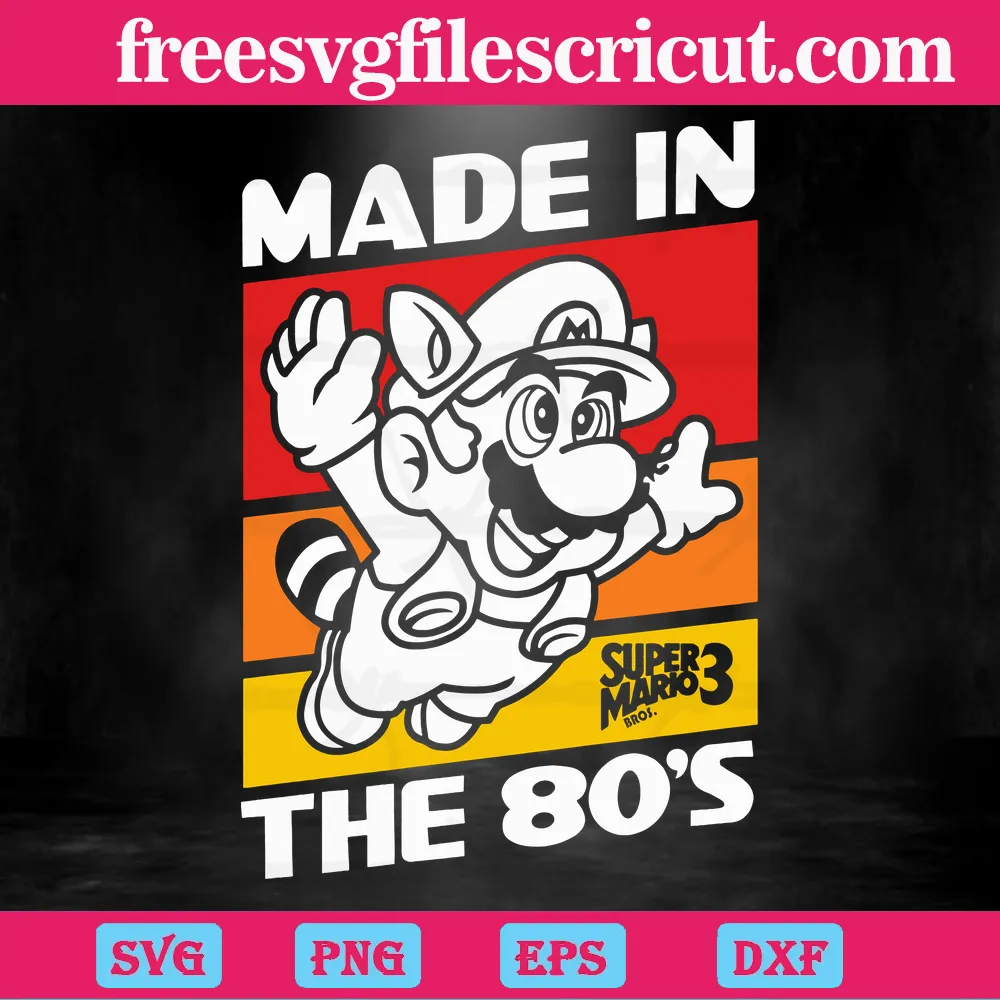 After download our files, you will receive 4 high-quality design files for your next crafting project:
1 EPS file – Scalable vector, editable file for Adobe Illustrator, Inkscape, Corel Draw (compatible with most cutting plotter software);
1 PNG file – 300 dpi High Resolution, transparent background;
1 SVG file – Universal format compatible with Silhouette Studio Designer, Cricut Design Space, Make the Cut, Sure Cuts A Lot, Brother ScanNCut, Cameo and others;
1 DXF file – Line format for cutting in Silhouette, other cutting plotters or laser engraving machines;
These vector files are fully editable and scalable, providing you with the flexibility to create unique designs that stand out.
Unleash your creativity with our diverse collection of Super Mario SVG files! Discover limitless possibilities by exploring our Super Mario SVG catalog, where you'll find a wide range of designs to suit your taste and requirements. For even more variety, visit our website freesvgfilescricut.com, offering a plethora of options on various topics. Let your imagination soar with our extensive collection of SVG files, and bring your creative visions to life!