Explore a collection of Police SVGs that honor the dedication of law enforcement officers. From powerful designs to inspirational quotes, these versatile files offer creative ways to show support and appreciation. Whether you're in law enforcement, have a connection to it, or simply want to express gratitude, Police SVGs provide a meaningful avenue for recognition. Let's delve into this world of SVGs that pay tribute to those who serve and protect, turning them into heartfelt expressions of respect and support.
What is Police?
The police are law enforcement professionals or agencies responsible for maintaining public order, enforcing laws, preventing and investigating crimes, and ensuring community safety. They patrol neighborhoods, respond to emergencies, conduct investigations, and engage with the public to prevent criminal activities. Police departments exist at local, state, and federal levels, with officers undergoing rigorous training in areas such as law, physical fitness, and conflict resolution. Police officers play a crucial role in upholding societal laws, promoting public safety, and responding to emergencies, while also requiring strong ethics and communication skills to build community trust.
What is an SVG File?
An SVG file, (which stands for scalable vector graphic), is a standard graphics file that is mainly used for rendering two-dimensional images.
SVG images can be scaled up or down without losing quality or becoming pixelated, making them ideal for logos, icons, and other types of graphics that need to be displayed at various sizes.
They are fantastic for so many applications, such as apparel, signs and cutting machines!
How to Open SVG Files?
Next, we'll look at how to open an SVG file!
There are many software choices for opening SVG files. However, we will focus on the options for cutting machines since they are the most commonly used.
Typically, SVG files are compressed within a zip folder and require extraction before they can be accessed.
Before importing the cutting SVG files into your preferred software program, like Cricut Design Space, or Silhouette Studio, …, you must first unzip the downloaded file by double-clicking the folder and selecting "extract all."
During the extraction process, you'll be prompted to choose a destination for your files. To avoid difficulty in retrieving them, you can create a dedicated folder on your desktop or computer labeled "SVG files."
It's crucial to keep track of the extraction location since you'll need to access the files again later.
Police SVG Files
Embark on a journey of creativity with our vast Police SVG Files collection, conveniently accessible on our website! Our thoughtfully curated assortment spans a diverse range of options, meticulously designed to address your varied creative aspirations. And as an added bonus, delight in the privilege of complimentary access to handpicked designs that we're confident will harmonize seamlessly with your specific requirements.
The statement "Police Officer: I Back The Blue For My Son, SVG Cut Files" conveys strong support for law enforcement, particularly for a son who is a police officer. This introduces a collection of digital design resources in SVG format, suitable for use with cutting machines. These SVG cut files offer creators the opportunity to craft items that proudly showcase their backing for the police force, specifically emphasizing a familial connection to law enforcement.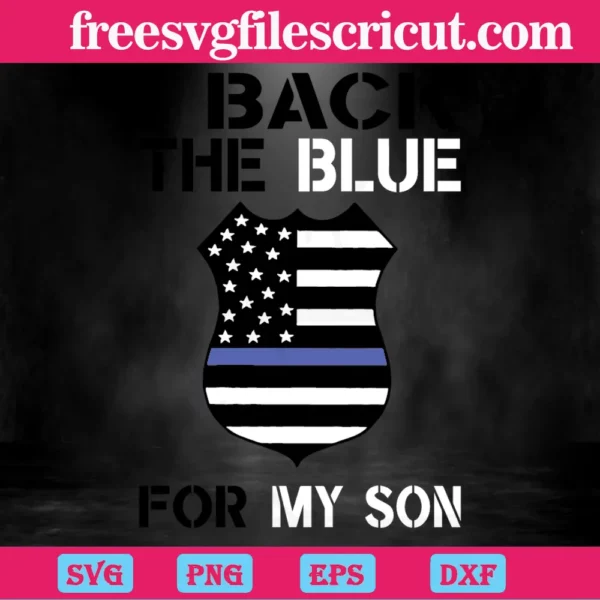 The phrase "Police Messy Bun Skull Blue Line, Laser Cut SVG Files" introduces a collection of digital design resources that creatively merge law enforcement symbolism, modern style (such as the "messy bun" hairstyle), and crafting. These SVG files are optimized for laser cutting applications, allowing for precise cutting on various materials. The design suggests a unique blend of police support, contemporary aesthetics, and crafting possibilities, making it suitable for creating personalized accessories, apparel, or decorations with a bold and edgy twist.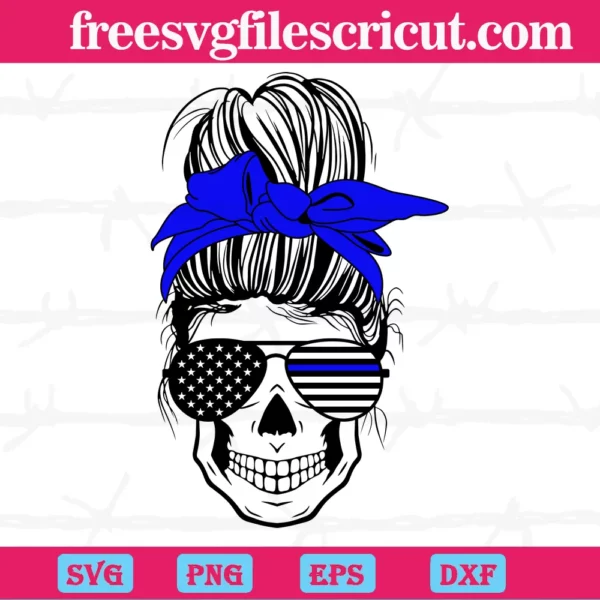 The phrase "American Flag Police and Dog, SVG PNG DXF EPS" introduces a digital design collection that combines patriotic and law enforcement themes, possibly featuring a dog. This versatile set of resources is available in multiple formats, including SVG for resizable images, PNG with transparent backgrounds, DXF for CAD and cutting machines, and EPS for high-quality printing. The designs offer a fusion of American pride, police symbolism, and the companionship of a dog, making them suitable for a variety of projects that celebrate these themes.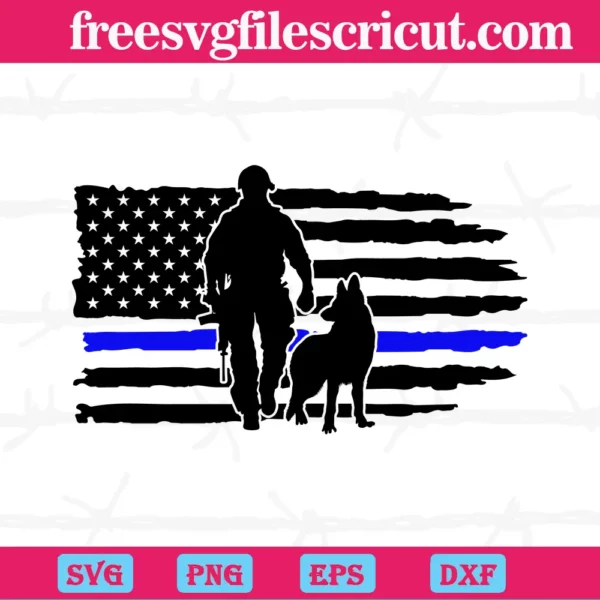 The phrase "Peace Love Police, SVG Files for Crafting and DIY Projects" introduces a collection of digital design resources that merge the concepts of peace, love, and law enforcement. These SVG files are tailored for crafting and DIY projects, allowing creators to express support for police officers through positive and creative designs. The sentiment of unity and appreciation is captured through designs that can be used to create a variety of personalized items, from apparel to decorations, fostering a sense of harmony and gratitude.
Are you a proud police sister looking for free SVG cutting files to download? Look no further! We have a wide range of SVG files available for you to use in your cutting machine projects. Whether you want to create a custom t-shirt, a vinyl decal, or a personalized gift, our SVG files will help you showcase your pride and support for your police officer sibling. Simply browse through our collection, choose your favorite design, and download the SVG file for free. Get creative and show your support with our high-quality cutting files.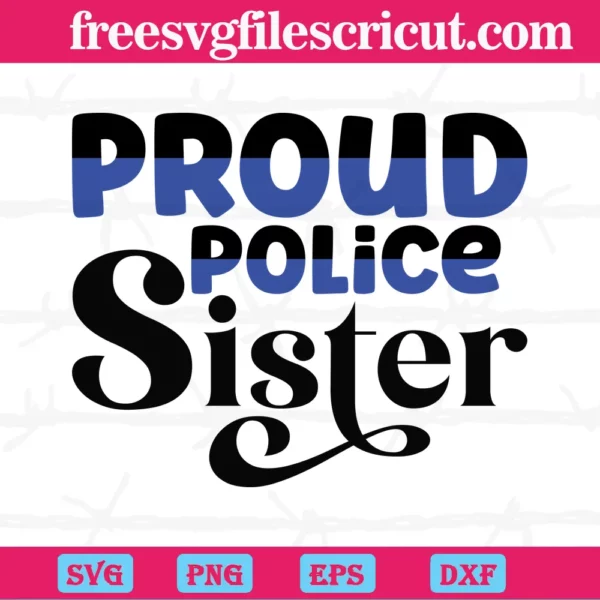 Looking for a Back the Blue Mickey Head design in SVG, PNG, DXF, and EPS formats? We've got you covered! Our digital files are perfect for your crafting projects. Show your support for law enforcement with this unique design featuring the iconic Mickey Mouse head silhouette and a "Back the Blue" message. Whether you want to create a t-shirt, a decal, or a personalized gift, these files will help you bring your ideas to life. Simply download the files and use them with your cutting machine to create stunning creations. Stand with our brave men and women in blue with this Back the Blue Mickey Head design.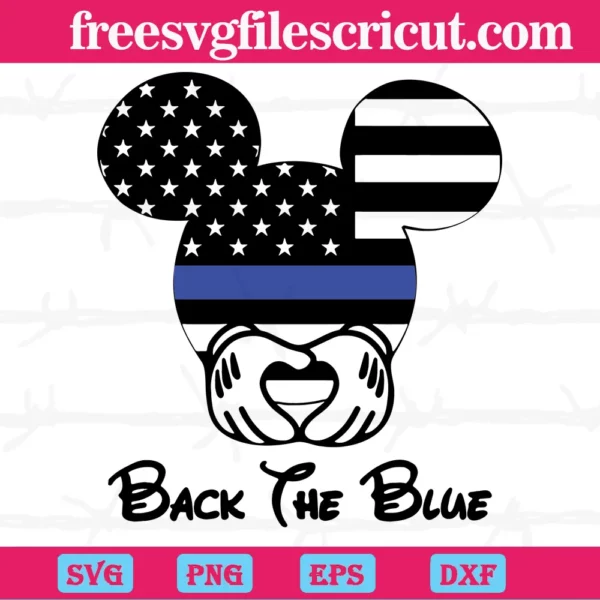 Our collection of cutting files includes this uplifting and supportive design. The combination of the police symbol and the sunflower creates a beautiful and meaningful design that represents strength, hope, and positivity. Whether you want to create a decal, a sign, or any other craft project, this cutting file SVG will help you bring your vision to life. Simply download the file and use it with your cutting machine to create a stunning piece that spreads positivity and support.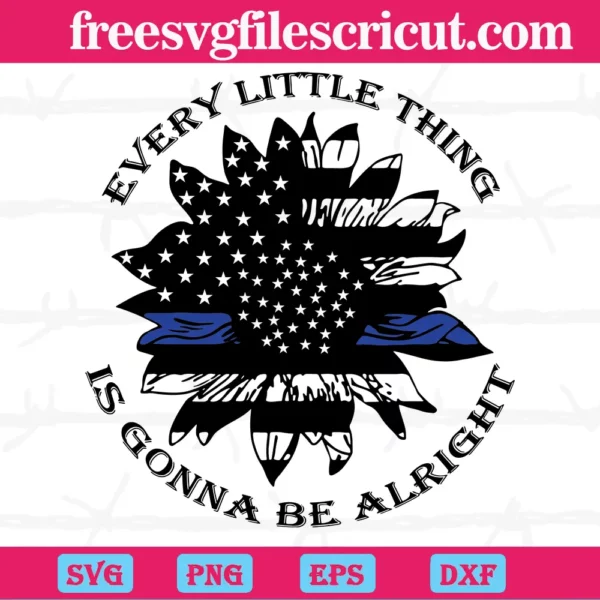 Prepare to enhance your design projects with our extensive Police SVG files collection! We're excited to introduce a thoughtfully curated selection that's poised to infuse your creations with a touch of wonder. Each Police SVG file has been carefully selected to spotlight our premium designs, guaranteeing that you'll uncover something that deeply aligns with your creative vision.
For those with an affinity for various design themes, we cordially invite you to explore our website, freesvgfilescricut.com. Within its digital haven, you'll uncover a diverse array of designs featuring beloved characters from popular culture. We're confident that you'll stumble upon designs that kindle your artistic inspiration.