"Elevate Your Style with Alpha Kappa Alpha SVG Designs! Immerse yourself in a collection of dynamic Alpha Kappa Alpha SVG designs, showcasing the elegance and pride of this esteemed sorority. These SVG files offer you a versatile canvas to personalize your projects, whether you're creating apparel, accessories, or decorative items. Celebrate the legacy, sisterhood, and values of Alpha Kappa Alpha with these meticulously crafted designs. Incorporate the iconic symbols and colors into your creations and let your pride shine through. Download Alpha Kappa Alpha SVG designs and infuse your projects with the essence of excellence and unity that define this storied organization."
What is Alpha Kappa Alpha?
Alpha Kappa Alpha (ΑΚΑ) is the first African American sorority, founded in 1908 at Howard University. It emphasizes sisterhood, service, scholarship, and leadership development. As a member of the National Pan-Hellenic Council, ΑΚΑ focuses on community service, academic excellence, and cultural enrichment. The organization's core values encompass service to all, scholarship, sisterhood, finer womanhood, and cultural heritage. With chapters globally, it has contributed to social change and community empowerment for over a century.
What is an SVG File?
An SVG file, (which stands for scalable vector graphic), is a standard graphics file that is mainly used for rendering two-dimensional images.
SVG images can be scaled up or down without losing quality or becoming pixelated, making them ideal for logos, icons, and other types of graphics that need to be displayed at various sizes.
They are fantastic for so many applications, such as apparel, signs and cutting machines!
How to Open SVG Files?
Next, we'll look at how to open an SVG file!
There are many software choices for opening SVG files. However, we will focus on the options for cutting machines since they are the most commonly used.
Typically, SVG files are compressed within a zip folder and require extraction before they can be accessed.
Before importing the cutting SVG files into your preferred software program, like Cricut Design Space, or Silhouette Studio, …, you must first unzip the downloaded file by double-clicking the folder and selecting "extract all."
During the extraction process, you'll be prompted to choose a destination for your files. To avoid difficulty in retrieving them, you can create a dedicated folder on your desktop or computer labeled "SVG files."
It's crucial to keep track of the extraction location since you'll need to access the files again later.
Alpha Kappa Alpha SVG Files
Uncover a realm of creative opportunities within our comprehensive Alpha Kappa Alpha SVG Files collection, conveniently accessible on our website! Our thoughtfully curated assortment spans a diverse range of options, meticulously tailored to cater to your varied creative aspirations. And as an added perk, relish the advantage of complimentary access to handpicked designs that we're confident will seamlessly align with your specific requirements.
The phrase "Alpha Kappa Alpha Pretty Girls 1908, Scalable Vector Graphics" references a scalable vector graphics (SVG) design associated with the Alpha Kappa Alpha sorority. The text "Pretty Girls 1908" likely celebrates the sorority's founding year and emphasizes its members' identity as empowered women. The use of SVG format allows for easy resizing without loss of quality, offering versatility for various applications. This phrase suggests a digital design asset that symbolizes the pride and history of the Alpha Kappa Alpha sorority, particularly its commitment to empowerment and unity among its members.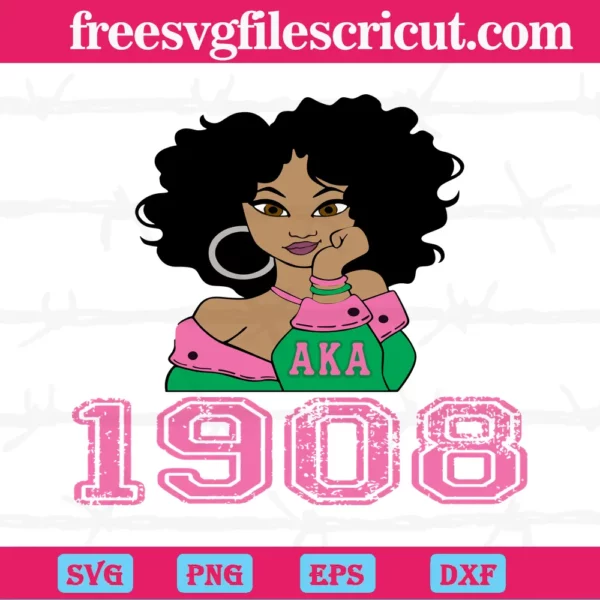 These resources include SVG fonts that can be used for commercial purposes, allowing creators to add a personalized touch to their designs. The combination of free accessibility and commercial use rights makes these resources valuable tools for crafting impactful projects that celebrate the educator identity within the AKA sorority and its commitment to education.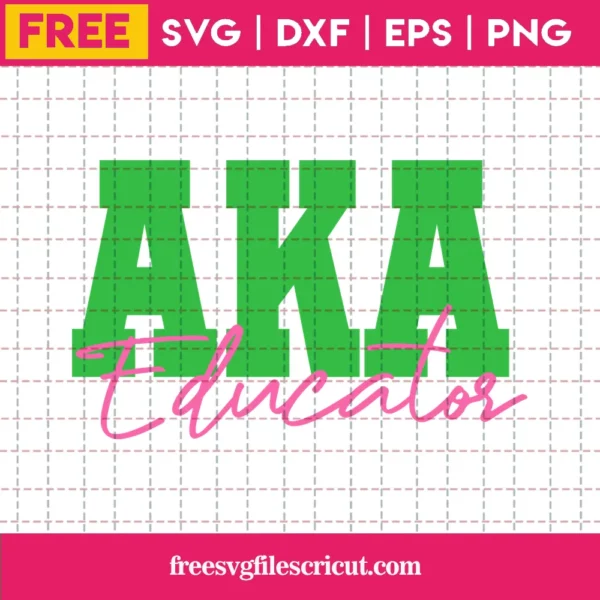 The statement "Black Pretty Girl Alpha Kappa Alpha 1908, SVG Cut Files" refers to a set of SVG cut files that celebrate the identity of Black women within the Alpha Kappa Alpha sorority. The phrase "Pretty Girl" likely emphasizes the sorority members' self-assured and empowered identity. The inclusion of "1908" signifies the founding year of the sorority. SVG cut files are ideal for precise cutting using machines like Cricut, ensuring intricate designs are accurately reproduced. This phrase suggests a digital design asset that symbolizes the pride and heritage of Black women in the Alpha Kappa Alpha sorority, specifically highlighting their empowered identity within the organization's history.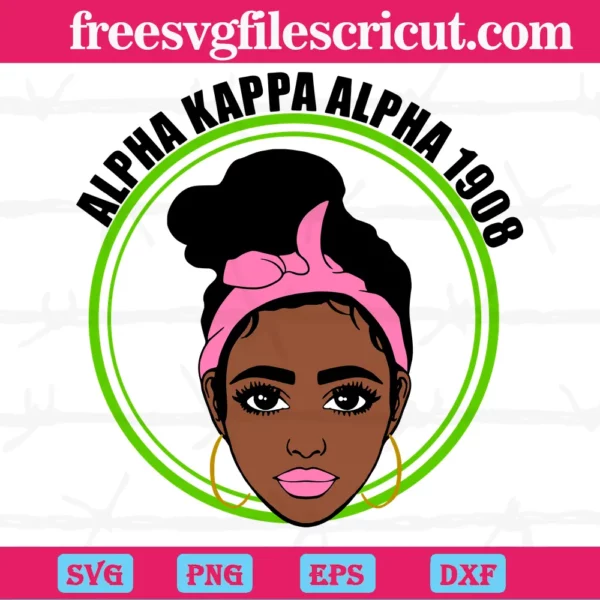 The phrase "I Love My HBCU" reflects the sorority's strong connection to these educational institutions. SVG files allow for precise cutting and customization using machines like Cricut. This phrase suggests a digital design resource that embodies the pride and affiliation of Alpha Kappa Alpha sorority members with HBCUs, offering a way to create personalized items that celebrate this connection.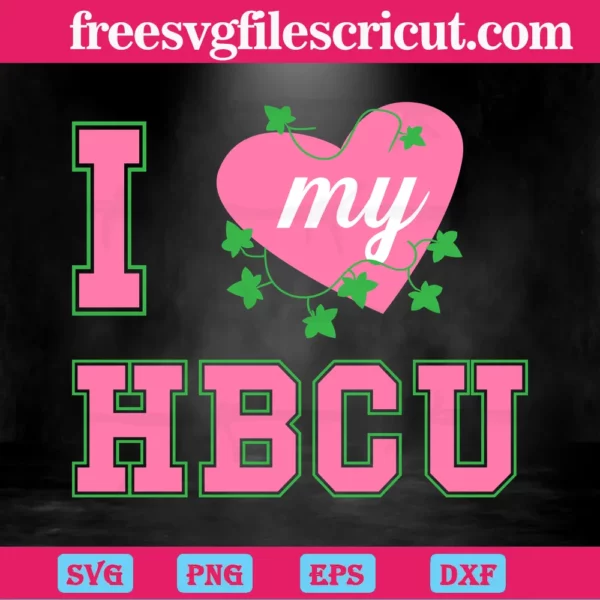 The phrase "AKA Pretty Girls Vote Sorority, Free SVG Images for Commercial Use" introduces a collection of free digital design resources that revolve around the theme of the Alpha Kappa Alpha (AKA) sorority's commitment to voting. These resources include SVG images that can be used for commercial purposes.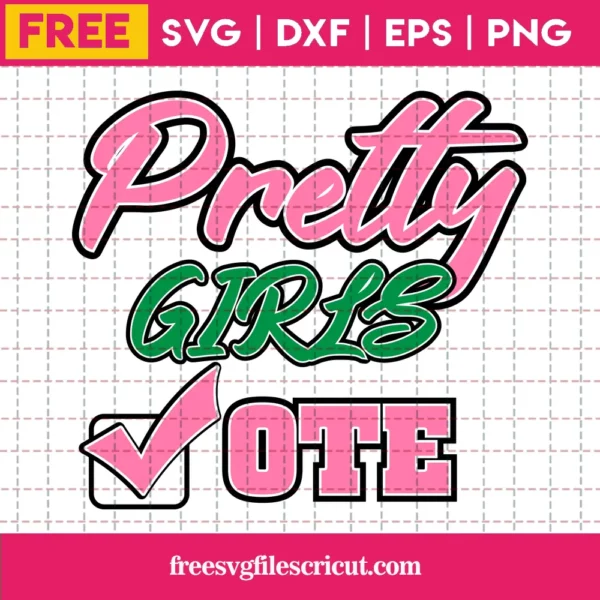 The "Alpha Kappa Alpha SVG Bundle" refers to a package of scalable vector graphics (SVG) files specifically designed for the Alpha Kappa Alpha sorority. This bundle likely includes a collection of digital design assets such as logos, symbols, and elements associated with the sorority's identity. It offers a comprehensive set of resources for creators to use in their projects while aligning with the sorority's themes and visuals.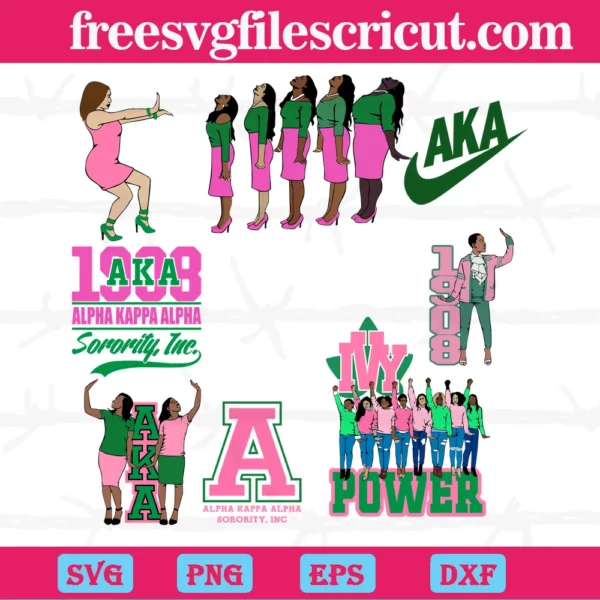 Prepare to enrich your design projects with our extensive Alpha Kappa Alpha SVG files collection! We're excited to unveil a thoughtfully curated selection that promises to infuse your creations with a touch of enchantment. Each Alpha Kappa Alpha SVG file has been carefully chosen to spotlight our premium designs, ensuring that you'll find something that deeply resonates with your creative vision.
For those drawn to diverse design themes, we cordially invite you to explore our website, freesvgfilescricut.com. Within its digital haven, you'll uncover a diverse array of designs featuring beloved characters from popular culture. We're confident that you'll discover designs that spark your artistic inspiration.