This list of Iron Man SVG files is perfect for anyone who wants to create their own party supplies. Our Iron Man Svg files are compatible with design softwares e.g. – Cricut Explore, Silhouette Designer Edition, Adobe Suite, Adobe Illustrator, Inkscape, Corel Draw, and more.
Who is Iron Man?
Iron Man's secret identity is Tony Stark, Anthony Edward "Tony" Stark was a billionaire industrialist, a founding member of the Avengers, and the former CEO of Stark Industries. A brash but brilliant inventor, Stark was self-described as a genius, billionaire, playboy, and philanthropist. With his great wealth and exceptional technical knowledge, Stark was one of the world's most powerful men following the deaths of his parents and enjoyed the playboy lifestyle for many years until he was kidnapped by the Ten Rings in Afghanistan, while demonstrating a fleet of Jericho missiles. With his life on the line, Stark created an armored suit which he used to escape his captors. Upon returning home, he utilized several more armors to use against terrorists, as well as Obadiah Stane who turned against Stark. Following his fight against Stane, Stark publicly revealed himself as Iron Man.
What is an SVG File?
An SVG file, (which stands for scalable vector graphic), is a standard graphics file that is mainly used for rendering two-dimensional images.
SVG Files are popular among crafters, makers, Cricut owners, and DIY enthusiasts who use these files to create a wide variety of products with endless customization possibilities.
They are fantastic for so many applications, such as apparel, signs and cutting machines!
How to Open SVG Files?
We'll now move on to instructions for opening an SVG file.
There are many software choices for opening SVG files. However, we will focus on the options for cutting machines since they are the most commonly used.
Typically, SVG files are compressed within a zip folder and require extraction before they can be accessed.
Before importing the file into your preferred software program, you must first unzip the downloaded file by double-clicking the folder and selecting "extract all."
During the extraction process, you'll be prompted to choose a destination for your files. To avoid difficulty in retrieving them, you can create a dedicated folder on your desktop or computer labeled "SVG files."
It's crucial to keep track of the extraction location since you'll need to access the files again later.
Iron Man SVG Files for Cricut
Compatible with most cutting machines, our Iron Man SVG designs can be used to create custom stickers, home decorations, cup wraps, and even Iron-on T-shirts for your party or birthday celebrations. Let your creativity soar and amaze your friends and family with unique, creative products that are sure to impress both adults and children alike. Start crafting today and take your Iron Man Marvel fandom to the next level!
It is a great quality design, perfect and basic if you want to put it on your handmade products. Whether you're creating custom crafts or any other digital or print media, this design is the perfect addition to your collection, and you can have it without any fees.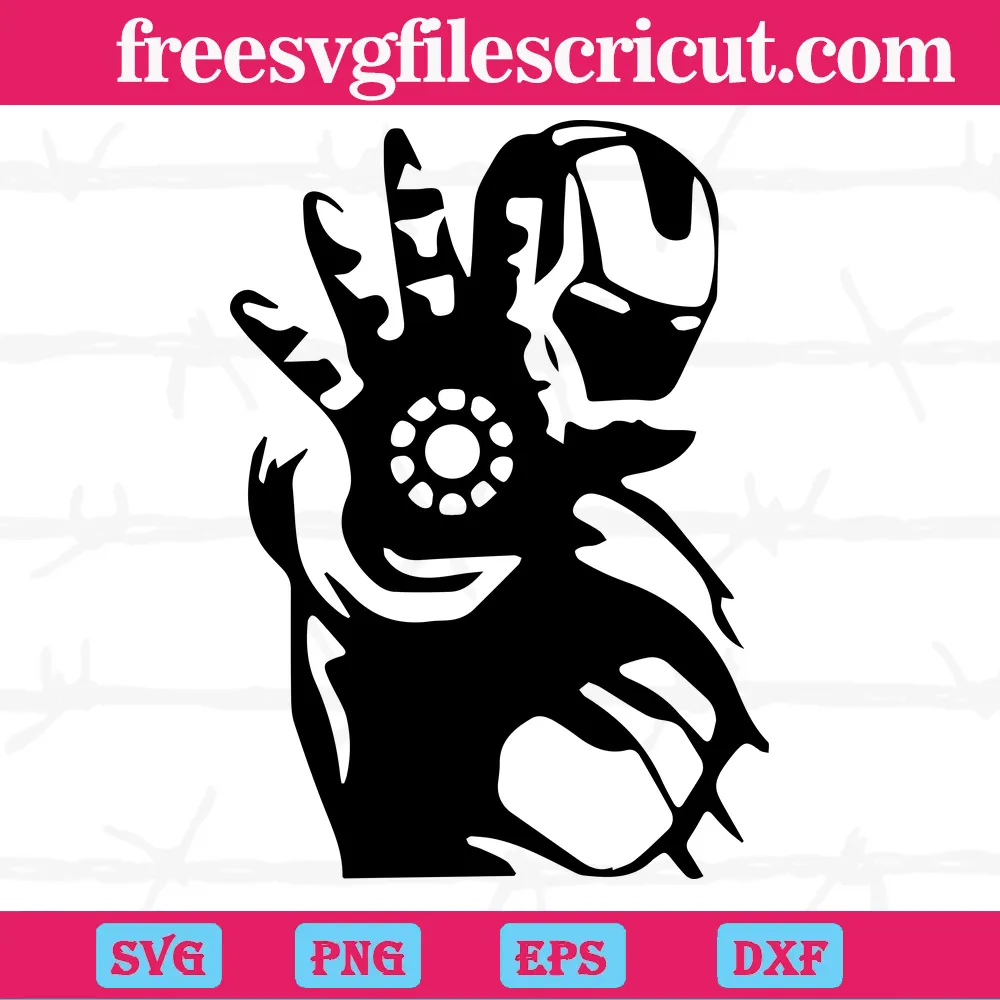 Elevate your DIY game and make a memorable Iron Man-themed birthday cake topper for children using our high-quality Iron Man SVG file that is compatible with cutting machines like Cricut and Silhouette. Check out this free Iron Man Mask SVG file and take your crafting to the next level!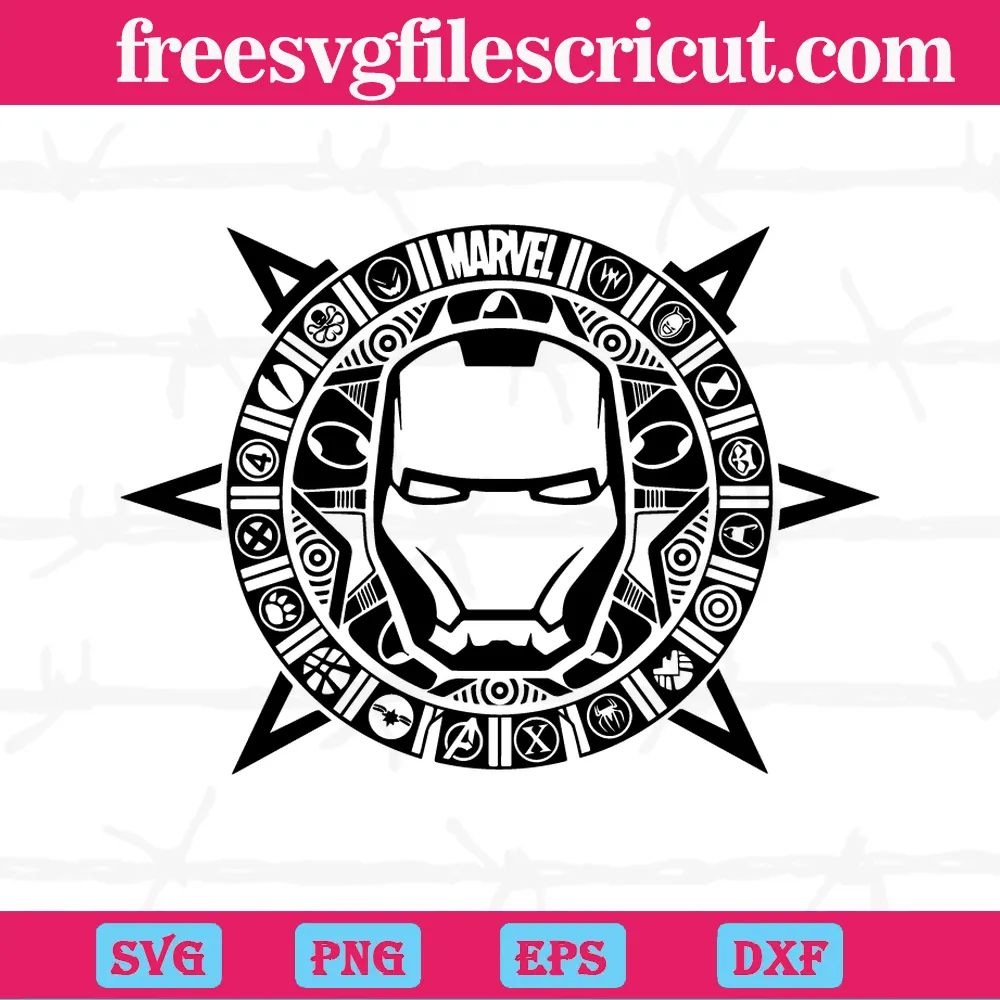 A powerful representation of Iron Man's snap and the statement " I Am Iron man" is depicted in this design, conveying the weight of its significance in the Marvel universe. Make these easy and adorable Iron Man print T-shirts, iron-on bags, custom blankets.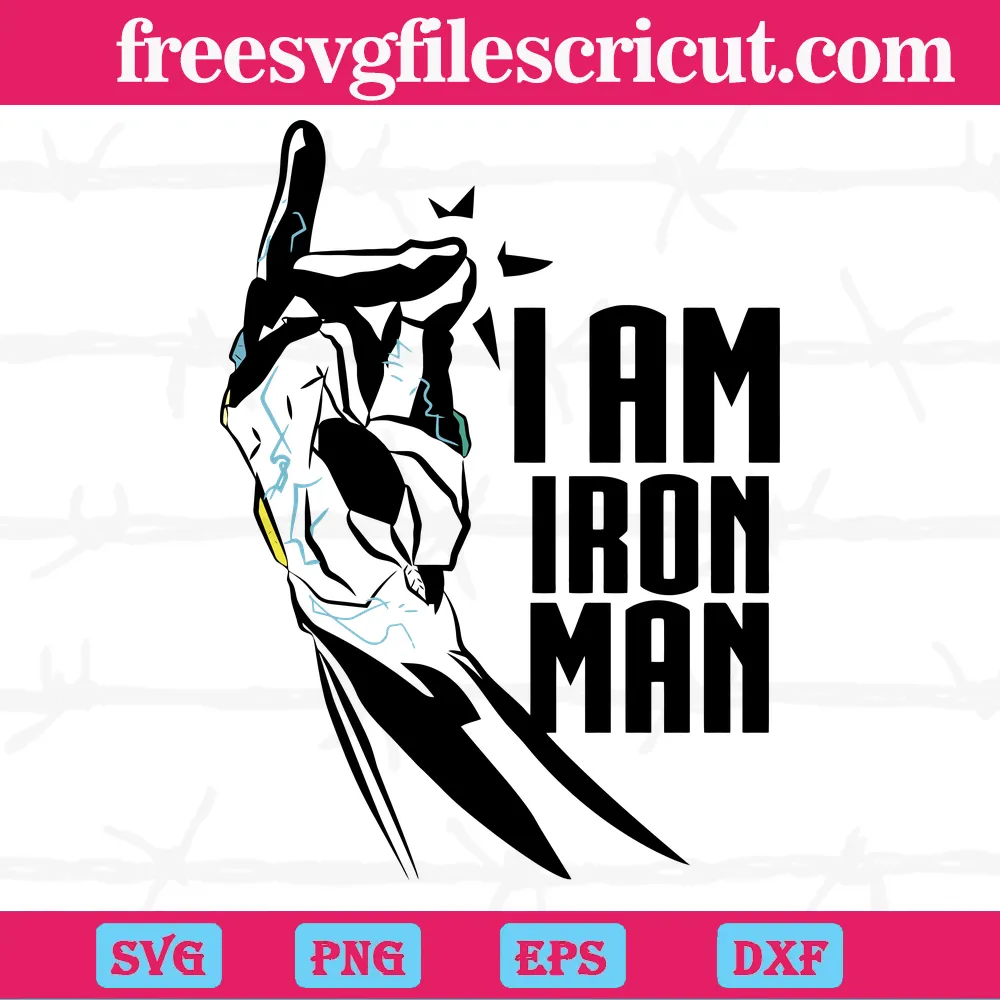 A highly distinctive design is created by seamlessly integrating the iconic Iron Man symbols with the legendary quote "I Love You 3000."  This Silhouette Iron Man SVG  file format allows for easy customization, so you can add your own creative flair to the design.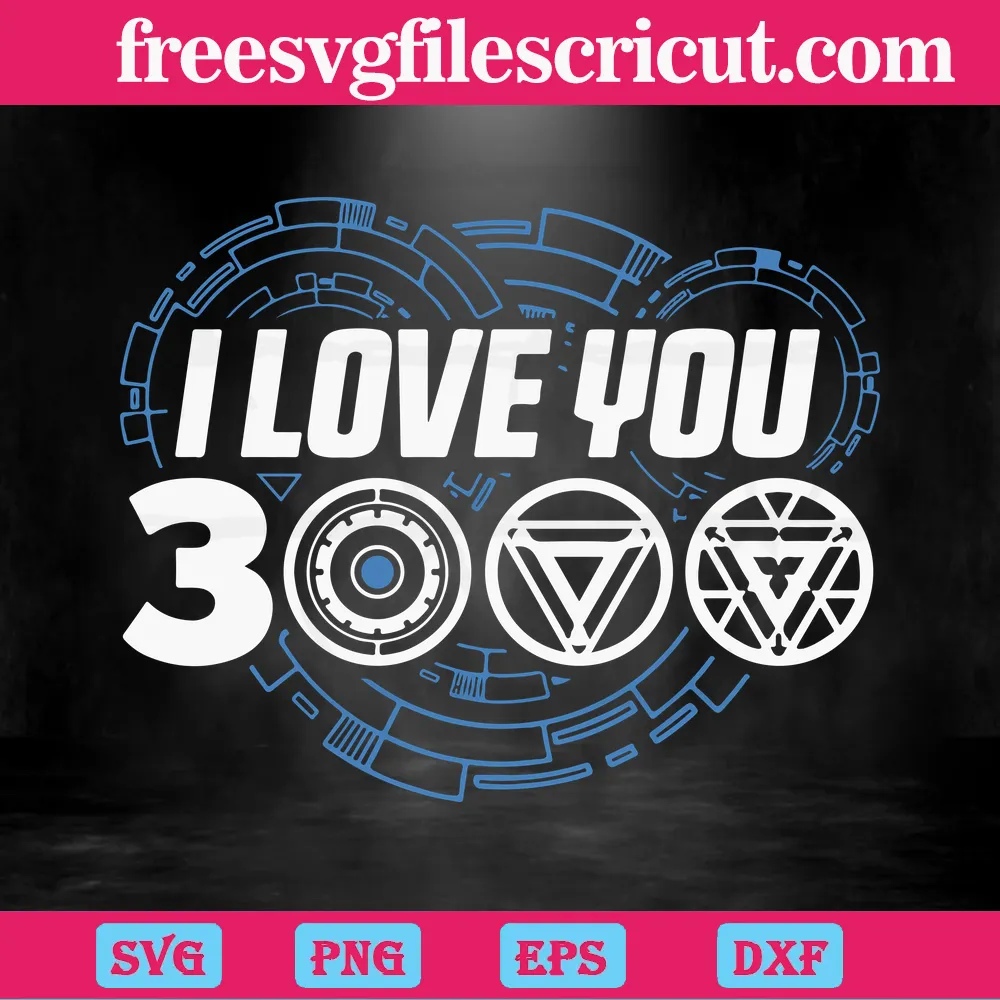 ThisThis layered SVG design is a must-have for any fan of Iron Man and their creative projects. What are you waiting for? Let's grab it and bring a touch of iconic and fun to your DIY projects with it. Iron Man Helmet, Svg Png Dxf Eps Designs Download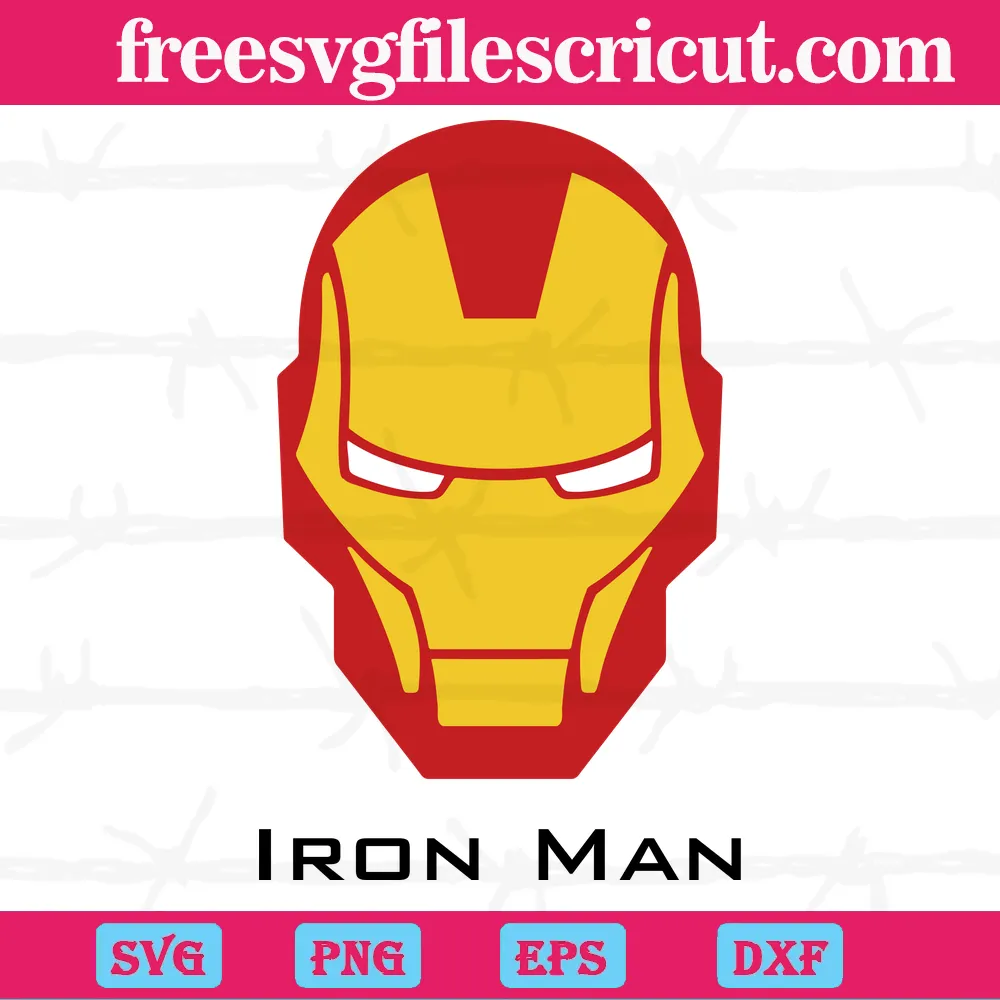 After download this item, you will receive 4 digital files in 1 (one) zip folder:
– 1 SVG file: Compatible with Cricut Explore, Silhouette Designer Edition, Adobe Suite, Inkscape, Corel Draw, and many other programs.
– 1 EPS file: Suitable for Adobe Illustrator, Inkscape, Corel Draw, and many other programs.
– 1 PNG file: High-resolution with a transparent background.
– 1 DXF file: Line format suitable for cutting in Silhouette, other cutting plotters, or laser engraving machines.
Hopefully some of the files that we created above can be used properly. To explore more designs in this theme, simply click on the Iron Man SVG category where you'll find a wide variety of options.
If you're interested in exploring other design themes about Marvel Comics, we invite you to take a look at our Marvel theme collection, such as Avengers SVG, Black Panther SVG, Captain America SVG, Iron Man SVG, Spiderman SVG . With a wide range of designs featuring beloved characters from popular culture, you're sure to find something that inspires you.