Step into the whimsical world of Dr. Seuss SVGs! Our collection of SVG, PNG, EPS, and DXF files are the perfect addition to your print on demand products. With high-quality files that are easy to use, you can create custom t-shirts, mugs, stickers, and more that capture the playful spirit of Dr. Seuss's beloved characters and stories. Our designs are sure to add a touch of fun and creativity to your products, and with our wide variety of files, you'll have plenty of options to choose from. Browse our collection today and start creating your own unique Dr. Seuss-inspired products that will delight fans of all ages!
Who is Dr Seuss?
Theodor Seuss Geisel was an American children's author and cartoonist. He is known for his work writing and illustrating more than 60 books under the pen name Dr. Seuss. His work includes many of the most popular children's books of all time, selling over 600 million copies and being translated into more than 20 languages by the time of his death.
What is an SVG File?
An SVG file, (which stands for scalable vector graphic), is a standard graphics file that is mainly used for rendering two-dimensional images.
SVG images can be scaled up or down without losing quality or becoming pixelated, making them ideal for logos, icons, and other types of graphics that need to be displayed at various sizes.
They are fantastic for so many applications, such as apparel, signs and cutting machines! 
How to Open SVG Files?
Next, we'll look at how to open an SVG file!
There are many software choices for opening SVG files. However, we will focus on the options for cutting machines since they are the most commonly used.
Typically, SVG files are compressed within a zip folder and require extraction before they can be accessed.
Before importing the cutting SVG files into your preferred software program, like Cricut Design Space, or Silhouette Studio, …, you must first unzip the downloaded file by double-clicking the folder and selecting "extract all."
During the extraction process, you'll be prompted to choose a destination for your files. To avoid difficulty in retrieving them, you can create a dedicated folder on your desktop or computer labeled "SVG files."
It's crucial to keep track of the extraction location since you'll need to access the files again later. 
Dr Seuss SVG Scalable Vector Graphics Files
Elevate your DIY projects to new heights with our collection of Dr. Seuss SVG files for Cricut! Our designs are perfect for crafters of all levels and include everything from DIY crafts to birthday party decorations. With our easy-to-use files, you can create unique and playful pieces that capture the spirit of Dr. Seuss's beloved characters and stories. Whether you're looking to add a touch of whimsy to your home decor or create custom gifts for loved ones, our collection of Dr. Seuss SVG files is sure to inspire your creativity. Start exploring our collection today and see how you can take your DIY projects to the next level with Dr. Seuss!
Looking for free Dr. Seuss SVG illustrations? Look no further! Our collection of Dr. Seuss SVG designs is completely free and ready to use with your cutting machine. Use these high-quality designs to create custom stickers, pantry labels, and much more. Whether you're a fan of Dr. Seuss or just love playful and whimsical designs, our collection is sure to delight. Download the SVG files today and start creating your own custom designs!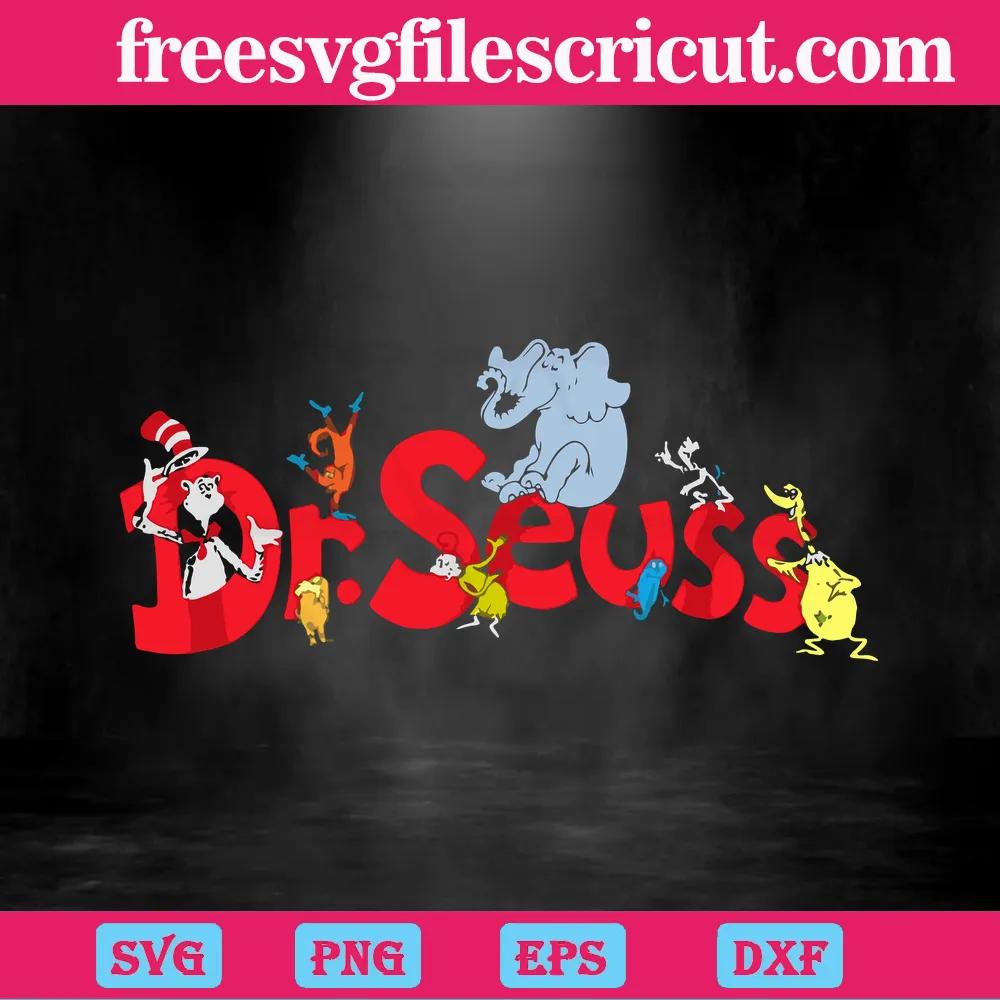 Our Dr. Seuss Patchy Color Hat SVG design is a colorful and playful addition to any project. The design is fully customizable, so you can change the colors and tweak the file to suit your needs. What are you waiting for? Let's grab it and bring a touch of whimsy and fun to your DIY projects with it.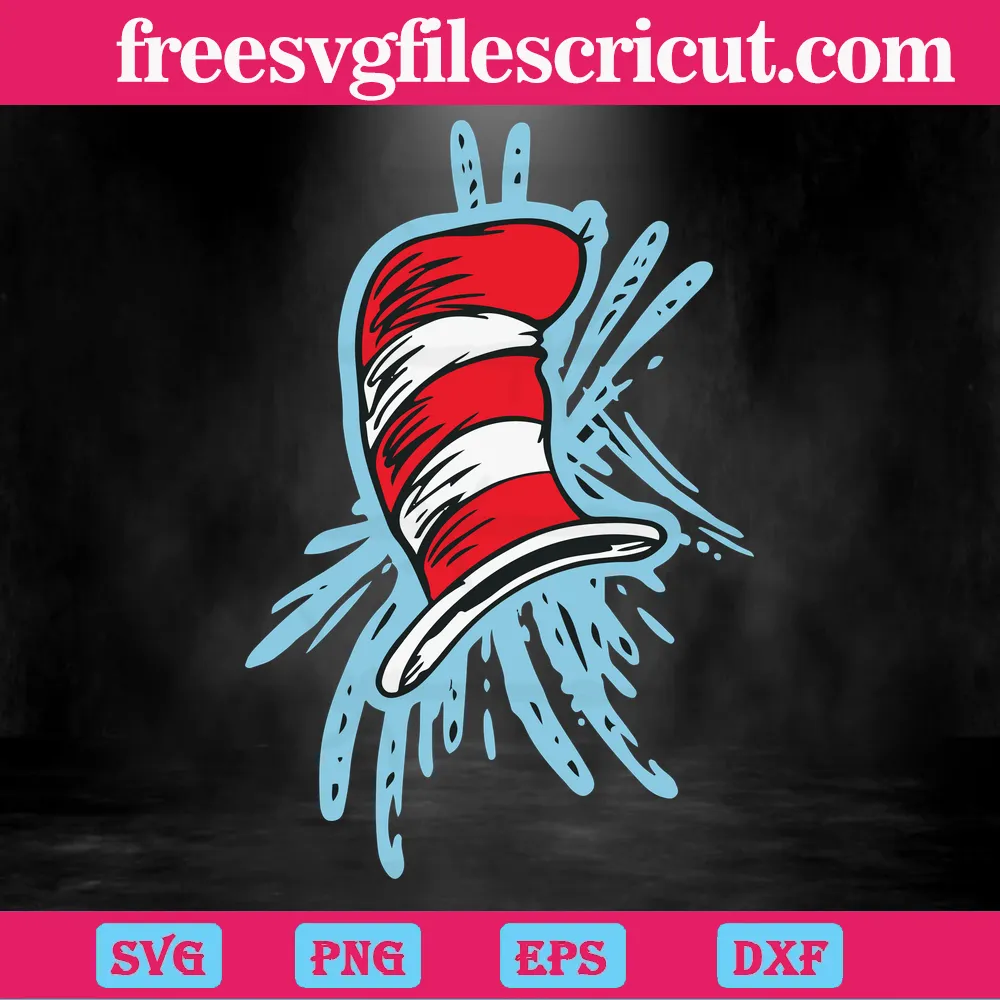 Looking for a fun and whimsical Dr. Seuss SVG design to use with Cricut Design Space? Check out our Green Eggs and Ham design! With this downloadable file, you can easily create eye-catching products such as t-shirts, tote bags, and more. Featuring the iconic green eggs and ham image from Dr. Seuss's classic book, this design is sure to add a playful touch to any project. Download it today and start creating your own custom designs!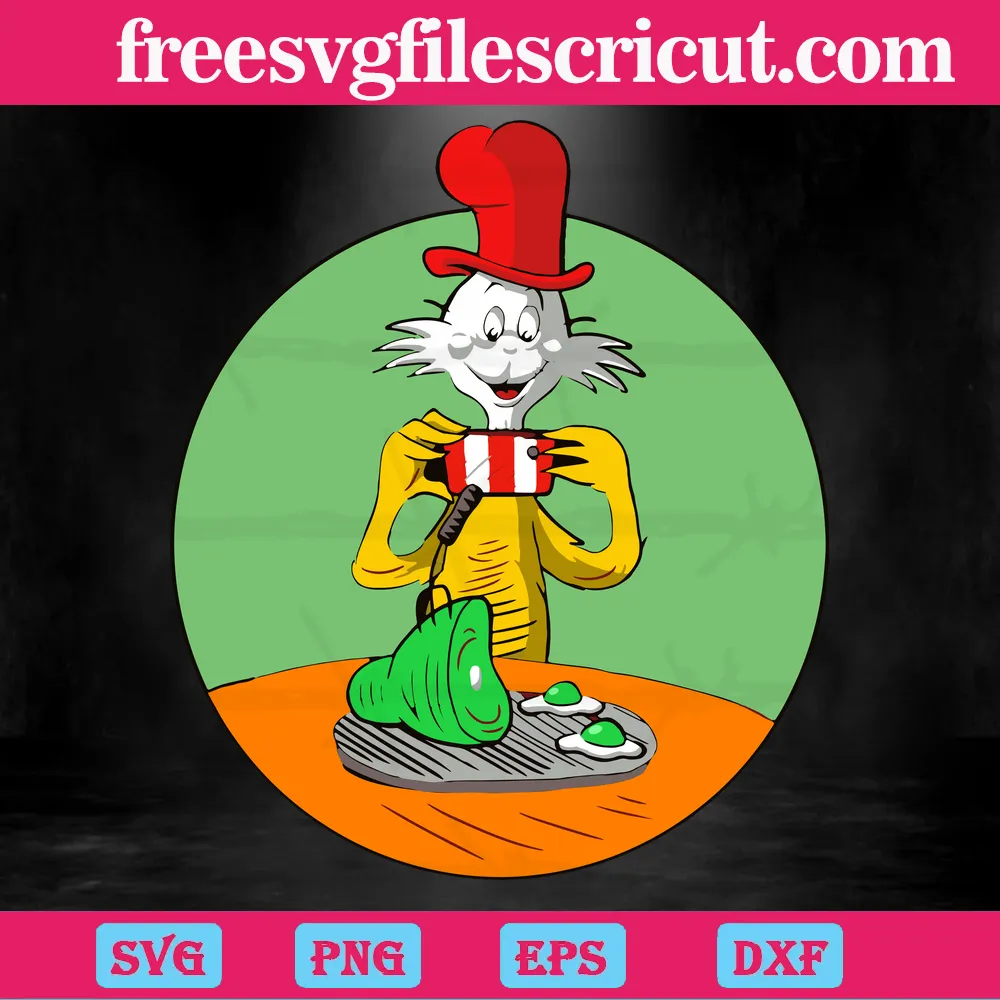 Our Dr. Seuss "I Will Wear My Mask Here or There, I Will Social Distance Everywhere" digital files SVG design is perfect for creating posters, banners, and more to raise awareness of self-protection. With this whimsical and fun design, you can encourage others to wear masks and practice social distancing in a playful way. Whether you're a teacher, healthcare professional, or just want to spread the word about the importance of self-protection, this design is sure to capture attention. Download it today and start raising awareness in your community!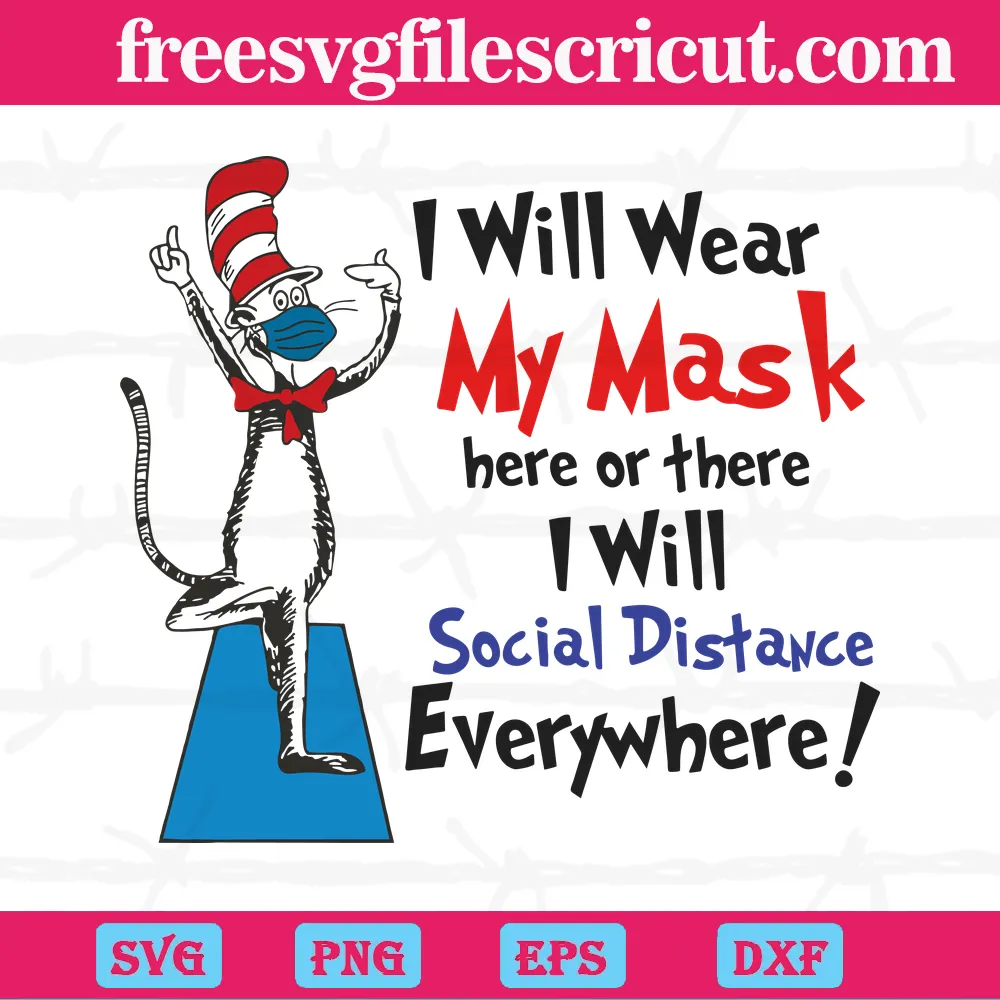 If you're a fan of Dr. Seuss and love fishing, you won't want to miss our "One Fish Two Fish Red Fish Blue Fish" graphic design SVG! This design is one of our most popular, and perfect for fishing lovers who want to add a touch of whimsy to their gear. Whether you're looking to customize your fishing rod, tackle box, or other gear, this design is sure to add a playful touch. Download it for free today and start creating your own unique fish-themed products that are sure to make a splash!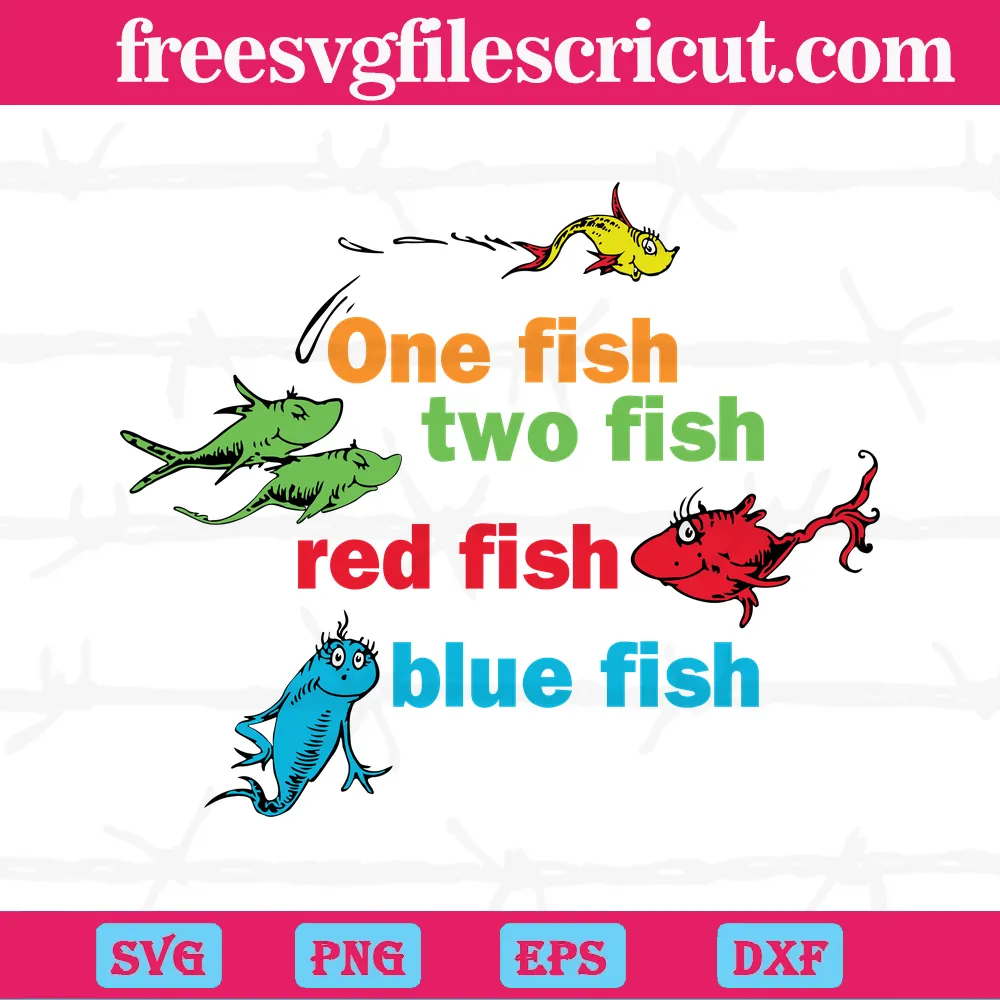 With its exceptional uniqueness and flawless design, this piece is an impeccable addition to your collection. Stop procrastinating! Grab it, utilize it, and adorn it immediately!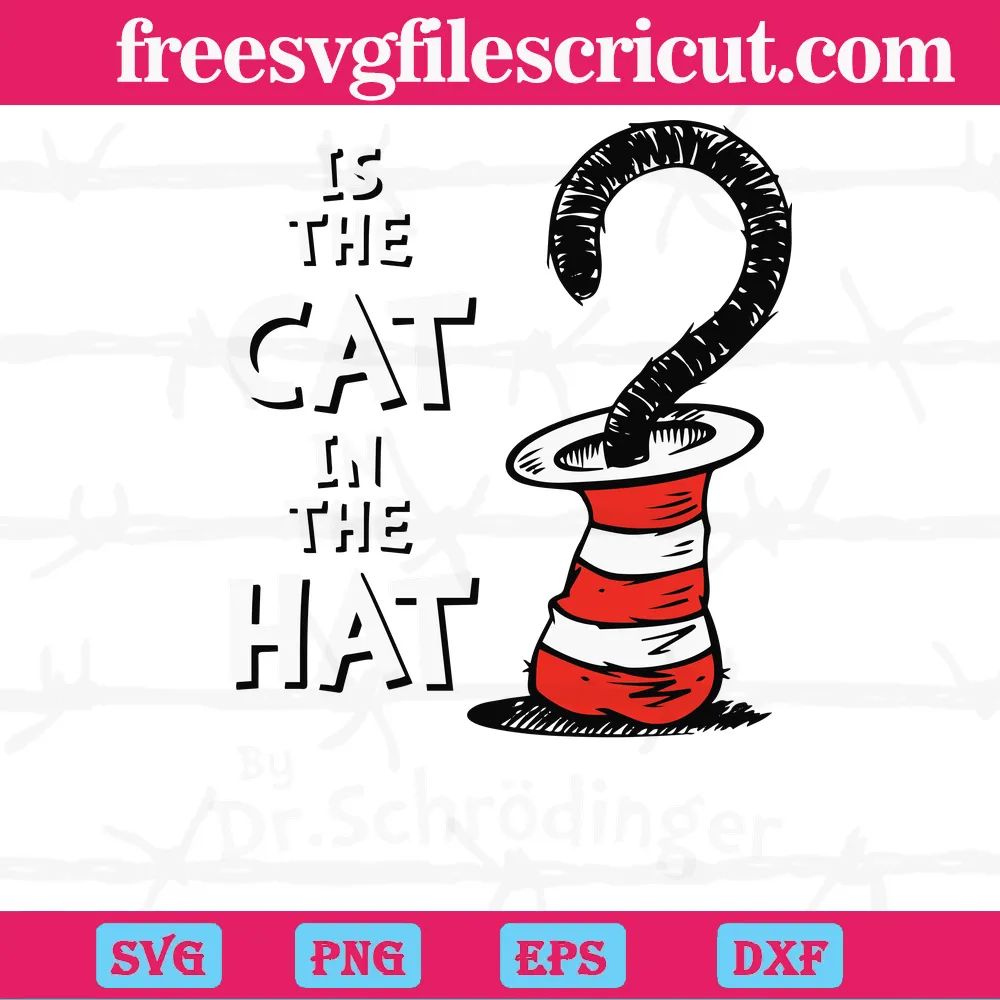 If you're looking for a unique and thoughtful gift for your mother this Mother's Day, consider creating something special with the Mother Of All Things Dr Seuss Layered SVG Files. With these files, you can make a range of personalized items, such as aprons, t-shirts, and cup wraps, that feature quotes and images from some of Dr. Seuss's most beloved books. These layered SVG files are easy to use and allow you to create customized designs that truly capture your mother's personality and style.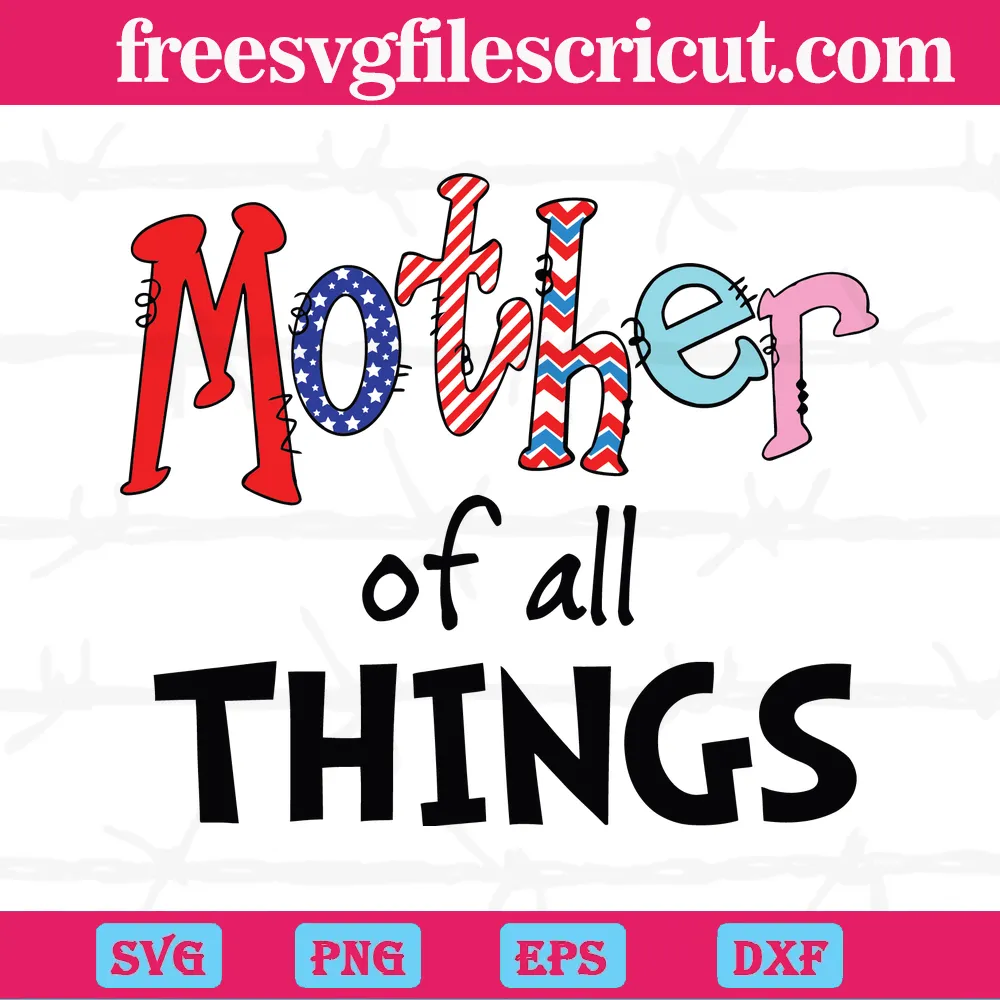 With the Up Up Up With A Fish! Dr Seuss Cutting File SVG, you can easily add a touch of humor to your crafting projects. This cutting file features a comical fish design that can be customized to suit your needs. You can use it to create a wide range of printed fish gear, such as t-shirts, hats, cup waps, and even reel handles. This cutting file is perfect for anyone who wants to inject some lightheartedness and fun into their crafting projects. So if you're looking for a way to add some humor to your creations, why not give the Up Up Up With A Fish! Dr Seuss Cutting File SVG a try? You never know what kind of creative and humorous designs you might come up with.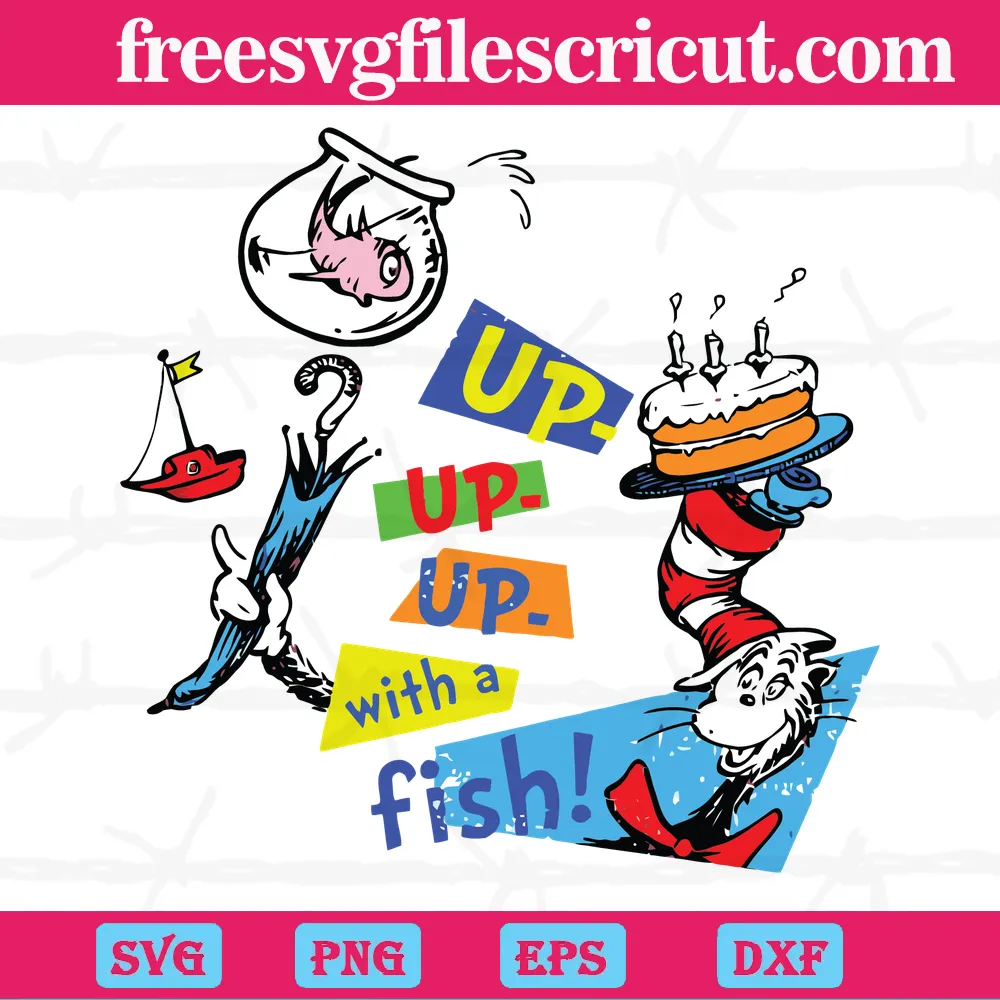 The Dr Seuss Fonts Graphic Design SVG is a collection of alphabet letters with Dr. Seuss characters incorporated into the design. Each letter features a different character, from the Cat in the Hat to the Lorax, and is designed with playful and colorful elements that capture the essence of Dr. Seuss's imaginative world. This graphic design is perfect for anyone looking to add a touch of whimsy to their project, whether it's a children's book, a poster, or even a party invitation. The alphabet can be used to spell out any word or message, allowing for endless creative possibilities. So if you're a fan of Dr. Seuss's iconic style, consider using the Dr Seuss Fonts Graphic Design SVG to add some fun and playful elements to your next project.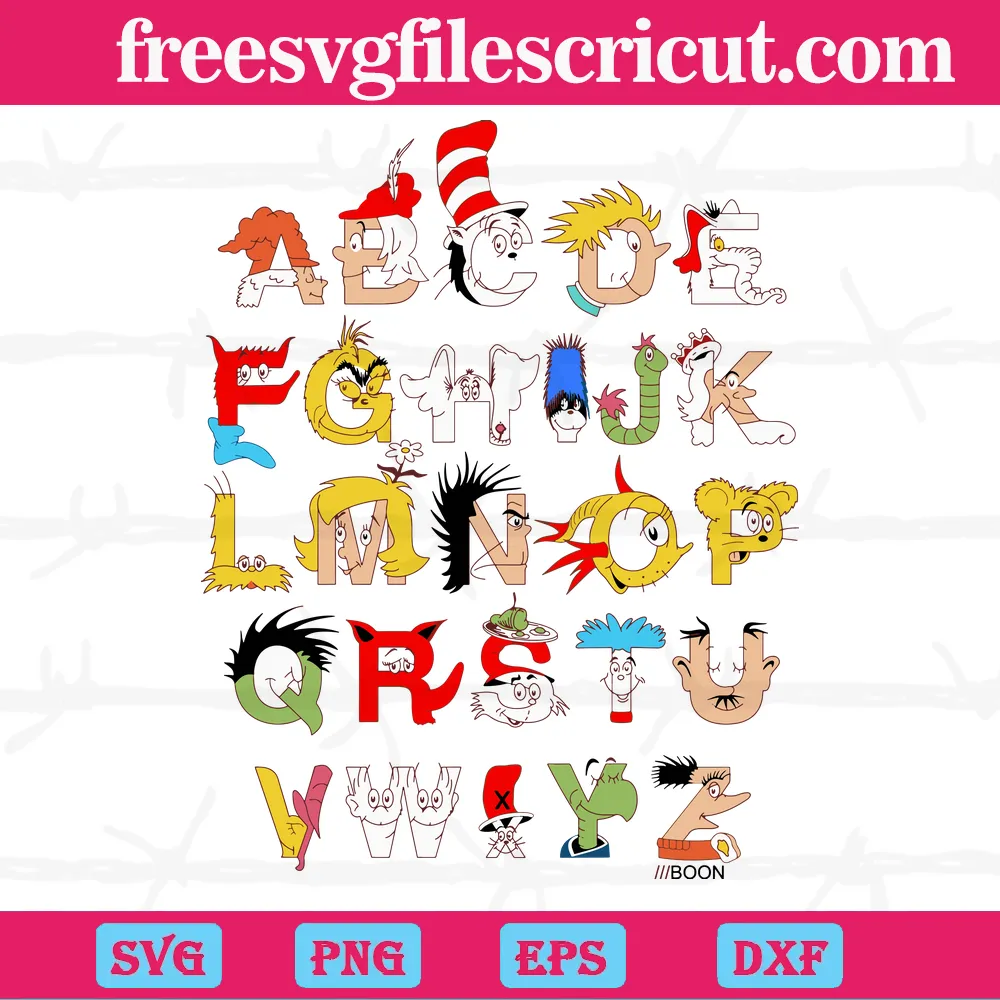 Smoke Weed Dr. Seuss design features the iconic Cat in the Hat character from Dr. Seuss, holding a cannabis leaf and surrounded by the playful Thing Two character. The text reads "Smoke Weed" in bold, eye-catching letters. This fun and irreverent design is perfect for anyone who loves Dr. Seuss and enjoys a good laugh. Whether you're a cannabis enthusiast or simply appreciate the humor of this design, it's sure to add a touch of whimsy to any project.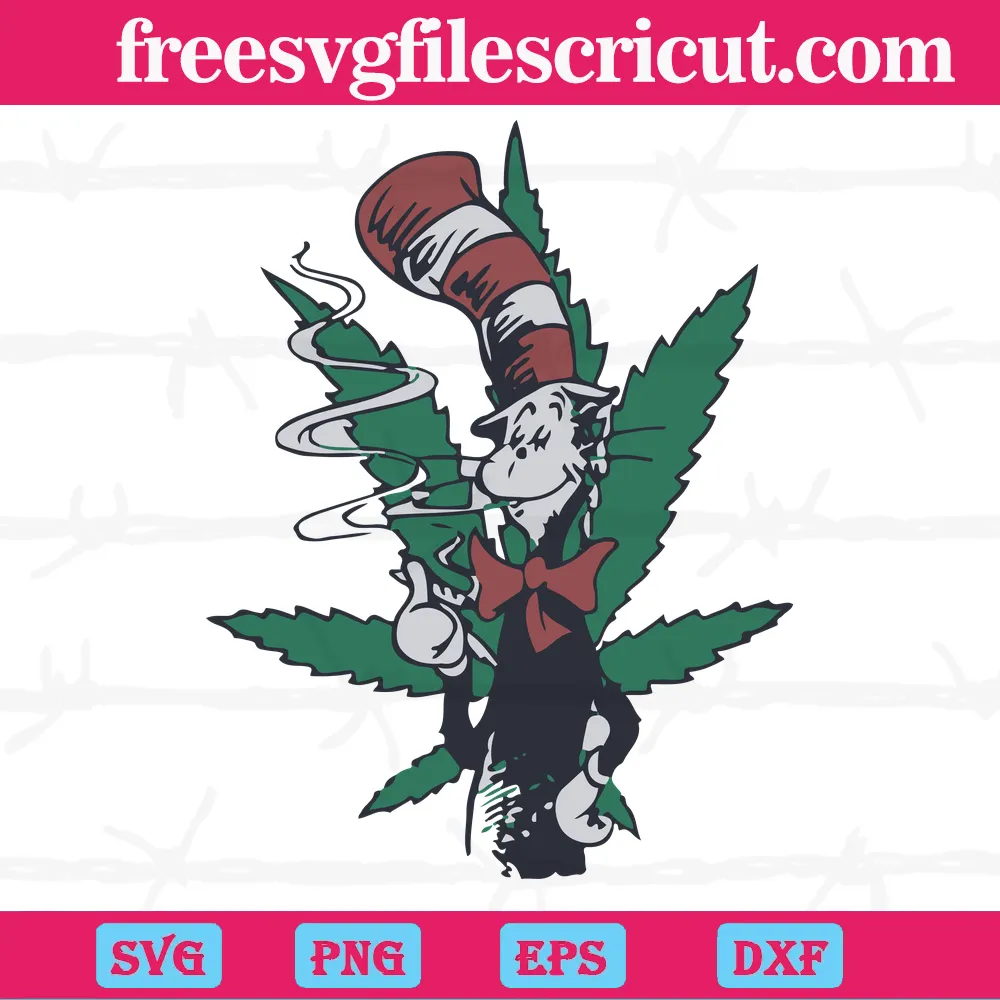 The design named "Champion Winner" combines the iconic hat from Dr. Seuss's beloved character with the word "Champion. The bold text adds a powerful message of success and achievement to the design, making it the perfect choice for celebrating big wins and accomplishments. Get your hands on this design today and start showing off your champion status!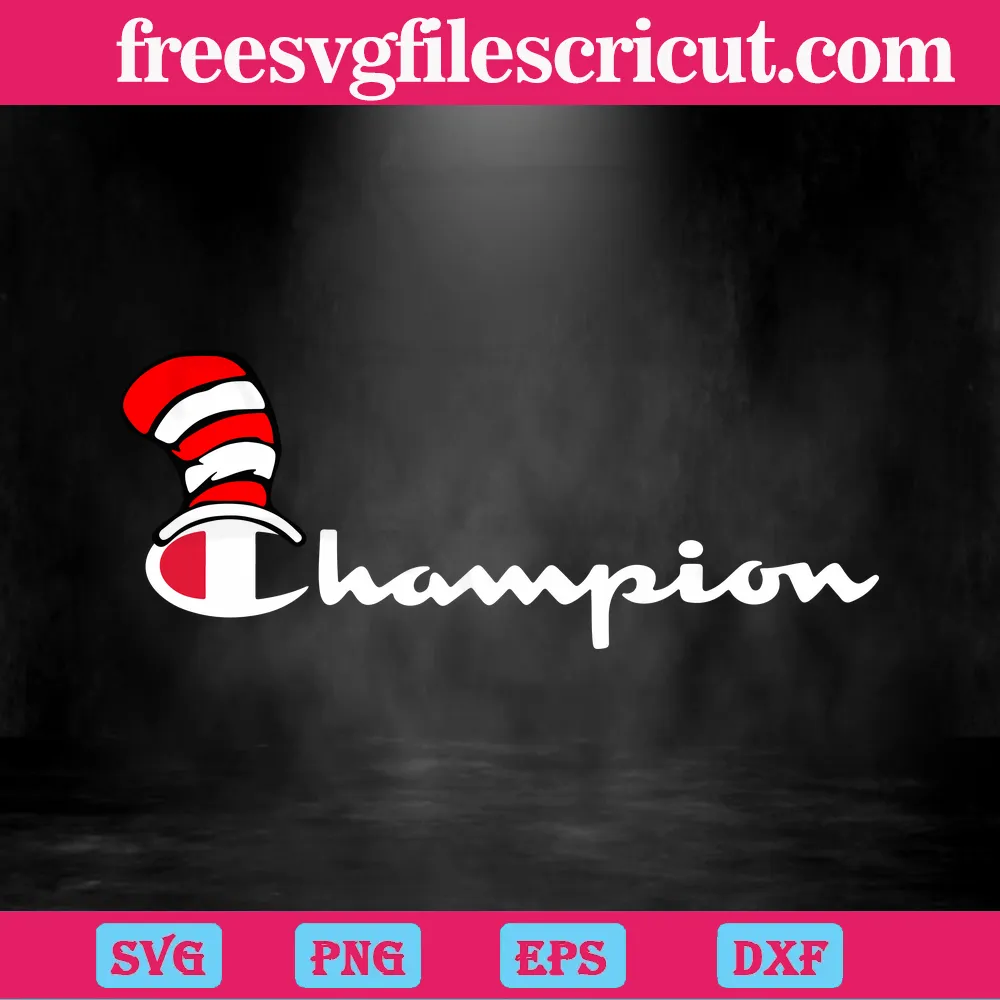 After download our SVG Multi Layers Files, you will receive 4 high-quality design files for your next crafting project:
1 EPS file

– Scalable vector, editable file for Adobe Illustrator, Inkscape, Corel Draw (compatible with most cutting plotter software);

1 PNG file

– 300 dpi High Resolution, transparent background;

1 SVG file

– Universal format compatible with Silhouette Studio Designer, Cricut Design Space, Make the Cut, Sure Cuts A Lot, Brother ScanNCut, Cameo and others;

1 DXF file

– Line format for cutting in Silhouette, other cutting plotters or laser engraving machines;
We are confident that the designs showcased above will meet your needs.
Additionally, we have a wide range of products in the Dr Seuss category if you're interested in designs inspired by Dr Seuss, as we have a wide variety of options for you to choose from.
Thank you so much and have a nice day!