Explore the captivating world of Yellowstone with our Yellowstone SVG collection, a realm where the spirit of DIY creativity thrives! Dive into a treasure trove of digital wonders, featuring beloved Yellowstone characters, iconic symbols, and mesmerizing designs. Transform your crafts and merchandise with the captivating allure of Yellowstone by customizing them with our carefully crafted SVG files. Let your creative spirit roam free in the enchanting realm of Yellowstone!
What is Yellowstone?
Yellowstone is an American neo-Western drama television series created by Taylor Sheridan and John Linson that premiered on June 20, 2018, on Paramount Network. The series stars Kevin Costner, Luke Grimes, Kelly Reilly, Wes Bentley, Cole Hauser, Kelsey Asbille, and Gil Birmingham. The series follows the conflicts along the shared borders of the Yellowstone Ranch, a large cattle ranch, the Broken Rock Indian reservation, Yellowstone National Park and land developers.
What is an SVG File?
An SVG file, (which stands for scalable vector graphic), is a standard graphics file that is mainly used for rendering two-dimensional images.
SVG images can be scaled up or down without losing quality or becoming pixelated, making them ideal for logos, icons, and other types of graphics that need to be displayed at various sizes.
They are fantastic for so many applications, such as apparel, signs and cutting machines!
How to Open SVG Files?
Next, we'll look at how to open an SVG file!
There are many software choices for opening SVG files. However, we will focus on the options for cutting machines since they are the most commonly used.
Typically, SVG files are compressed within a zip folder and require extraction before they can be accessed.
Before importing the cutting SVG files into your preferred software program, like Cricut Design Space, or Silhouette Studio, …, you must first unzip the downloaded file by double-clicking the folder and selecting "extract all."
During the extraction process, you'll be prompted to choose a destination for your files. To avoid difficulty in retrieving them, you can create a dedicated folder on your desktop or computer labeled "SVG files."
It's crucial to keep track of the extraction location since you'll need to access the files again later.
yellowstone svg file for cricut
Embark on a journey of endless possibilities with our vast collection of Yellowstone SVG Files, available right here on our website! Our thoughtfully assembled assortment spans a wide spectrum of options, thoughtfully tailored to accommodate your diverse creative endeavors. Additionally, relish the added advantage of complimentary access to handpicked designs that we are confident will flawlessly align with your unique needs and aspirations. Your creative journey begins now with our Yellowstone SVG Files!
If you're searching for free Yellowstone Dutton Ranch SVG files, you're in luck! Discover a diverse collection of top-quality designs that capture the essence of the Dutton Ranch. These SVG files are perfect for crafting, DIY projects, or simply expressing your love for the Yellowstone series. Explore the beauty and ruggedness of Montana's iconic ranch with these downloadable SVGs, and bring a touch of the wild west to your creations. Whether you're a fan of the show or just appreciate Western-themed designs, these free SVGs are a fantastic addition to your digital library. Download, create, and enjoy the Dutton Ranch vibes in your own projects today!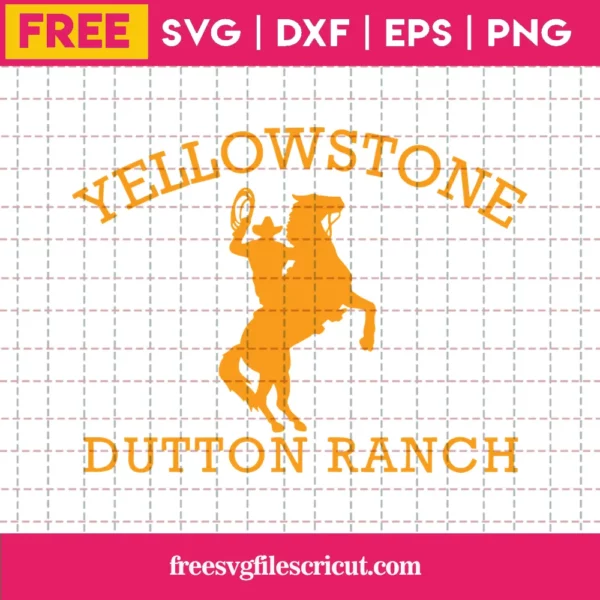 The "Yellowston Logo" is a versatile and customizable design available in various file formats, including SVG, PNG, DXF, and EPS. This logo is perfect for a wide range of creative projects, from crafting to digital design. Whether you want to use it for personal or commercial purposes, this logo offers flexibility and high-quality graphics. With its multiple file formats, you can easily incorporate it into your preferred design software and adapt it to suit your creative needs. Explore the possibilities and add a touch of the Yellowstone spirit to your projects with this versatile logo.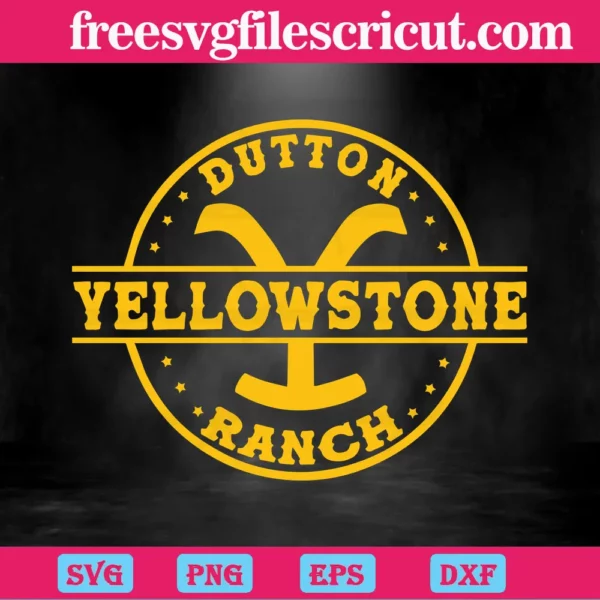 The "Yellowstone Dutton Ranch Montana Old School" design is a nostalgic and rustic representation of the iconic Dutton Ranch from the Yellowstone series. Available in SVG, PNG, DXF, and EPS formats, this design is perfect for fans of the show looking to incorporate the ranch's vintage aesthetic into their projects. Whether you're a fan of crafting, digital design, or DIY projects, these downloadable files provide you with the tools to infuse a touch of Montana's rugged charm into your creations. Explore the possibilities and let the Yellowstone Dutton Ranch inspire your artistic endeavors with this versatile design.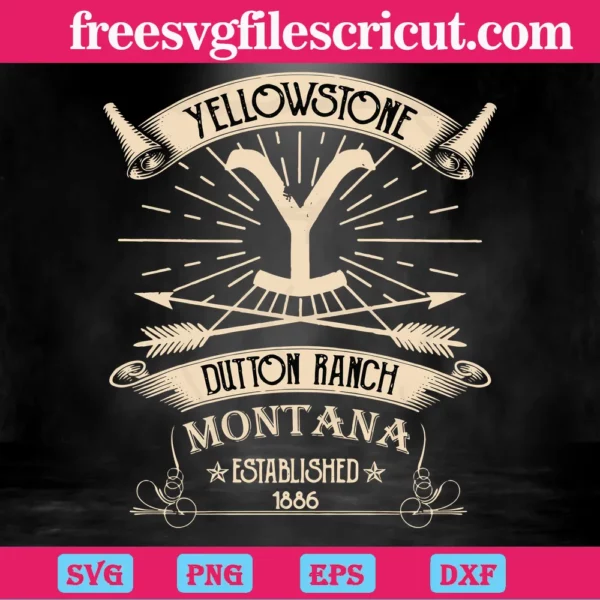 The "Yellowstone Take Him To The Train Station" design captures a dramatic moment from the popular TV series Yellowstone. It's available in SVG, PNG, DXF, and EPS formats, making it compatible with various cutting machines like Cricut and Silhouette. This design allows fans of the show to bring a piece of the Yellowstone world into their crafting and DIY projects. Whether you're creating personalized gifts or adding a Yellowstone-inspired touch to your creations, these downloadable files provide you with the flexibility and creativity to design and craft as you please. Explore the possibilities with this powerful and emotive design.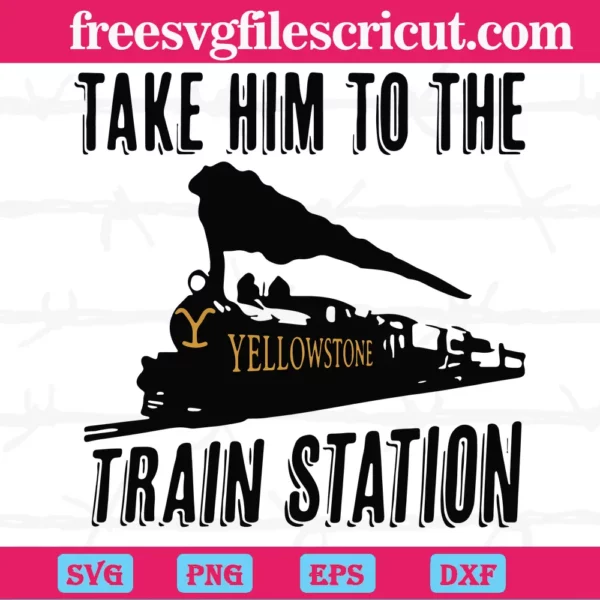 "Beth Dutton State Of Mind Yellowstone" refers to a design or graphic related to the character Beth Dutton from the television series Yellowstone. This design likely captures the essence or attitude associated with Beth Dutton's character in the show. It can be used for various crafting or DIY projects, and it's available as a free SVG file, making it accessible for those who want to create their own Yellowstone-themed designs or merchandise.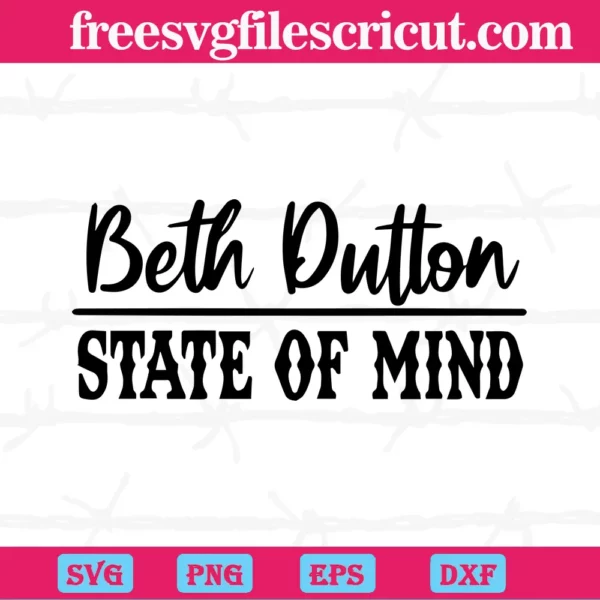 The phrase "Love Me Like Rip Loves Beth Yellowstone" likely references the romantic relationship between the characters Rip and Beth in the television series Yellowstone. This design or graphic captures the sentiment of a deep and passionate love, drawing inspiration from the show. It is available in various digital formats like SVG, PNG, DXF, and EPS, making it suitable for use in different crafting and design projects. Whether it's for creating custom merchandise or expressing affection in a Yellowstone-themed way, this design provides a creative option for fans of the show.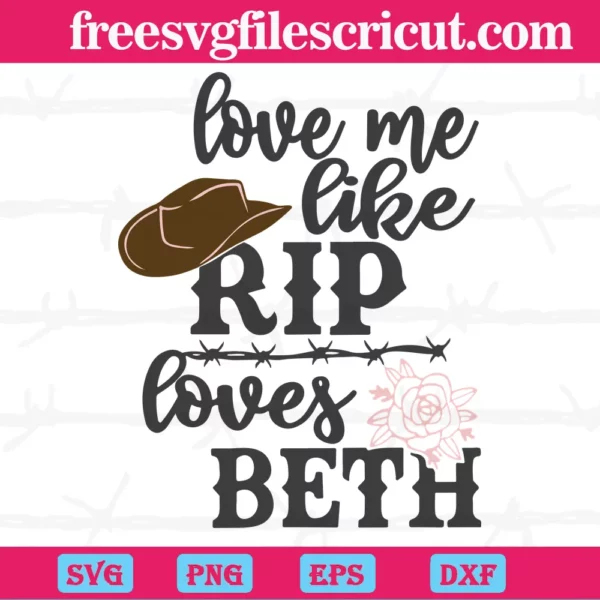 The design "Got A Problem Send Rip Yellowstone" appears to reference a character from the television series Yellowstone, Rip Wheeler. Rip is known for his tough and no-nonsense persona on the show. This design is likely inspired by his character and can be used for various creative purposes. It's available in digital formats such as SVG, PNG, DXF, and EPS, making it versatile for use in crafting, design, or merchandise related to the show Yellowstone. Whether you're a fan of Rip's character or simply looking to incorporate Yellowstone-themed elements into your projects, this design could be a fitting choice.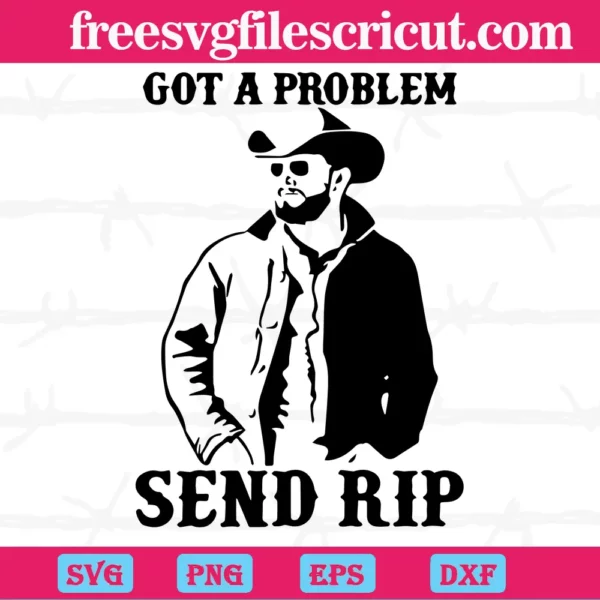 The "In A World Full Of Princesses Be A Beth Dutton Yellowstone" design is inspired by the character Beth Dutton from the popular TV series Yellowstone. It encourages embracing qualities associated with Beth, such as strength and assertiveness. This SVG file is versatile and can be used for various creative projects, allowing fans of the character to incorporate her spirit into their crafts, apparel, or merchandise. It's a fitting choice for those who admire Beth Dutton's character and want to convey a bold and confident attitude through their work.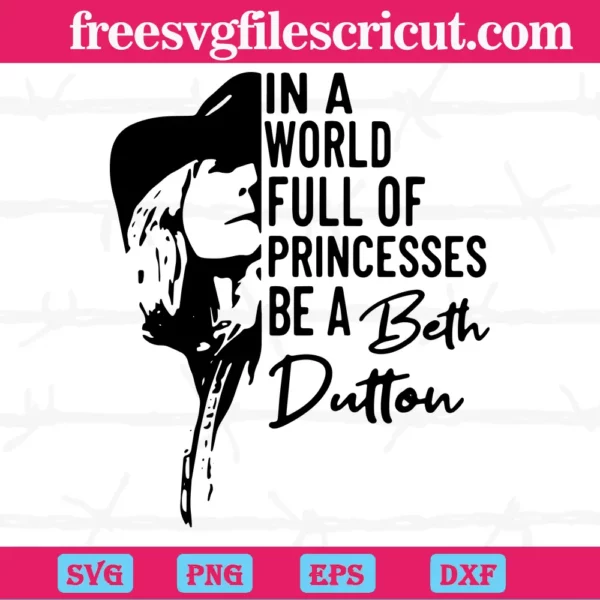 The "I'll Give You A Ride To The Train Station Yellowstone" design captures a moment from the TV series Yellowstone. This laser-cut SVG file allows you to create intricate and detailed designs inspired by the show. Whether you're a fan of Yellowstone or enjoy crafting, this design is a great addition to your collection. You can use it to make unique and personalized items or decor that pays homage to the series, making it a perfect choice for fans who want to bring a touch of Yellowstone into their projects.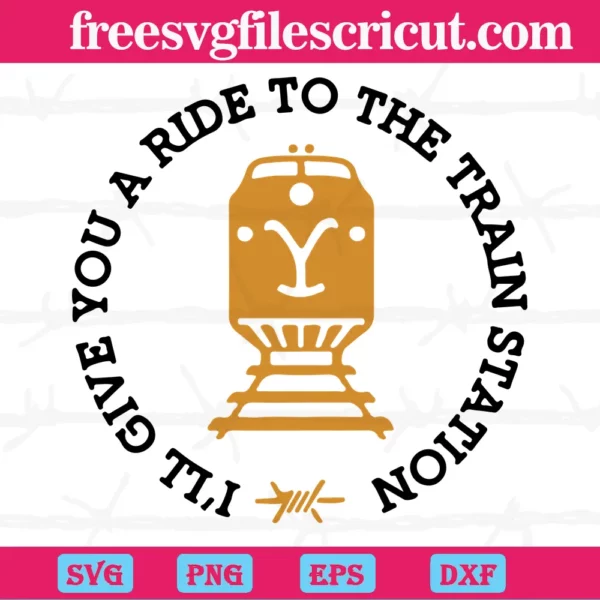 The "Ride Horse Yellowstone" SVG design is a great choice for Cricut users who are fans of the TV series Yellowstone. With this design, you can create custom projects that feature elements from the show, particularly scenes involving horseback riding. Whether you're making decals, apparel, or home decor, this SVG file allows you to infuse your creations with the Western charm of Yellowstone. It's a perfect addition to your crafting library if you're looking to showcase your love for the series in your DIY projects.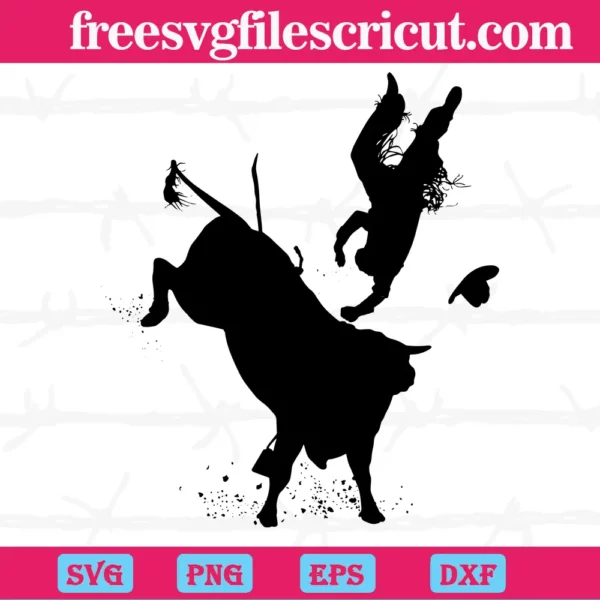 Prepare to take your design projects to new heights with our extensive Yellowstone SVG files collection! We're delighted to introduce a carefully curated selection that is sure to infuse a touch of enchantment into your creations. Each Yellowstone SVG file has been thoughtfully chosen to showcase our finest designs, guaranteeing that you'll encounter something that perfectly resonates with your creative essence.
For those with an interest in diverse design themes, we extend a warm invitation to explore our website, freesvgfilescricut.com. There, you'll uncover a diverse array of designs featuring beloved characters from popular culture. We are confident that you'll chance upon designs that will spark your artistic inspiration. Let your creativity flourish with our Yellowstone SVG files!