If you're a fan of anime and love getting creative, you'll be thrilled to discover our Anime SVG. With Anime SVG, you can explore a world of endless possibilities, designing and creating your own anime-inspired crafts and merchandise. Whether you're into drawing, sewing, or crafting, Anime SVG provides an extensive library of digital files that you can easily download and use to personalize your projects.
What is Anime?
Anime is hand-drawn and computer-generated animation originating from Japan. Outside of Japan and in English, anime refers specifically to animation produced in Japan. However, in Japan and in Japanese, anime (a term derived from a shortening of the English word animation) describes all animated works, regardless of style or origin. Animation produced outside of Japan with similar style to Japanese animation is commonly referred to as anime-influenced animation.
What is an SVG File?
An SVG file, (which stands for scalable vector graphic), is a standard graphics file that is mainly used for rendering two-dimensional images.
SVG images can be scaled up or down without losing quality or becoming pixelated, making them ideal for logos, icons, and other types of graphics that need to be displayed at various sizes.
They are fantastic for so many applications, such as apparel, signs and cutting machines! 
How to Open SVG Files?
Next, we'll look at how to open an SVG file!
There are many software choices for opening SVG files. However, we will focus on the options for cutting machines since they are the most commonly used.
Typically, SVG files are compressed within a zip folder and require extraction before they can be accessed.
Before importing the cutting SVG files into your preferred software program, like Cricut Design Space, or Silhouette Studio, …, you must first unzip the downloaded file by double-clicking the folder and selecting "extract all."
During the extraction process, you'll be prompted to choose a destination for your files. To avoid difficulty in retrieving them, you can create a dedicated folder on your desktop or computer labeled "SVG files."
It's crucial to keep track of the extraction location since you'll need to access the files again later. 
Anime SVG Vector Files
Discover a treasure trove of Anime SVG files at our website. From designing your own custom anime-themed T-shirts to creating unique anime-themed home decor, our SVG lets you express your love for anime in your own unique style, making it a must-have resource for any DIY enthusiast.
The Among Us Sailor Moon Graphic Design SVG is an adorable and colorful addition to any crafting project. Featuring the beloved characters from the popular game Among Us in Sailor Moon-inspired outfits, this design is sure to bring a smile to your face. Add a touch of cuteness to your next crafting project with this delightful design.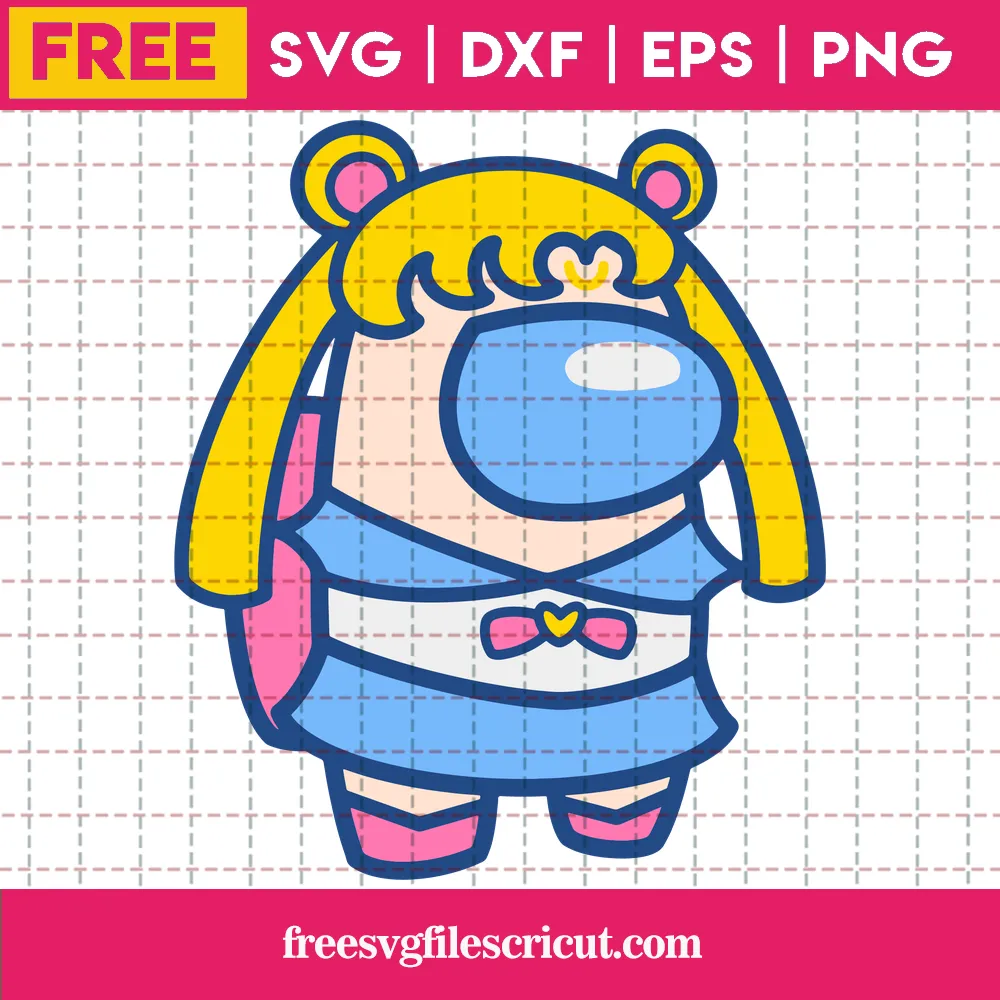 Our Anime Luffy with Hat Silhouette SVG is the perfect addition to your crafting arsenal, especially if you're a One Piece fan! This high-quality design is not only visually striking but also completely free to download. With its clean lines and easy-to-use format, this SVG is ideal for creating custom t-shirts, posters, stickers, and more. Whether you're a seasoned crafter or just starting out, this free file is a must-have. Download it now and see what you can create with it!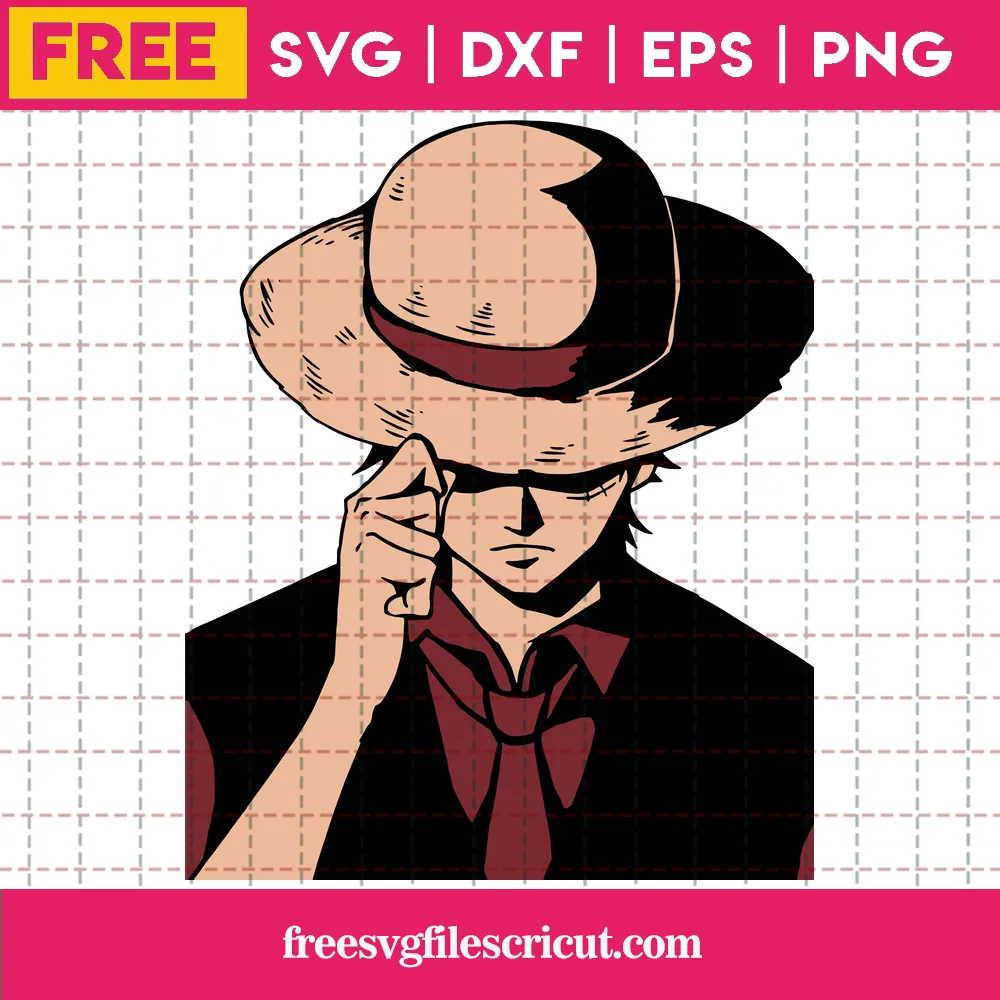 Evoke a sense of emotion in your DIY projects with our captivating sad girl cry eyes SVG file, paired with the "BAKA" quote. This unique anime-inspired design is perfect for adding a touch of sentimentality and sadness to your creative crafts. Use it to create eye-catching print t-shirts, custom stickers, amazing tumblers, or other personalized items that express your love for anime or your emotion.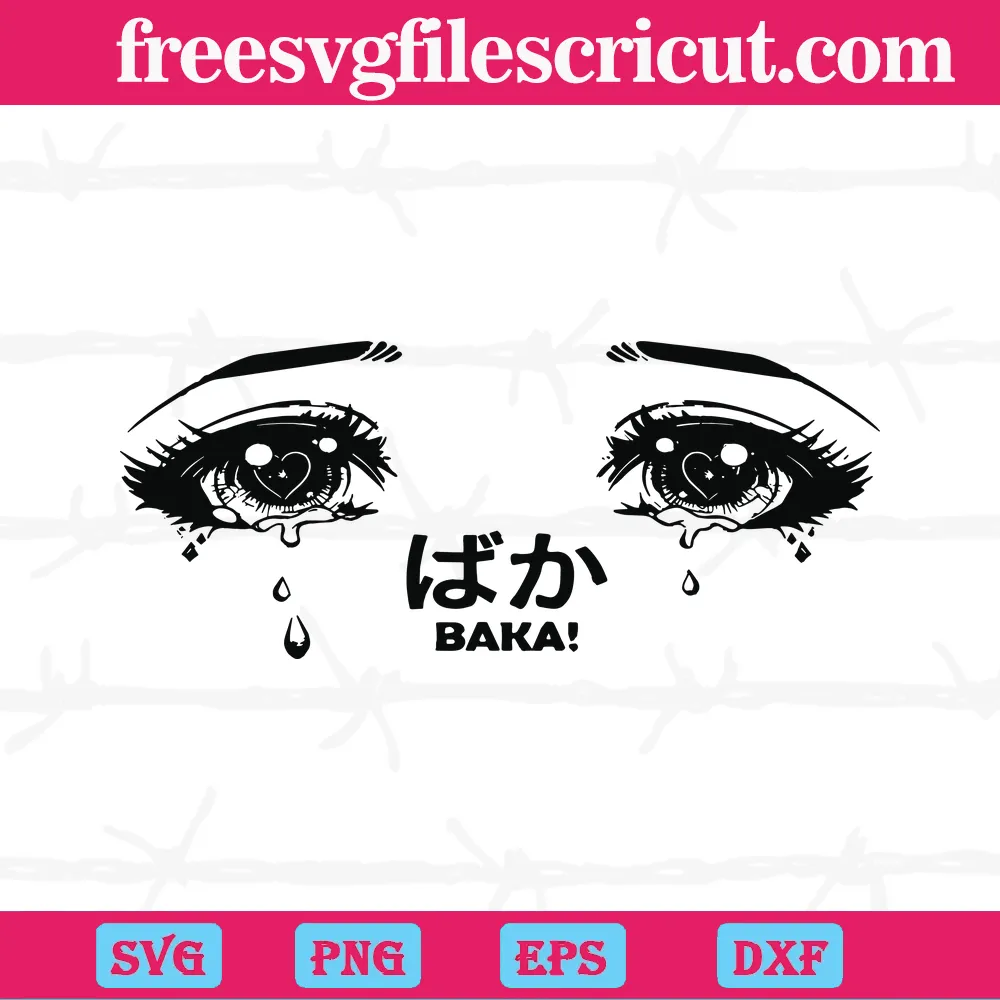 Elevate your crafting game with our Anime Characters SVG Bundle! Perfect for DIY enthusiasts and those with cutting machines like Silhouette, this bundle includes a diverse collection of high-quality SVG files featuring popular anime characters. Don't miss out on this amazing bundle and bring your favorite anime characters to life with ease using your DIY cutting machines. Grab your Anime Characters SVG Bundle now and let your creativity soar!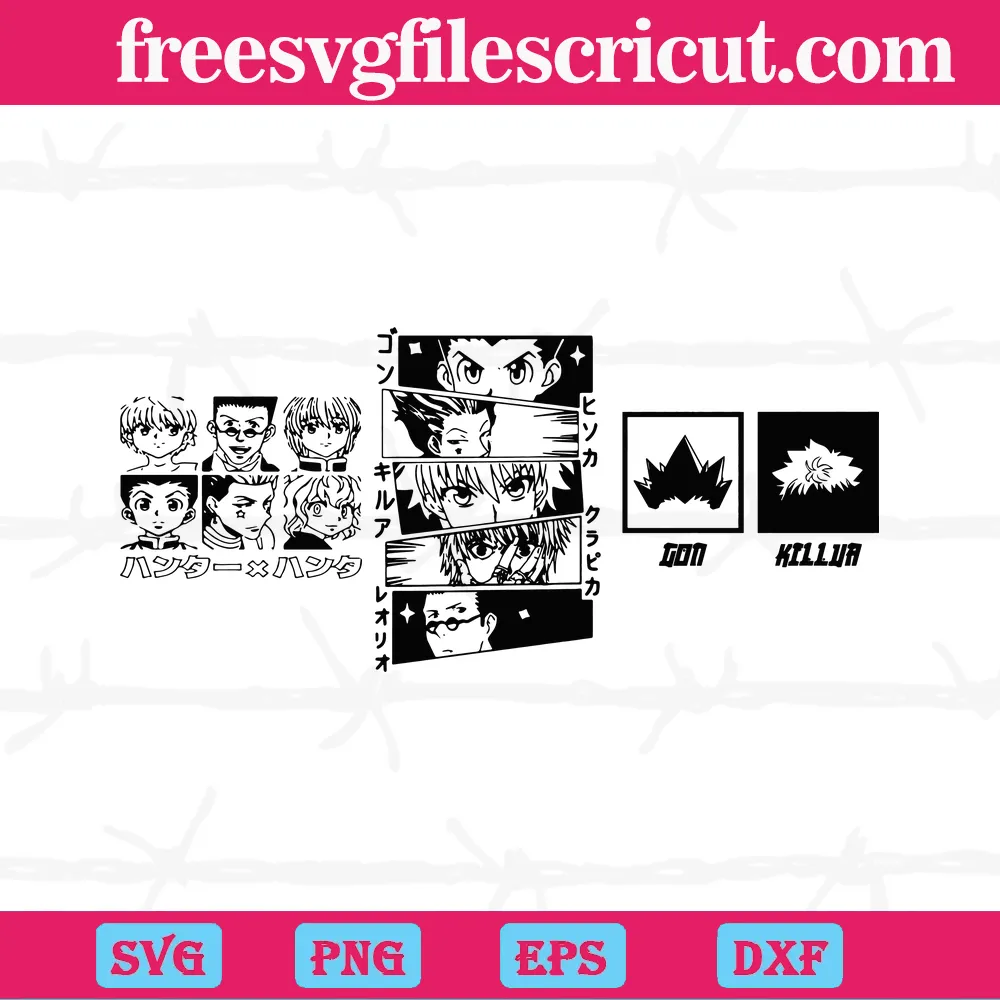 Let your creativity soar with our Adidas Logo Anime Characters My Neighbor Totoro SVG bundle! This unique design features beloved anime characters from My Neighbor Totoro, and it's perfect for adding a touch of charm to your DIY projects. With this SVG file, you can create custom monograms for mugs, cups, tumblers, and other items, making them truly one-of-a-kind. Compatible with various cutting machines, this SVG bundle offers versatility and convenience for all DIY enthusiasts. Let your imagination run wild and bring your favorite anime characters to life in your crafts.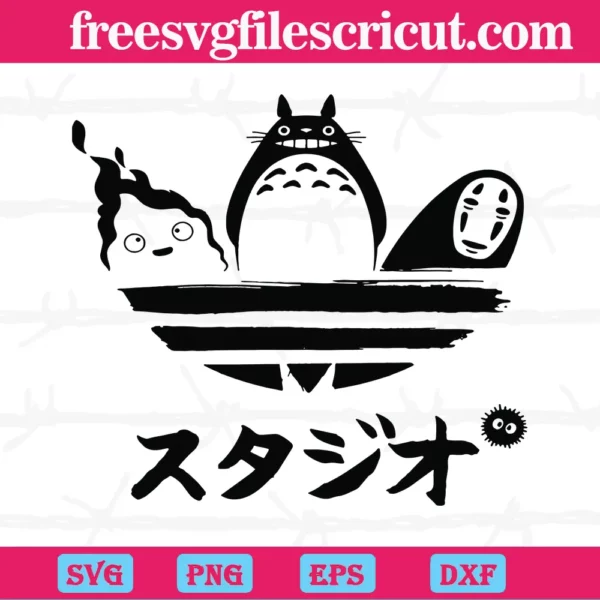 For all the anime enthusiasts out there, our Eat Sleep Anime Repeat SVG file is a must-have for your DIY projects. This catchy design captures the essence of the anime fandom with its funny slogan. The SVG file format allows for easy customization, so you can add your own text, change colors, or resize the image to suit your needs.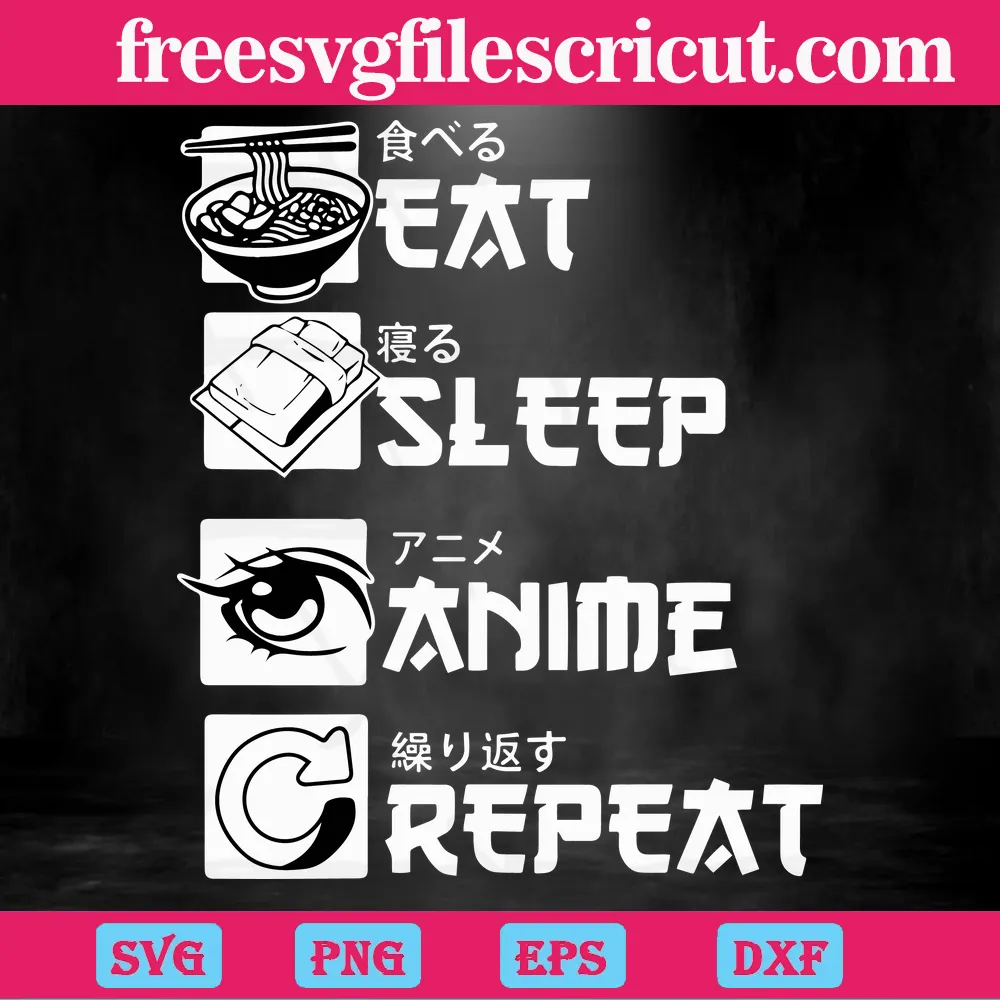 This simple yet powerful design is perfect for all the anime-loving girls out there who are proud of their fandom. This fun and playful design is perfect for expressing your passion for anime in your DIY projects. Whether you're creating custom apparel, home decor, or accessories, this SVG file will add a touch of anime flair to your creations. Plus, with our free SVG images for commercial use, you can confidently use this design in your products for sale.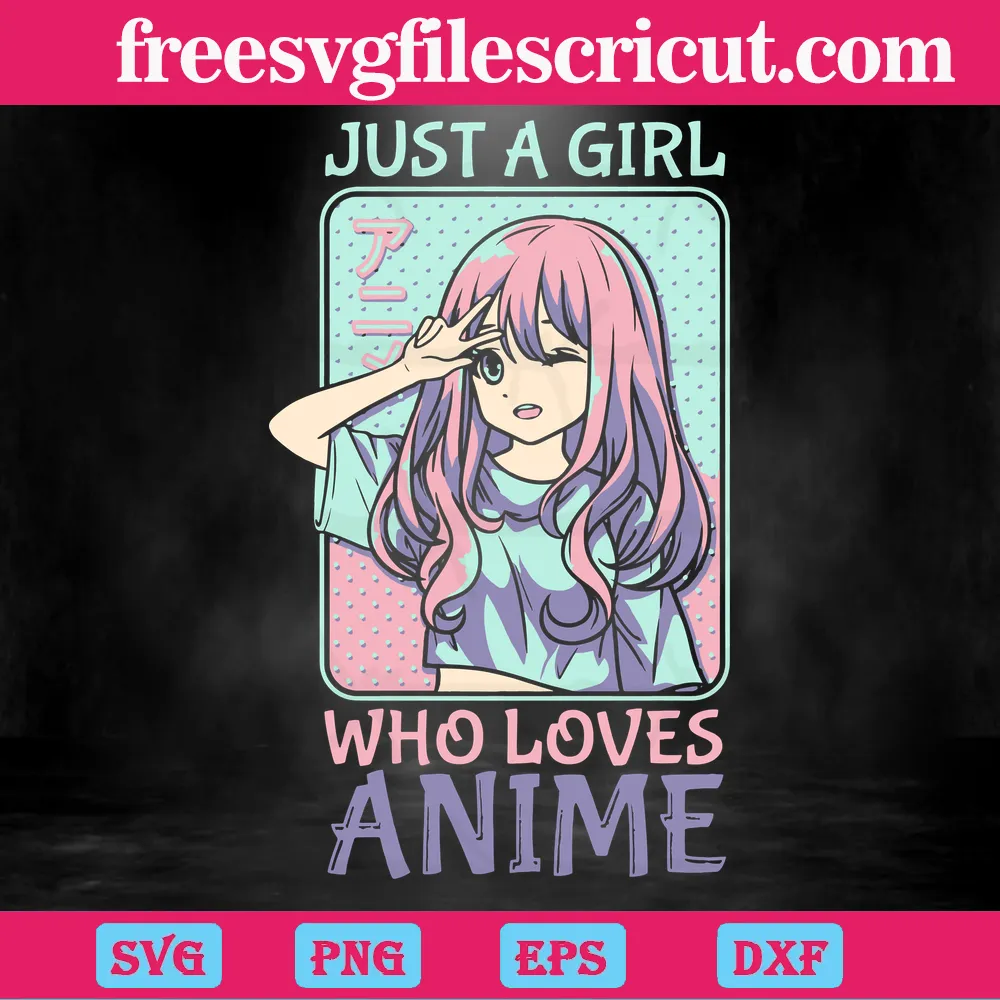 Indulge in your love for adorable cats and anime with our Cute Cat Bobaholic Anime SVG file. This charming design combines the cuteness of a cat with the trendy "bobaholic" theme, making it a perfect addition to your collection. Download it now and let your imagination run wild as you create unique and lovely crafts with this delightful design!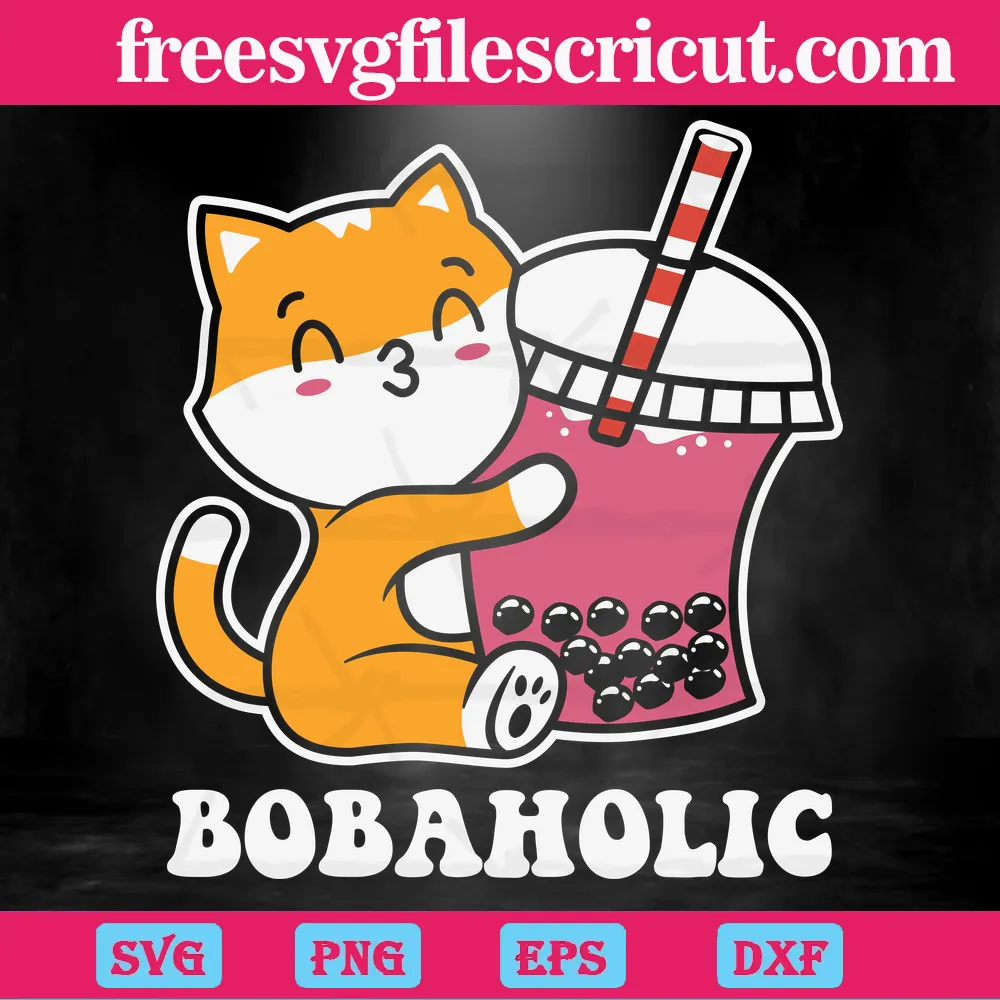 The Anime Iida Tenya Knife Chick Meme My Hero Academia Downloadable Files SVG is an adorable and hilarious design that is perfect for adding a touch of humor to your crafting projects. Featuring the popular meme from My Hero Academia with the characters Iida and Tenya holding knives and looking menacing, this design is sure to make anyone chuckle. Whether you want to create funny vinyl stickers, labels, or even a craft book, this SVG is perfect for any DIY project. Download it today and get ready to add a touch of humor and cuteness to your next crafting venture.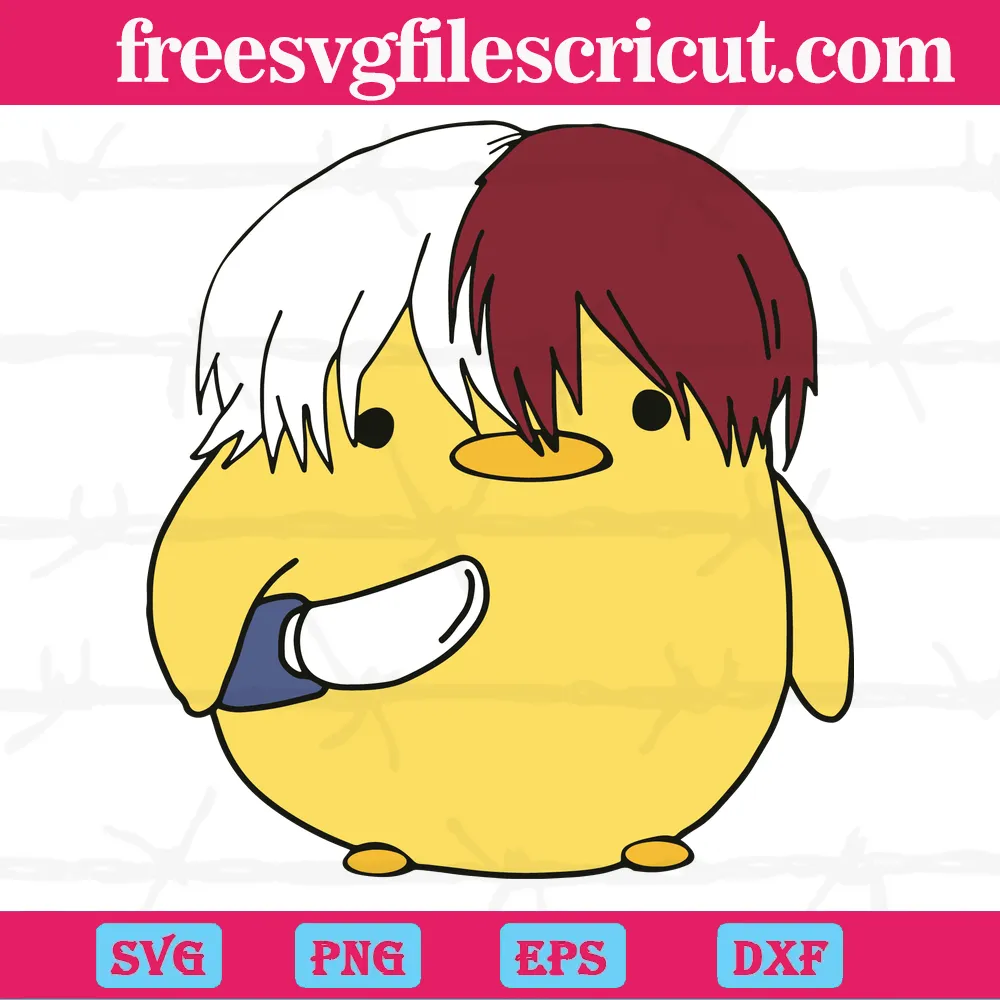 The Anime Hand Holding Dishes Vector Illustrations SVG is a perfect design for Halloween products. This scary and eerie design will give your products a spooky vibe, making them stand out during the Halloween season. Use it to create vinyl stickers, Halloween party invitations, or even decorate your home. Get creative and add a touch of darkness to your DIY projects with this chilling design.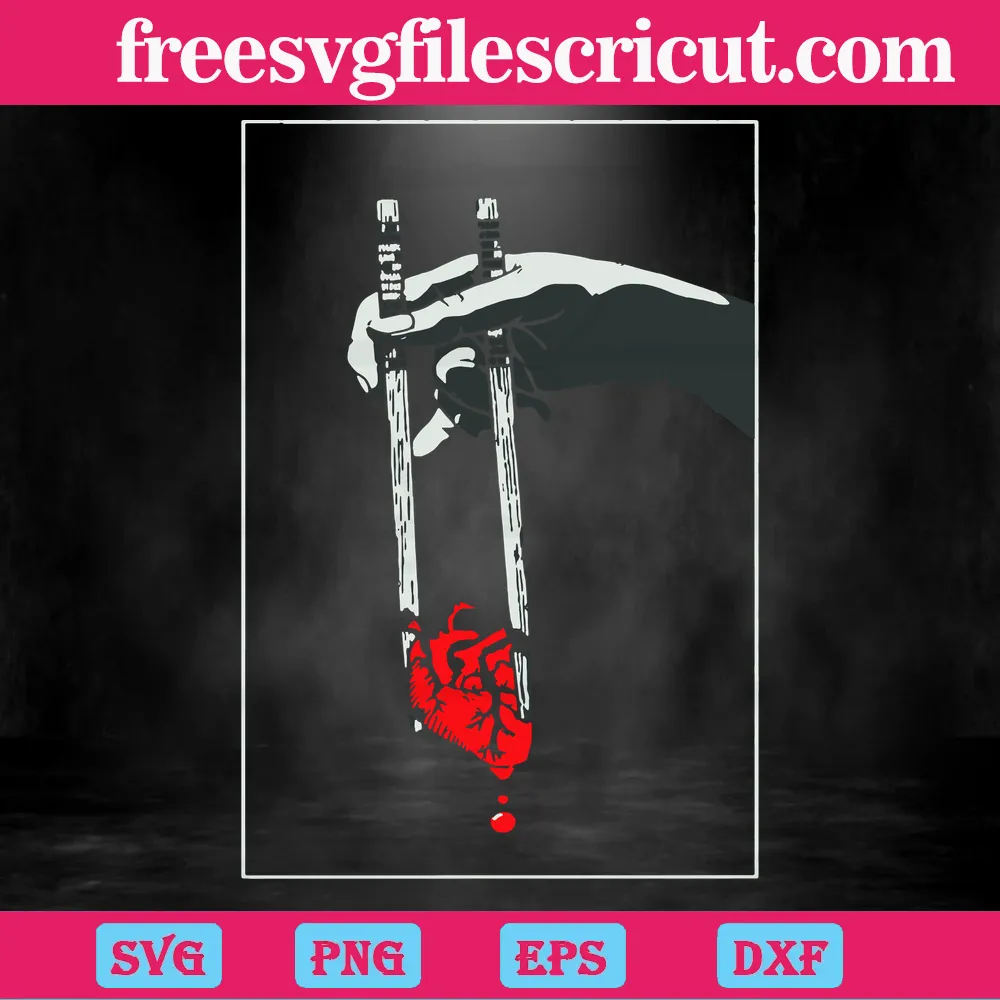 The Anime Great Wave Ramen Bowl SVG is a multi-layer file that is available in SVG format. With this file, you can create high-quality designs that maintain their clarity even when zoomed in or out. This means you can create larger designs without worrying about pixelation or loss of quality. The design features a beautiful anime-inspired wave and a delicious bowl of ramen, making it perfect for food-themed projects.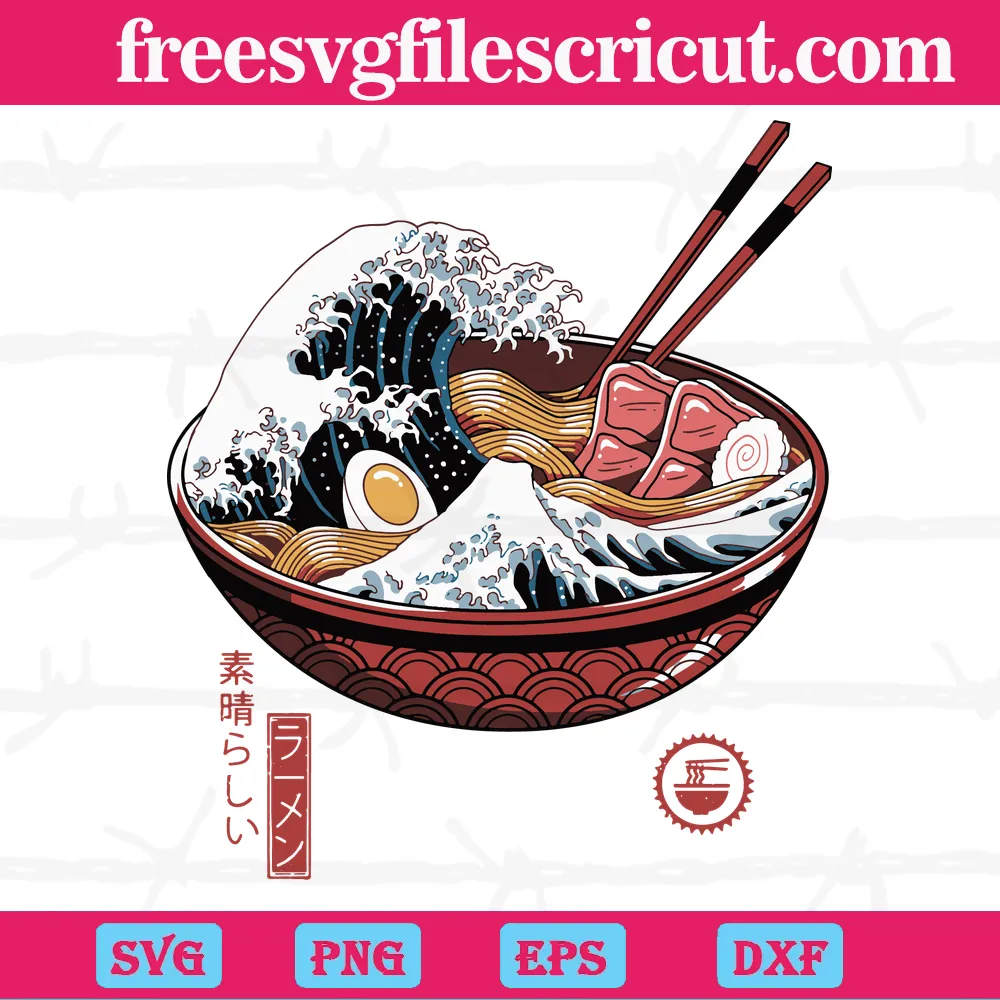 Upon downloading our files, YOU WILL RECEIVE 4 high-quality design files for your next crafting project:
1 EPS file – Scalable vector, editable file for Adobe Illustrator, Inkscape, Corel Draw (compatible with most cutting plotter software);
1 PNG file – 300 dpi High Resolution, transparent background;
1 SVG file – Universal format compatible with Silhouette Studio Designer, Cricut Design Space, Make the Cut, Sure Cuts A Lot, Brother ScanNCut, Cameo and others;
1 DXF file – Line format for cutting in Silhouette, other cutting plotters or laser engraving machines;
These vector files are fully editable and scalable, providing you with the flexibility to create unique designs that stand out.
Unleash your creativity with our diverse collection of Anime SVG files! Our catalog includes popular anime series such as Naruto, Attack on Titan, and Demon Slayer, offering a wide range of designs to suit your taste and requirements. Explore limitless possibilities and discover the perfect SVG file for your DIY projects, whether it's for t-shirts, cups, or other creative endeavors.
For even more variety, visit our website freesvgfilescricut.com, offering a plethora of options on various topics. Let your imagination soar with our extensive collection of SVG files, and bring your creative visions to life!