Explore Farm Charm: Cow SVG Designs for Your Creative Projects! Immerse yourself in the world of rural charm with our captivating cow SVG designs. These versatile files offer a canvas to infuse your projects with the delightful essence of farm life. Whether you're personalizing apparel, creating home decor, or crafting unique items, these SVG designs provide the perfect platform for your creative expression. Capture the rustic appeal of cows and let their endearing presence inspire your creations. Download cow SVG designs and bring a touch of farm enchantment to your projects, making them stand out with rural charisma and warmth.
What is Cow?
A cow is a large domesticated mammal known for its use in providing milk, meat (beef), and other products. Raised in agricultural settings, cows are recognized for their sturdy build, cloven hooves, and often, curved horns. They contribute significantly to human food production, supplying dairy products and meat, while also offering materials like leather. Cows have played a central role in agriculture and economies worldwide due to their diverse uses and contributions.
What is an SVG File?
An SVG file, (which stands for scalable vector graphic), is a standard graphics file that is mainly used for rendering two-dimensional images.
SVG images can be scaled up or down without losing quality or becoming pixelated, making them ideal for logos, icons, and other types of graphics that need to be displayed at various sizes.
They are fantastic for so many applications, such as apparel, signs and cutting machines!
How to Open SVG Files?
Next, we'll look at how to open an SVG file!
There are many software choices for opening SVG files. However, we will focus on the options for cutting machines since they are the most commonly used.
Typically, SVG files are compressed within a zip folder and require extraction before they can be accessed.
Before importing the cutting SVG files into your preferred software program, like Cricut Design Space, or Silhouette Studio, …, you must first unzip the downloaded file by double-clicking the folder and selecting "extract all."
During the extraction process, you'll be prompted to choose a destination for your files. To avoid difficulty in retrieving them, you can create a dedicated folder on your desktop or computer labeled "SVG files."
It's crucial to keep track of the extraction location since you'll need to access the files again later.
Cow SVG Files
Unearth a realm of creative potential within our comprehensive Cow SVG Files collection, conveniently accessible on our website! Our thoughtfully assembled assortment spans a broad spectrum of options, meticulously tailored to cater to your varied creative aspirations. And as an added bonus, relish the privilege of complimentary access to handpicked designs that we're confident will seamlessly align with your specific requirements.
These designs capture the distinctive features of these majestic creatures, including their shaggy fur and iconic long horns. Use our versatile SVG cut files to create custom bandanas, apparel, accessories, or even home decor items featuring the unique beauty of highland cows. Whether you're a fan of these magnificent animals or want to add a touch of rustic style to your projects, our SVG cut files will help you achieve the perfect look. So embrace the spirit of the highlands and showcase your love for highland cows with our "Highland Cow Bandana" SVG cut files.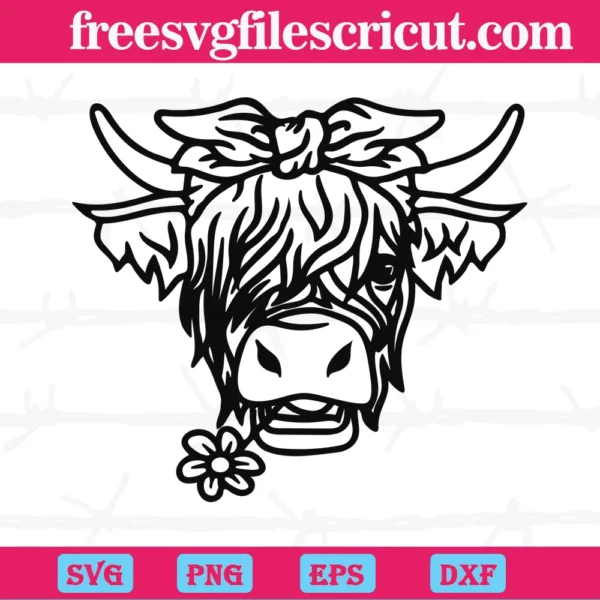 This design celebrates your passion for these gentle and beautiful animals. Use our versatile SVG files to create personalized crafts, shirts, or other projects that showcase your affection for cows. Whether you're a farmer, a cow enthusiast, or simply appreciate the charm of these creatures, our SVG files offer endless possibilities for expressing your love. So let your inner cow lover shine with our "Just A Girl Who Loves Cows" SVG file formats and show the world your appreciation for these amazing animals.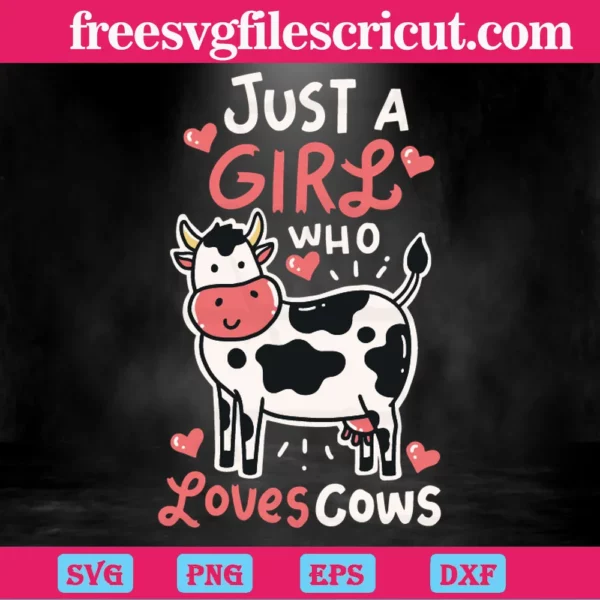 Embrace your love for cows and the comfort of home with our "I'd Rather Be Home With My Cows" SVG PNG DXF EPS designs for Cricut. These files feature a heartfelt statement accompanied by a cow silhouette, expressing your preference for spending time with your beloved bovine companions. By using our designs, you can create personalized crafts, home decor, or apparel items that showcase your passion for cows and the cozy atmosphere of home. Whether you're a farmer, a cow enthusiast, or simply appreciate the peace and joy that cows bring, our versatile file formats allow you to bring your creative ideas to life.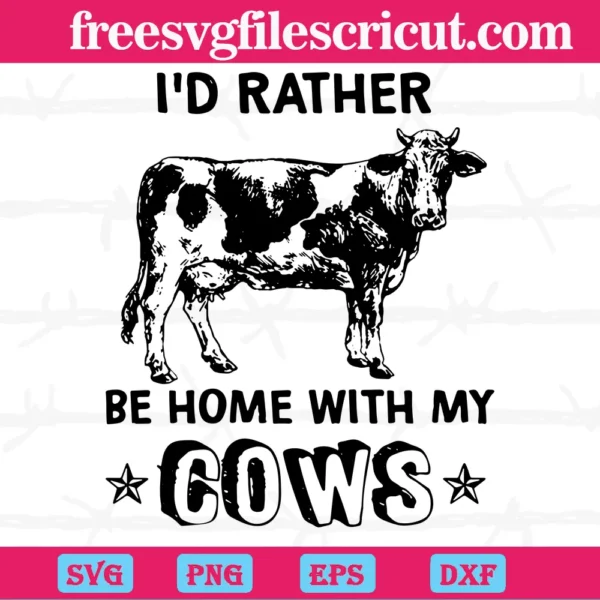 These designs capture the beauty and tenderness of motherhood in the animal kingdom. By downloading our digital SVG files, you can create heartfelt and personalized crafts, gifts, or decor items that pay homage to the maternal instincts of cows. Whether you're a mother yourself, appreciate the bond between mother and child, or simply admire the nurturing qualities of these gentle creatures, our digital SVG designs for Cricut will help you bring your creative visions to life. Show your appreciation for Mama Cow with our exceptional SVG designs and let your Cricut machine do the magic.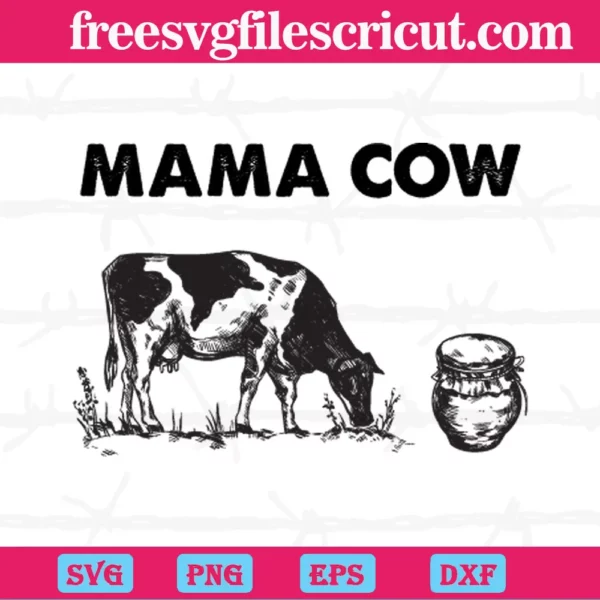 These designs feature a combination of peace signs, hearts, and cute cow illustrations, symbolizing harmony, affection, and appreciation for these gentle creatures. By downloading our files, you can create personalized crafts, clothing items, or home decor that celebrates your love for cows and promotes a message of peace. Whether you're a cow enthusiast, a farmer, or simply admire these amazing animals, our versatile file formats allow you to express your passion creatively. Embrace the spirit of peace and love with our "Peace Love Cows" designs.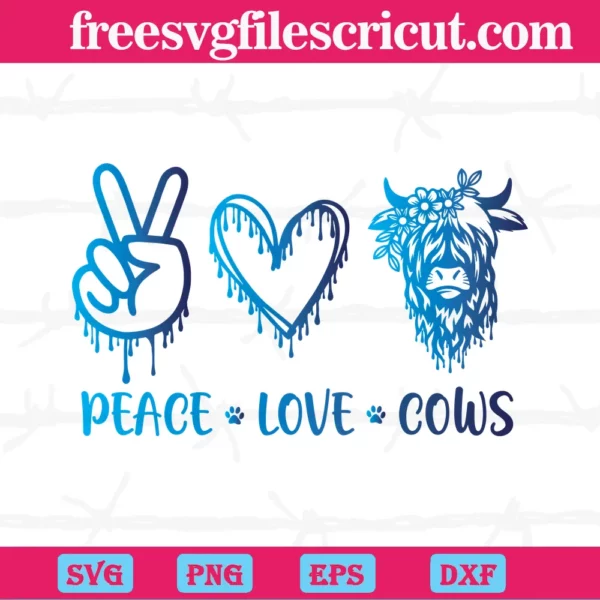 As the boho trend continues to grow in popularity, it's no surprise that floral cow designs have become a popular motif in fashion and home decor. This Free Floral Cow Face Svg outline allows you to incorporate this trendy design into your crafting projects. With a cow's face outlined in intricate flowers, this design is perfect for creating t-shirts, wall art, and more. Whether you're a fan of farmhouse decor or just love the unique look of this design, you can download this SVG file for free and start creating your own floral cow masterpieces.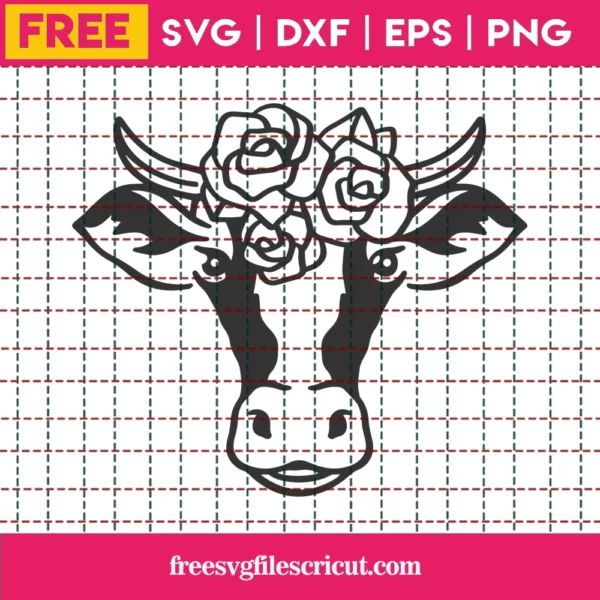 "Radiate Cheerfulness: Free Sunflower Cow Face SVG Design! Immerse yourself in a world of sunny charm with our free sunflower cow face SVG design. This versatile file offers a canvas to infuse your projects with the joyful combination of sunflowers and the adorable essence of a cow's face. Whether you're crafting apparel, home decor, or artistic pieces, this SVG design provides a platform to express your creativity. Download the free sunflower cow face SVG and let your creations bloom with the delightful fusion of nature's beauty and the endearing presence of a cow, all in a cheerful sunflower motif."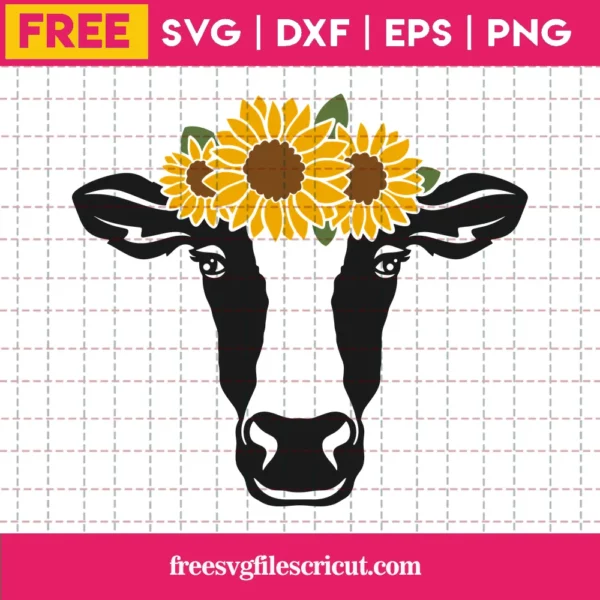 Prepare to infuse your design projects with a touch of rustic charm through our extensive Cow SVG files collection! We're excited to unveil a thoughtfully curated array that promises to bring a touch of magic to your creations. Each Cow SVG file has been thoughtfully selected to showcase our premium designs, ensuring that you'll uncover something that deeply resonates with your creative essence.
For those intrigued by different design themes, we warmly invite you to explore our website, freesvgfilescricut.com. Within its digital haven, you'll uncover a diverse array of designs featuring beloved characters from popular culture. We're confident that you'll stumble upon designs that set ablaze your artistic inspiration.